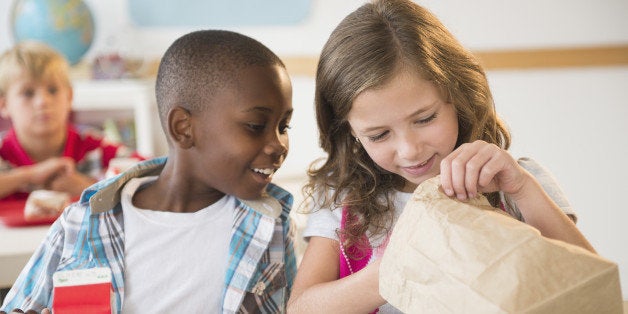 As the rest of America frets over ISIS, I'd like to turn my attention to what could be emerging as a much more serious and significant threat to national security. And no, I'm not talking about Khorasan.
I'm talking about obesity.
Why do I call obesity a national security issue? Well, I call it a national security issue because men who know a lot about national security say it's a national security issue.
In 2012, a nonpartisan group of 100 retired military generals and admirals called Mission: Readiness released a report called "Too Fat to Fight." The report states that one in four Americans is too overweight to serve in the military, and it calls on the federal government to implement stronger health standards in school lunches across the country.
Major General D. Allen Youngman, one of the 100 retired military generals and admirals who contributed to the Mission: Readiness report, says obesity in the United States is "not just a school problem. It's not just a Department (of Education) problem. It's a national security issue, and it needs to be prioritized that way."
The problem is, Americans aren't prioritizing it that way. And the only American who is prioritizing it that way -- first lady Michelle Obama -- is being vilified, ridiculed, insulted, and slandered. Why? Because Michelle Obama dared to do what very few Americans, other than Michael Bloomberg, have done: She attempted to address America's growing obesity epidemic.
In 2010, the first lady championed the Healthy, Hunger-Free Kids Act. This piece of legislation enabled the federal government to serve healthier school lunches to any school district that chooses to participate in the National School Lunch Program.
Please note the key word here is chooses; the National School Lunch Program is not mandatory, it's voluntary. School districts can choose to participate, or they can choose not to participate. From the U.S. Department of Agriculture's website:
"Schools that choose to take part in the lunch program get cash subsidies from the USDA for each meal they serve. In return, they must serve lunches that meet Federal requirements."
Opting out of the National School Lunch Program means school districts don't have to meet USDA health guidelines. But it also means they don't get the federal subsidies that come with meeting those guidelines. Either way, the choice is theirs.
Sadly, and pathetically, this point seems to be lost on Michelle Obama's critics. As soon as her Healthy Kids Act took effect, students, school districts, and pundits alike lit up the web with indignation. Twitter exploded with angry tweets from dejected high schoolers who blamed Michelle Obama for taking their French fries away. Breitbart's Warner Todd Huston said Michelle Obama was throwing away $4 million worth of food every day. Todd Starnes accused the first lady of declaring war on Chick-fil-a. And school officials in Marietta, Georgia said the first lady was waging war on special needs students!
According to the Marietta Daily Journal, special needs students at Marietta High School used to operate a food cart that sold coffee and muffins to teachers and students. The cart program taught theses students business and baking skills, not to mention the much-needed social interaction it provided. Sadly, as Fox News reports, the program was axed "due to rules imposed by Washington."
Rules imposed by Washington? How can a voluntary program like the National School Lunch Program be "imposed" on anyone?
Christy Hunt, one of Marietta's special needs teachers, said "Our students need those opportunities to interact with others. It's part of what we need to teach them, and (it's) been taken away by the Healthy Kids Act."
No, Christy, it hasn't been taken away by the Healthy Kids Act. It's been taken away by your own school district, which voluntarily signed up for a program that, unfortunately, it didn't study up on before it signed on the dotted line.
My point is this: Michelle Obama isn't taking our French fries away. She's not declaring war on Chick-fil-a. And no, she's not declaring war on special needs students. Her school lunch standards are voluntary, not mandatory, and nobody is required to sign up for them. If you do sign up for them and you don't like the results, you can opt out. If you opt to stay in, you have nobody to blame but yourself.
Why is this such a difficult concept to grasp? What ever happened to personal responsibility? The Healthy Kids Act gives school districts a choice: they can choose to sign up for newer, healthier school lunches, or they can choose to serve whatever lunches they want. Either way, the choice is theirs and nobody is forcing them to do anything.
When the first lady's critics acknowledge this, I'll acknowledge their complaints. Until then, I suggest they stuff their face with all the French fries and chicken fingers their fat bellies desire, and keep their mouths shut. After all, nobody is taking their Chick-fil-a away. Not the first lady, anyway.
Popular in the Community