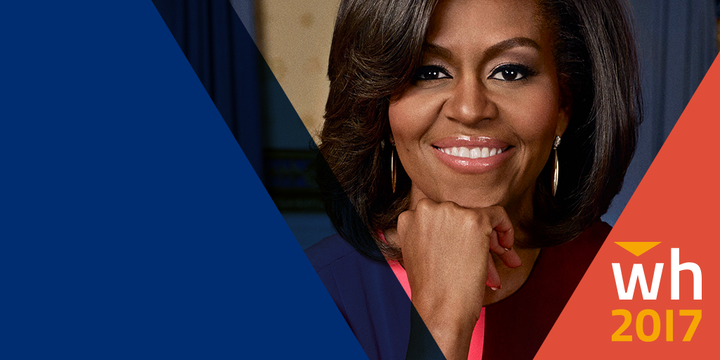 Upbeat music fills the air and entices us into the large JW Marriott ballroom. Security is tight because the guest speaker we have come to hear has one of the most familiar faces on the planet. A quick walk around the venue reveals SUV's strategically positioned around the hotel — their drivers in the standard-issue white dress shirt of the Secret Service. We don't mind the extra security though. Their presence confirms that soon, we'll be treated to what many of us have waited many months to experience.
We wait patiently, snapping selfies and tapping our toes to the music. And then, it's finally time. United States' former first lady Michelle Obama strides onto the stage to thunderous applause. Here at the WorkHuman conference in Phoenix, nearly 2,000 of us of settle in for a moderated Q & A session with the woman The New Yorker magazine has called, "one of the most popular political figures in recent memory." As the applause finally dies down, Mrs. Obama immediately draws us in, smiling and remarking, "This is a loud crowd. I like that."
This dynamic and accomplished woman does not disappoint. She is by turns funny, self-deprecating, and passionate. Seated on stage in a large club chair with Walgreen's Chief Diversity Officer Steve Pemberton, Mrs. Obama seems more relaxed, and less guarded than when her husband was in office. She lightheartedly jokes with moderator Pemberton, who asks if Barack Obama now has a "honey-do" list. "Well, Barack is not really a honey-do list kind of guy," she replies sardonically.
For this keynote, billed as, "A Conversation with Michelle Obama," I wondered: would she address any workplace issues? If so, could the majority of us relate? After all, her job (albeit an unpaid one) for the past eight years as first lady is one that only 46 others have held in the 241-year history of our republic. It is indeed a very unique job description—one that very few can relate to.
The majority of us who attend WorkHuman are either business leaders, connected to the HR profession in some way, or both. We are all, in one way or another, tasked with finding ways to make the workplace more humane, all while achieving our organization's objectives. WorkHuman conference organizer Globoforce believes that the aim of "humane workplace" and "business results" can coexist successfully. Globoforce, a provider of human capital management software solutions, established the WorkHuman Institute three years ago. The Institute's research finds that, "companies on the vanguard of creating a more human workplace stand to reap significant rewards in terms of people metrics and ROI."
As I listened to Mrs. Obama share anecdotes about her life post-White House, the connection between the life of a former FLOTUS and the everyday worker emerged. Even though Michelle Obama's role as the first African-American first lady is singular, she now finds herself in the throes of "What's next?" And that is a universal feeling to which we all can relate.
"What's next?" is a question we all encounter, both personally and professionally. From the large scale ("I'm retired. Now what?") to the micro ("I finished that spreadsheet. What should I tackle next?"), our lives are a series of continued cycles of moving from one thing to the next. And Michelle Obama has found a coping tactic that helps put these common situations in perspective.
When her family made the transition from relative obscurity to one of intense and unrelenting scrutiny, the change was swift and disorienting, "like being shot out of a cannon," recalled Mrs. Obama. I can only imagine. She relayed that one way she helped her daughters cope with the intense change was to employ a long-standing, well practiced coping tactic. "Our position on raising the kids has always been, 'You'll be fine. Let's not make a big deal of this.'" So, when on her daughter's first day of school in Washington, DC, they spied the armed SWAT team members on the school's roof, Mrs. Obama instructed her kids to carry on like it was "no big deal."
Of course armed guards on one's elementary school building is a big deal. So what Mrs. Obama proposes is a classic mind over matter mentality. When change is upon us, we acknowledge the uncomfortable situation, and then move on. By keeping our wits about us in an uncertain time, and assuring ourselves that we will be fine, we can start to handle the uncertainty of "what's next?" Because really, it's only after those uncertain times have passed that we are able to once again breathe and put the event into its proper perspective.
This is where business leaders must take note: it is critical that leaders stay calm when the waters of organizational change are rough. It's like aloe on a sunburn to hear your leader say, "You're fine. We can deal with this." A lot of employees are dealing with not only a change, but also in what they perceive as a lack of control over the situation. When they see change happening, they become unsure of their destiny. Hearing reassurances from a calm voice makes a huge difference in coping with the change.
In fact, that's how Michelle Obama closed out her session. She turned to the audience and told us, if we weren't happy with something, then it was on us to try to help fix it. My take on this message? No matter what comes next, panicking about it won't help a darn thing.
"We will be OK," she said reassuringly to the crowd. No matter our circumstances, "We will all be fine."
Jennifer V. Miller is a freelance writer who covers positive leadership practices in the workplace. See more of her coverage of the WorkHuman movement and sign up for her free tip sheet: "Why is it So Hard to Shut Up? 18 Ways to THINK before you Speak."