Michelle Obama knew that all eyes were on her ― and everything she wore ― when she became first lady.
Obama, a former lawyer and America's first black first lady, discussed what it was like having her fashion choices scrutinized by the world in an excerpt of her forthcoming book, Becoming, shared with Elle on Monday.
"Sometime during Barack's campaign, people began paying attention to my clothes," Obama wrote, adding that it could seem like people were more interested in her outfits than what she was saying.
"This stuff got me down, but I tried to reframe it as an opportunity to learn, to use what power I could find inside a situation I'd never have chosen for myself," she wrote.
With the help of Meredith Koop, a former sales associate who became personal aide and wardrobe stylist to the first lady, Obama perfected her White House style ― avoiding sending messages with her clothing, mixing high-end and cost-efficient brands, and supporting emerging designers.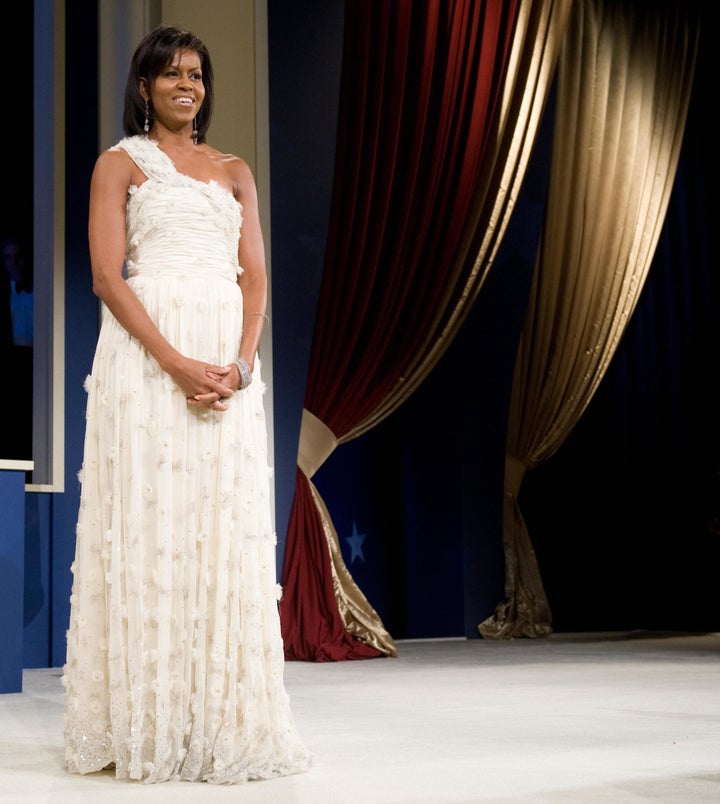 "It was a thin line to walk. I was supposed to stand out without overshadowing others, to blend in but not fade away," Obama wrote.
"As a black woman, too, I knew I'd be criticized if I was perceived as being showy and high-end, and I'd also be criticized if I was too casual." she said. "So I mixed it up. I'd match a Michael Kors skirt with a T-shirt from Gap. I wore something from Target one day and Diane von Furstenberg the next."
"I wanted to draw attention to and celebrate American designers, especially those who were less established, even if it sometimes frustrated the old guard, including Oscar de la Renta, who was reportedly displeased that I wasn't wearing his creations," the former first lady wrote.
"For me, my choices were simply a way to use my curious relationship with the public gaze to boost a diverse set of up-and-comers."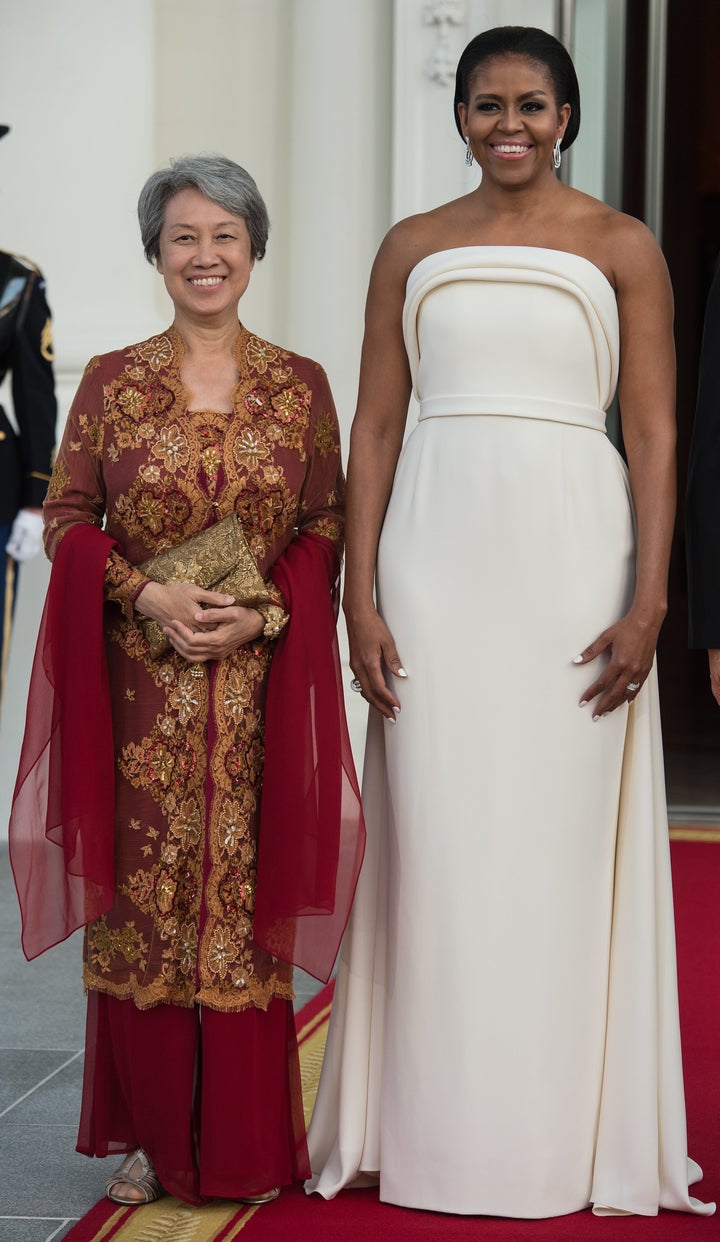 Obama wrote that she found it upsetting that there was a double standard for the attire of her husband, Barack Obama. She and her team put lots of thought and research into what she wore, but the president didn't have to.
"I sighed sometimes, watching Barack pull the same dark suit out of his closet and head off to work without even needing a comb," she said.
Since leaving the White House, the spotlight on the former first lady has softened. Still, she puts a lot of thought into what she wears.
The Milly dress she wore for her portrait, now hanging in the National Portrait Gallery, is just one example of a conscious fashion choice.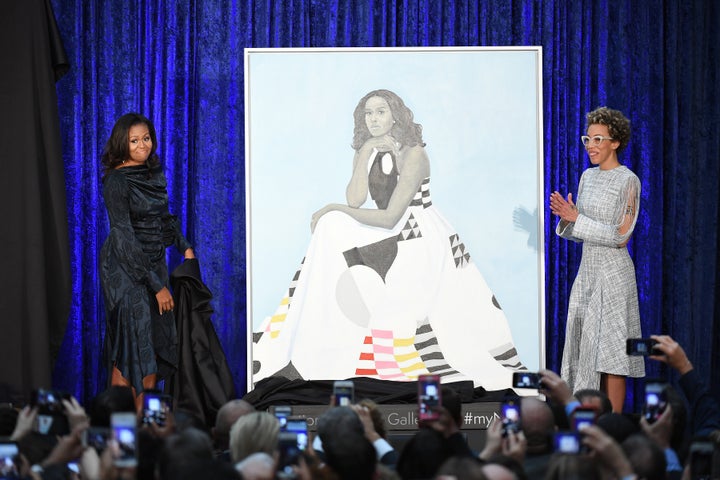 "Milly's design also resembles the inspired quilt masterpieces made by the women of Gee's Bend, a small remote black community in Alabama where they compose quilts in geometries that transform clothes and fabric remnants into masterpieces," artist Amy Sherald, who painted Obama's portrait, said.
Michelle Smith, Milly's co-founder and creative director, said Obama "epitomizes elegance, sophistication, modernity, and inclusiveness, which are core values for our brand."
"I dressed Mrs. Obama on several occasions while she was in office, and am so grateful to create something that she will forever be remembered in by future generations," Smith said in a statement to HuffPost at the time. "The modern silhouette of the dress perfectly reflects her forward-thinking sensibility, and I'm thrilled that I get to be a little part of what was such a ground-breaking and positive presidency."
Michelle Obama's book, Becoming, goes on sale Tuesday.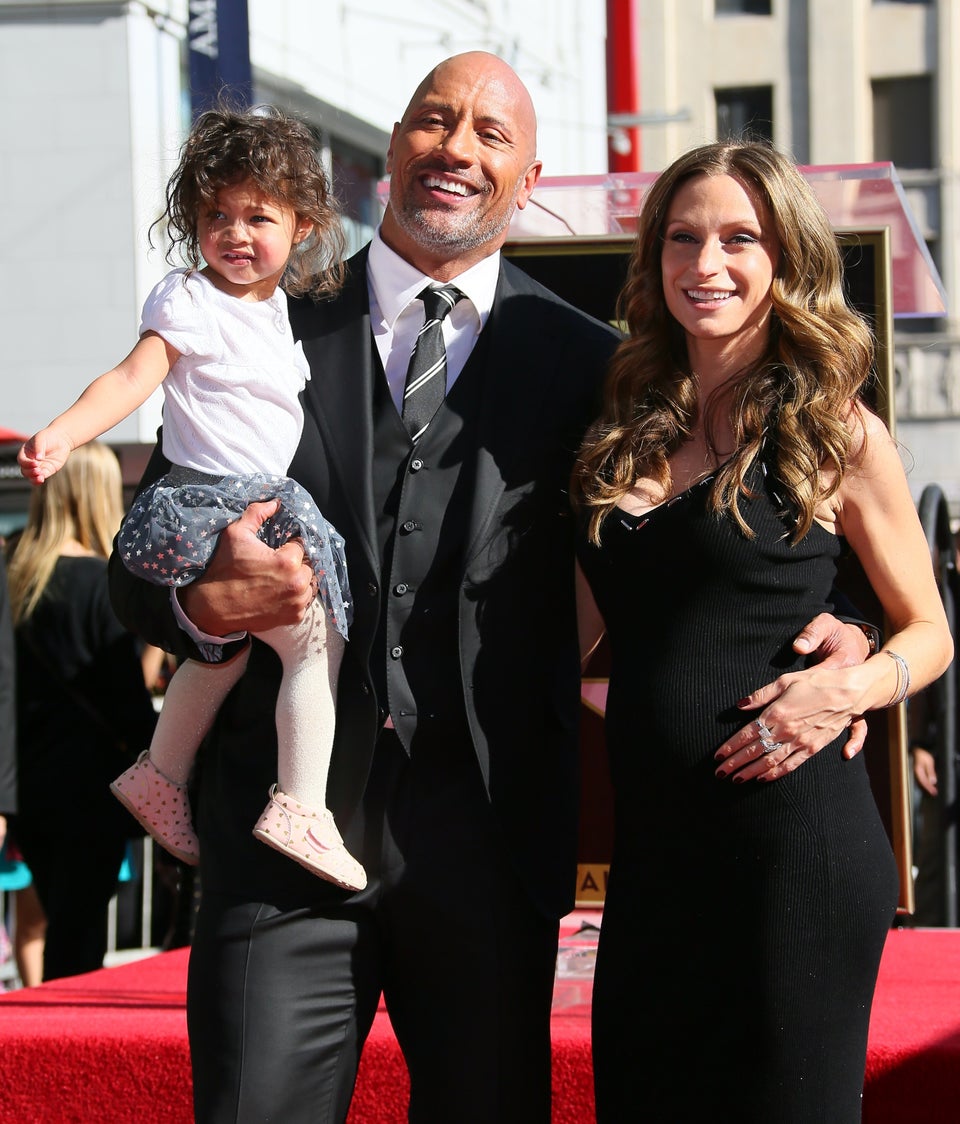 Celebrity Photos 2017