Mothers everywhere have their share of critics, ready to cast stones at the first sight of a pacifier, a TV, or McDonald's Happy Meal. Now imagine putting your parenting skills center stage as First Lady of the United States. FLOTUS has kept her cool despite the critics, but still has her fingers crossed that she doesn't screw things up, according toan interview in People magazine.
"Like any mother, I am just hoping that I don't mess them up," the First Lady told a crew of reporters at a White House roundtable discussion about motherhood and her "Let's Move" campaign against childhood obesity.
Mrs. Obama went on to stress the importance of carving out time for her children, which, for her, means getting them out of the White House bubble, going on vacations, and paying attention to their lives despite the often overwhelming spotlight on their father's, according to People.
"It's really the interaction that we have as a family that makes it feel like home," she said. "It's sitting down at the dinner table and having Barack's day be the last thing anyone really cares about."
Barack told ABC New last month that keeping his daughters' lives normal means allowing them space to make teenage mistakes. "But obviously, they're not... typical, in some ways," he said. "So they're still having sleepovers. And they're still going to the mall. And they're still going to movies. But they've got this guy with a gun following them around!"
With a morning start of 5 a.m., Michelle's first task of the day is email, although she isn't expecting responses back that early. Then depending on if Malia and Sasha are up, she is either working out or getting the girls ready for school. Exercising is a way of life for the President and the First Lady, so it's no surprise she explains that it keeps her balanced, even if "it's a daily struggle."
What motivates her to work out? Vanity. "That's just sort of the honest thing...I'm now at that point where if I'm not eating or exercising, I feel badly. So I've gone from vanity to now necessity. But a lot of us have to get over the painful hump of starting," Fit Sugar reports.
What she listens to when working out? Everything from Jay-Z and Beyonce to The Beatles. "I have a very eclectic iPod. So I've got my cardio people -- so it's anything from Beyoncé to some Jay-Z to Janelle Monae, her song 'Tightrope,' that's a good cardio song. And then I've got Sting. I've got Mary J. Blige. I've got The Beatles. I've got Michael Jackson. I try to pick the songs that I personally love," she said.
We wonder what she was listening to while kicking back on Martha's Vineyard this summer.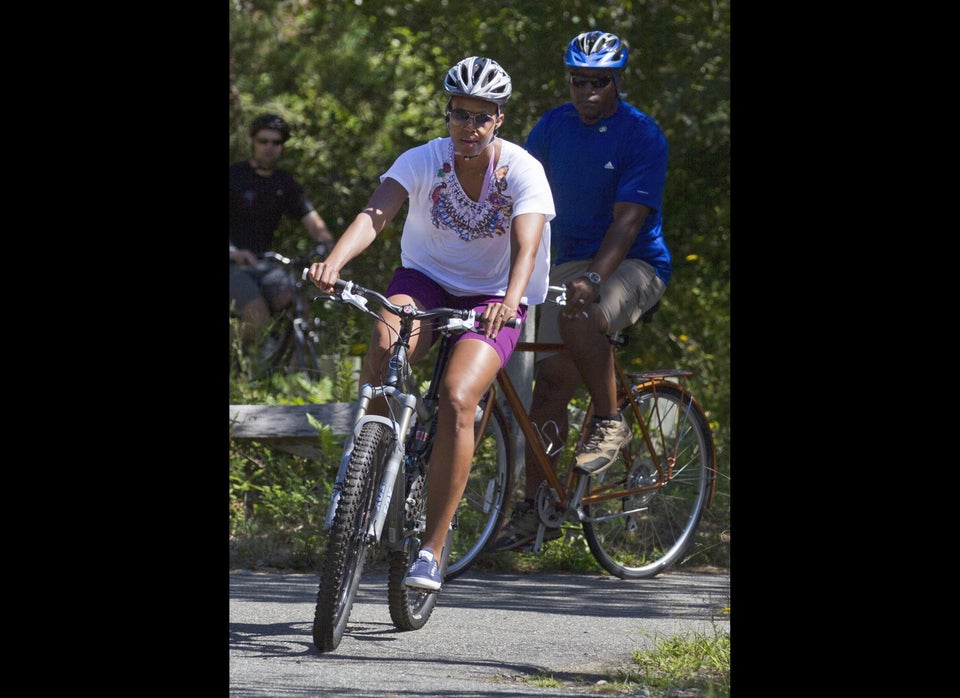 Obamas Go Biking(CLONED)
Popular in the Community