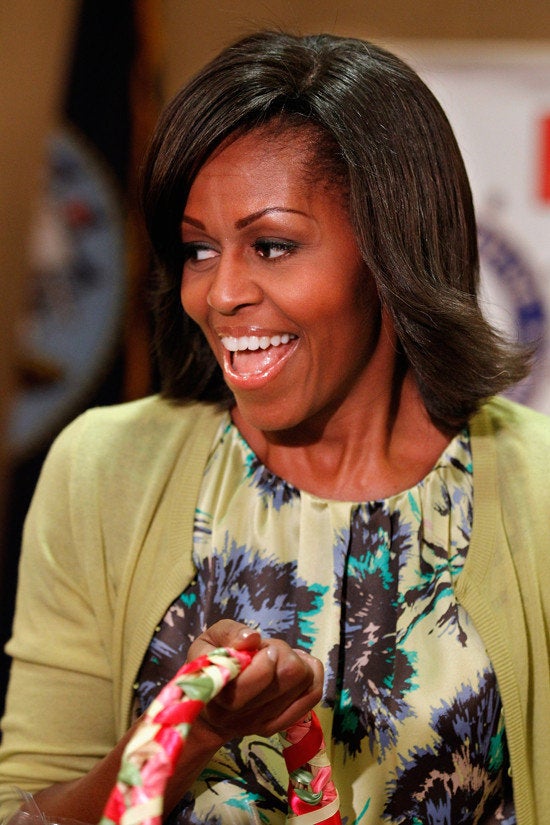 There was a very real moment during Hillary Clinton's run for the Democratic presidential nomination in 2008, before she yielded to Barack Obama, when she could have taken it all to the White House herself to become the first woman president. However, with Obama the de facto Democratic presidential nominee this year, the door has been practically shut close for her on any lingering aspiration to that office.
Having done the math -- she'll be 68 years old in 2016 -- Hillary recently announced her intentions to retire from politics after her current stint as Secretary of State. While her husband Bill has lately been hinting she may reconsider, for now the door has been left wide open for the next logical successor to the title of first woman president, Michelle Obama.
Sitting Pretty
Nothing in Michelle's current behavior suggests any inclination to continue in politics after her husband's departure from the Oval Office. As first lady, she appears to have embraced her role as a fashion icon, which is automatically accorded to all first ladies by the celebrity media. She firmly steers clear of all overtly political agendas beyond leading the Easter egg roll on the White House lawn, championing nutritious school lunches and reading fairy tales to kindergarten classes. Consequently, she has deftly remained out of any political controversy during her husband's first four years in office.
That could change after Barack's re-election, when she no longer has to worry about affecting her husband's political career. Because, for Michelle LaVaughn Robinson Obama -- a woman with a Juris Doctor degree from Harvard Law, with a history of advocacy on behalf of social issues as well as vigorous political activism -- "Fashion Icon" is not likely the legacy she will want to leave the world.
That is why, should her husband once again take the oath as president, you could see her assuming a more active, more political role in the administration, abandoning the fashionable dresses for the practical pantsuits. Upon leaving the White House, she could then run for public office and with the experience on her resume, she could mount a race for the presidency in 2020. It could happen.
Dressed for Success
After graduating Harvard, Michelle was assistant to the mayor of Chicago and assistant commissioner of planning and development. She was the founding executive Director of Public Allies Chicago, where she broke fundraising records and pioneered many new programs to help young people become more involved in social issues. Later, she was a highly active member of Barack Obama's presidential campaign, during which she often wrote her own speeches and spoke without notes.
Michelle has therefore always demonstrated career ambitions in her own right, as well as a readiness to take her fight public on issues she feels passionately about. Now, her strong history of leadership and social advocacy is being enriched by solid experience in what is arguably the country's most grueling political arena.
With the mighty fundraising machine of Barack Obama behind her, as well as her own proven prowess in raising money, she will be in an excellent position to quickly amass the largest campaign war chest of any first-time presidential hopeful, next to Barack himself -- and that alone will make her a formidable rival on the campaign trail.
Lady in Waiting
Americans have always been queasy about letting their first ladies get involved in any serious political endeavors beyond hosting the wives of visiting dignitaries. Hillary Clinton learned this the hard way during her tenure, when she quickly raised the hackles of the American public by aggressively participating in many of her husband's political initiatives. Yet, in an ironic twist of fate, the woman she may most likely pass the torch to in surrendering her ambitions for the Oval Office is her former and most ardent emotional rival during the 2008 presidential race, Michelle Obama.
Popular in the Community