WASHINGTON -- First lady Michelle Obama's speech Tuesday evening at a private Democratic National Committee fundraiser was interrupted by a protester, who demanded equality for gays and lesbians.
About 12 minutes into Obama's 20-minute speech, a woman standing at the front of the crowd began yelling for an executive order on lesbian, gay, bisexual and transgender rights.
"One of the things that I don't do well is this," replied Obama to loud applause. She left the lectern and approached the protester, inviting the woman to "listen to me, or you can take the mic, but I'm leaving. You all decide. You have one choice."
The crowd shouted that they wanted Obama to stay, and one woman near the protester said, "You need to go!"
The protester was then escorted out, saying she wanted "federal equality before I die."
Heather Cronk, co-director of the pro-LGBT rights group GetEQUAL, said the protester was Ellen Sturtz, 56, one of the organization's activists.
Sturtz was calling for an executive order to bar discrimination by federal contractors based on sexual orientation or gender identity. LGBT groups have been disappointed that President Barack Obama has refused to issue such an order, while the Employment Non-Discrimination Act -- which would prohibit such discrimination in hiring more broadly -- remains stuck in Congress.
In an interview later with The Huffington Post, Sturtz, a divorced lesbian, said she didn't go to the event intending to interrupt Obama. She said she instead planned to reach out to someone from the DNC about her concerns. But as the first lady urged the audience to make the country a better place for the next generation, Sturtz said she decided to speak up.
"I want to talk about the children," she said. "I want to talk about the LGBT young people who are ... being told, directly and indirectly, that they're second-class citizens. I'm tired of it. They're suffering. ... We've been asking president to sign that ENDA executive order for five years. How much longer do we need to wait?"
Sturtz donated to the DNC in 2008, she said, in large part because she believed the president would fight to end workplace discrimination. She said she was disappointed in the first lady's response at the fundraiser.
"Basically, I was asked by the first lady to be quiet, and I can't be quiet any longer. ... I was surprised by how negative the crowd seemed to be. It was actually a little unsettling and disturbing," said Sturtz.
"She obviously thought she was going to make an example of me or something. I wasn't scared at all," she added.
Cronk said there were three other GetEQUAL activists at the event.
One was Autumn Leaf, 22, who interrupted DNC Chair Rep. Debbie Wasserman Schultz's (D-Fla.) speech beforehand, also calling for the executive order.
Leaf said Wasserman Schultz replied that the way to get ENDA passed was to help Democrats retake the House.
He said he was "disappointed" in Obama's reaction to Sturtz and surprised she "approached Ellen as aggressively as she did."
The DNC fundraiser on Tuesday took place in the backyard of the home of donors Karen Dixon and Nan Schaffer in Washington. Tickets for the event ranged from $500 to $10,000, according to a DNC official, although Cronk said there was also a $100 student/young professional rate that several of the GetEQUAL activists qualified for.
Obama's main thrust in her speech was to urge donors to stay engaged and back the president's agenda, even though there's no presidential election coming up.
"That is why it is simply not enough to just elect a president every four years," she said. "We need you to be engaged in every election -- every election -- because special elections matter. Mid-term elections really matter. It matters who we send to Congress. It matters. And if you don't believe me, just look at the record. Look at the difference just a few votes in Congress can make when it comes to the issues that we say we care about."
This article has been updated with additional information.
Before You Go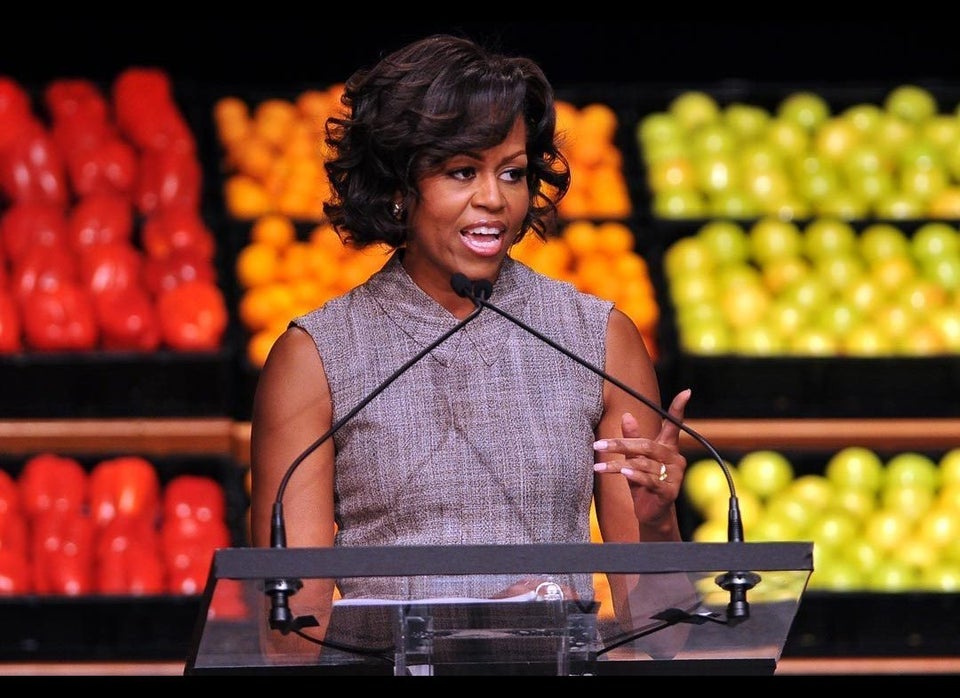 First Ladies
Popular in the Community