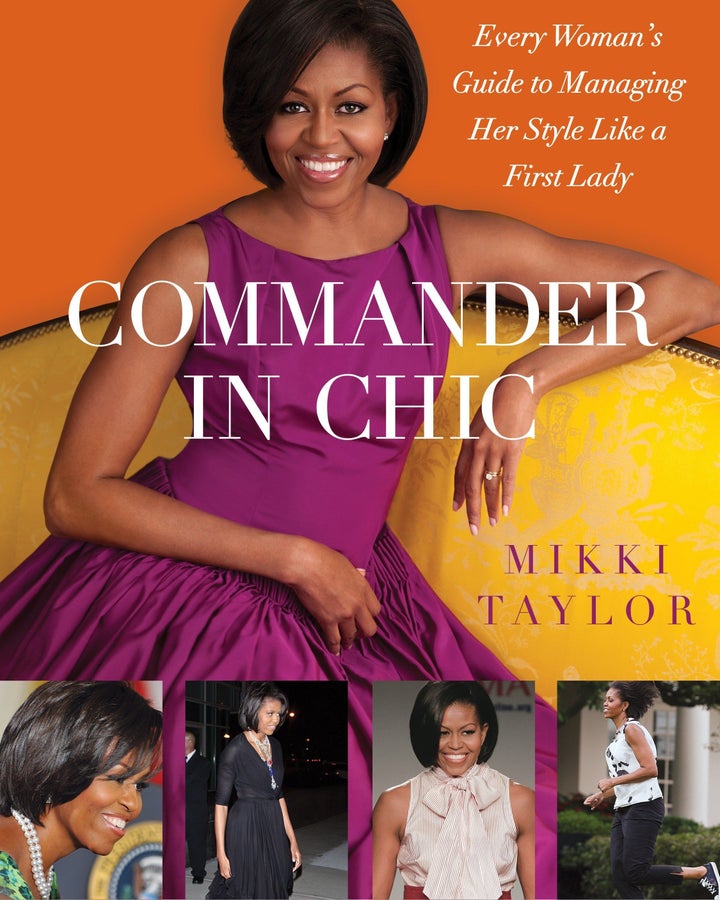 I remember meeting Letitia Baldrige, Social Secretary to Jacqueline Kennedy, many years ago and being so enchanted at her tales of life in the White House during the Kennedy years. Baldrige spoke of the style and charm of Mrs. Kennedy and her impact on America and what a joy it was to have worked so closely with her. At that time you could never have convinced me that one day I'd be so privileged to stand in the same historic place she once occupied and have a good laugh with First Lady Michelle Obama! I never dreamed I'd see an African-American woman as First Lady during my lifetime. Yet from the moment I first met Mrs. O back in 2006 on a photo shoot, I could sense the greatness that surrounded her and the purpose that was in her every step. Here was this fully empowered sister, standing taller than her height of 5'11 and ever so comfortable in her skin and from that moment on she became one to watch.
As destiny would have it, I went on to work with Mrs. O on multiple Essence cover shoots and thus began taking mental note of how she owned her life and celebrated her style to the fullest. I was smitten by how well she set her own standards, from her fashion sensibility to her empowered lifestyle. And so, not long after she became First Lady, I sat down to write Commander in Chic, Every Woman's Guide to Managing Her Style Like a First Lady with Obama my muse, simply because I want women everywhere to be the Commander in Chic of their lives.
I love how Obama consistently wows us with newness, while remaining true to her style and what it means to be well-dressed. She's teaching us that you can be price conscious and look just as elegant and moneyed as if you had spent your wad. She has established a signature style that works for her when it comes to fashion and beauty and loves working a "classic with a twist" theme that allows room for experimentation but is never off-track. At the end of the day, isn't that what we all yearn for? A signature style and a working wardrobe based on bankable pieces that allows one the kind of versatility where you never have to worry about what to wear? Knowing this, I made sure Commander-in-Chic could be used as a personal style diary -- one where women would find everything they need to know to possess great style -- simply, effortlessly and for keeps. From the most bankable pieces and shopping destinations to covetable secrets to great hair, a rock-star body, and the best makeup picks to take one from day to night.
But there's more to great style in this time of purpose than getting dressed and working a great do or impeccable makeup. When I speak of looking one's best and possessing great style, I don't simply mean from the kind of perspective that you can purchase. If that were the case, we'd all just go out and buy it, right? No. Any "commander-in-chic" knows that great style -- the kind that not only impacts how you look, but possess a bravado that also colors your world -- is a reflection of the inner critical work one does to master every aspect of her life. Without question, great style is an inner and outer principle and ultimately it's more than the successful blending of a great personality and undisputable taste.
As Mrs. O demonstrates, style is really about how you see yourself from within and the care you in turn give yourself in light of recognizing your value. Watching Obama work it as a savvy working wife and mother who's carving out time from her busy life to self-nurture and invest in herself, to serve the nation and still sit down to dinner with her family was more than motivating to me. Ditto for her ability to inspire us all to move and exercise to prevent disease and bring on wellness. So I called up the savviest experts to glean what we need to know to manage our lives from within - from our mental and physical health and wellness to the importance of self-nurturing. In this era of Michelle Obama, it's important that we take a page from her metaphorical stylebook and begin to take the utmost care of ourselves as women shaping the world.
Through the Obama lens, I was reminded anew that the most critical piece in life is to first glean what it takes to master "you." If we're not owning our lives and celebrating our health and beauty; if we're not clear about our purpose, leading by example, and walking steady in the face of both challenge and success, then what's the point of the journey known as life and the contribution we are called to make?
Obama stepped to the top fully equipped to be there because long before she appeared on the main stage, she was clear, disciplined, and focused on being her best. It is my intent that Commander in Chic and the information it offers will inspire women to do the same, and truly style, wherever life takes them, now and for years to come.
Sidebar: Mikki-isms!
A few style aphorisms from the pages of Commander in Chic!
Do make sure every piece you buy will serve you on multiple occasions. Never buy a look for a single event unless it's your wedding -- then you're allowed!
Always choose quality over quantity. But do buy quality in multiples!
Impulse buys will turn your closet into a museum quicker than anything I know. There'll be much to admire -- but getting dressed won't be worth the cost of admission!
Always have your best LBD (little black dress) on standby so you can say yes to any great occasion without skipping a style beat!
Behind every impeccably dressed woman is a great tailor and a fabulous seamstress.
When heading to dinner after work, never tuck into a restaurant looking like a bag lady. Always carry a clutch and a fashionable tote or shopper that can be checked.
I love a fabulous cocktail ring as a single statement on manicured hands. Don't know why the look is dubbed "cocktail" -- fabulosity knows no hour!
Never, ever match your makeup to your clothes -- makeup should compliment, not match. Besides, you're far more creative than that -- right?
Don't kid yourself -- when it comes to mastering good health, it helps to be a little vain.
Mikki Taylor is a veteran style and beauty authority who has devoted a lifetime to helping women micro-manage their inner and outer beauty, and own their lives to the fullest.
Popular in the Community