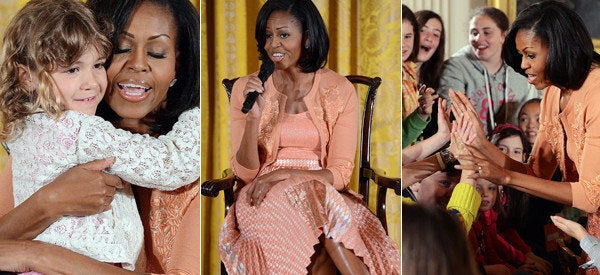 In the event, which the White House streamed live on its website, Mrs. Obama bravely sat down in front of a large group of children (the sons and daughters of White House employees) and bellied up to some tough questions about Bo Obama, birthdays and even the White House's square footage.
Fashion-wise, FLOTUS looked adorable in an all-pink ensemble consisting of a L'Wren Scott pink embellished cardigan and (wait for it) a pink metallic houndstooth accordion-pleated skirt, which may even be our favorite piece she's ever worn. She also topped it off with pointy-toed nude flats.
On to the interrogation: a young girl asked FLOTUS what she liked to do on her birthday, and Michelle answered that she likes to sleep late and have a family dinner and "do nothing," which she joked that "old people" like her enjoy, asking the parents in the room for affirmation. Answering a question about the very lovable Bo Obama, the first lady replied, "Bo is an awesome dog and I love him dearly."
Another child asked how big the White House was, but FLOTUS couldn't recall the square footage off the top of her head. When a child asked Mrs. Obama what she would change about her position, she replied that she wished she could go out without a bevy of Secret Service surrounding her, saying that she wished she could walk out of the White House "and just keep walking." (She's also expressed her desire to "escape" to David Letterman.) And what would she do with her freedom? "Get ice cream" or "go shopping."
And when asked if she'd want to be president of the United States someday, Mrs. Obama replied emphatically, "Absolutely not." (We might know another stylish former first lady who does.)
See photos of Mrs. O looking pretty in pink below!