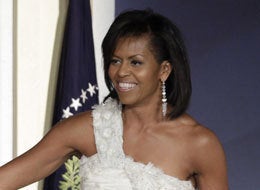 Even though I've been blogging about Michelle Obama's style for the past four months, the extensive coverage of her wardrobe in the media never ceases to amaze me. Every journalist, blog commentator, and politician feels entitled to tell the First Lady of the free world what dress to wear when, how much it should cost, and how long the sleeves should be. They badgered her election night dress deeming it unflattering, but a dress that compliments her hard-earned biceps is inappropriate. She widely supports American fashion designers, but said designers are not African American much to the Black Artists Association's dissatisfaction. The First Lady is damned if she does and damned if she doesn't. She can never win, and what I adore the most about Michelle Obama's wardrobe choices is that she is not trying to.
Yet, I have found through many discussions that there is a misunderstanding about Michelle Obama's sartorial intentions. The public fails to separate her style from her agenda as the First Lady. Somehow we have managed to become more fixated on her outfits than she seems to be. I'm only guessing, but I find it highly unlikely that Michelle Obama is aiming to be defined by or specifically remembered for her style. What I see is a positive and dynamic wife and mother who just happens to look good simultaneously.
Perhaps the media and bloggers like me are to blame for the confusion. Maybe we have misguided the public into thinking that the First Lady sought out her fashion icon status when in actuality we bestowed this label upon her. Here is a woman whose goal was to support her husband's presidential campaign. She ditches panty-hose, throws a belt around her waist and suddenly she's a fashionista. I'm not saying she doesn't deserve the attention, but what we have to understand is that there is danger in this title. A minor misstep leads to extreme disappointment and to call her critics harsh is an understatement.
The most recent example that comes to mind is the backlash against her photo on the cover of Vogue. The comments I have read and heard are far from what I expected. "Awkward", "boring", "disappointing" were the most popular reactions. One reader of my blog even went as far to comment that the First Lady did not look astute. Ouch. I asked critics to ask themselves the following questions. How comfortable would you look posing for a high fashion magazine if you were a self-proclaimed "tomboy jock at heart"? What cover girl doesn't look bemused? And why on earth would you expect glamour from Michelle Obama? True, it is Vogue, but we are also in a recession, and we don't want our First Lady to be the next Marie Antoinette.
I'm not asking that we lower our expectations of Michelle Obama rather that we ease up on the disparagement. Being named a fashion icon is an enormous responsibility, especially when it happens accidentally, and I believe that the First Lady is handling the pressure quite well. The elements of her style are immeasurable. It is sometimes whimsical, but always effortless. Like the little black dress she wore to Ted Kennedy's birthday celebration with a bold Tom Binns statement necklace. Her look is ever approachable. Whether visiting a federal department or reading to school children, a belted cardigan is chic, yet welcoming. And my favorite accessories on Michelle Obama: her sense of self and inner strength that give her the ability to wear what hell she wants.
Related