Unlike many celebrity guests, she didn't go with a low-cut cocktail dress or anything dramatic -- just her mint green J. Crew skirt (the one she wore to 10 Downing Street in 2009 with the rhinestone-covered cardigan), a thin, gold-flecked sweater by Michael Kors and a pair of low, pointed-toe heels. She made the skirt new with a bejeweled gold belt.
The light outfit, a mix of both old and new pieces, was an ideal pick against the deep blue backdrop of the "Tonight Show" set.
In fact, when she sat down, Leno announced, "You look beautiful!" But Michelle praised the president. When Leno pointed out that Barack has gone gray, Michelle grinned and said, "Oh yeah, he's aging... but he's gorgeous." Sigh.
They also spoke about how Michelle and Barack stay so fit. "We work out pretty much everyday," FLOTUS told Leno. "We both are pretty competitive. [But] I'm in better shape." (In case you were wondering, the first lady's workout consists of a three-mile run, followed by weights, kickboxing or any other assortment of exercises. She did not specify how to get those amazingly toned arms.)
Check out the first lady looking gorgeous, hamming it up on late night. Someone get this woman a TV-hosting gig!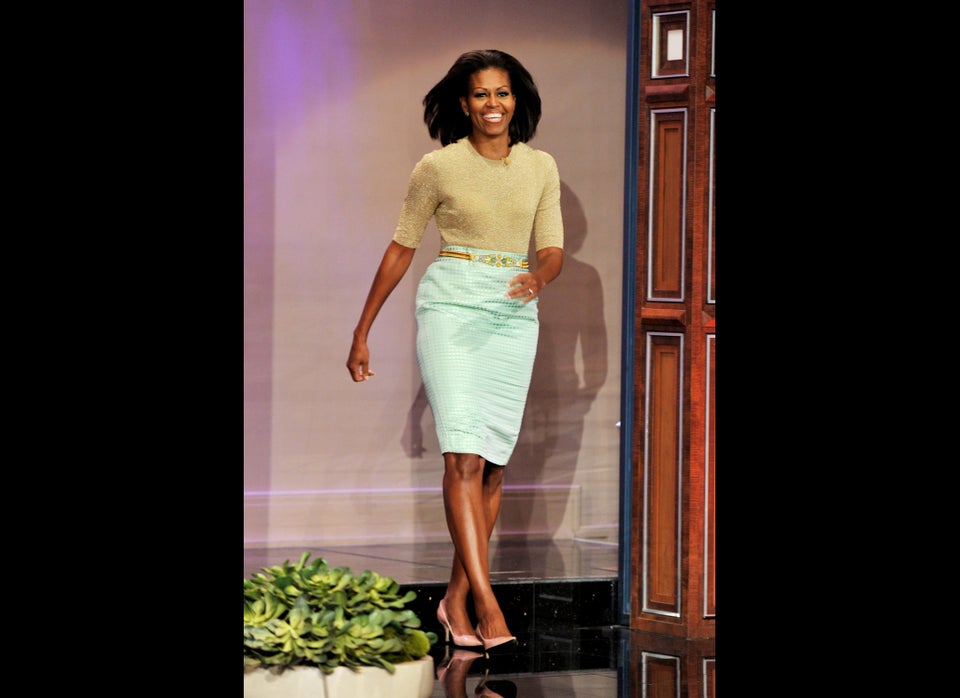 FLOTUS on Jay Leno