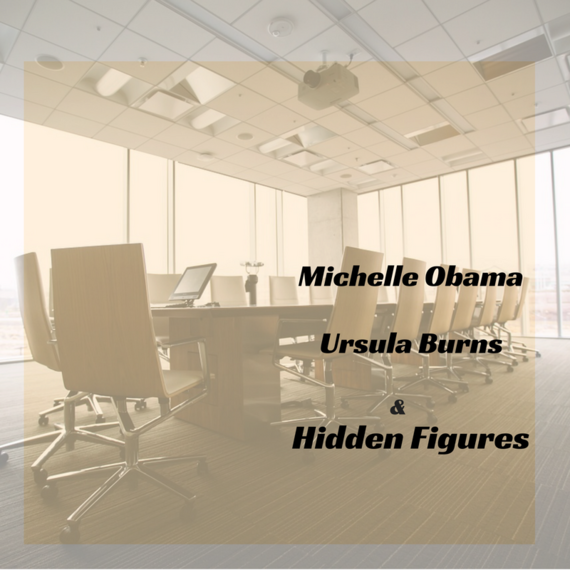 There have been so many breaking new stories over the past 3 days about pioneering women. First, Michelle Obama's last official speech as First Lady. What poise, grace, dignity and character. We will certainly miss her. We also had the official release of the phenomenal and heart piercing movie, Hidden Figures. This movie should be required viewing for all school age and college students. And then, a Yahoo Finance headline announces, "It's Official: There are now no Fortune 500 CEOs who are Black Women." So many thoughts. So many conversations that need to be had. All of which left me with a heavy heart that asks, "How do we cause more than incremental change?"
We've all known for the last four years Michelle Obama would not be our first lady forever. And I read about Ursula Burns impending transition last year; I was shocked then but now it's a reality. The knowledge of these facts doesn't make their transitions any easier.
The minute and five second Yahoo Finance video only served to remind me of the bleak statistics of remedial improvements for women and particularly women of color. The facts are clear:
There are currently only 19 women who serve as CEO of a fortune 500 company
Indian-Born Pepsi CEO Indra Nooyi is the only woman of color
Only 15 African-American Women have ever held the title
The video ended by stating, "Her Move out of the C-suite raises questions including "How to Promote Executive Possibilities Across Race and Gender."
There are deeper dialogues that need to be explored other than, "How do we create change in organizations and champion women in leadership roles?" We also need to ask "Why are we not seeing change and what are we doing about it?"

Colleges, organizations, and major brands host women's leadership conferences around the world annually. While I enjoy keynoting for them, inspiring audiences, and providing tips to take back to their workplace; I know that short lived experiences don't create long-term results.
Long term change can only be seen when:
Individuals are committed to personal and leadership development required for promotion
Organizations are committed to the work required to change the culture once high potential leaders are ready
If like me, you are frustrated by the current landscape and outlook for women leaders, "What conversations are you having in your organizations?" "What questions are you asking yourself?"
If you are a leader with influence in your organization, "What are you doing to change the DNA of your organization?" "How much longer will high-potential candidates go to your website and see the lack of diversity on your leadership team or board of directors?" "How long will your customers be impacted by the decisions of leaders who can't relate to them?"
This year, don't just get frustrated, make little noise, or even worse sit in silence while nothing changes. Vow to be a game-changer and thought-driver in your organization that causes a trajectory change in the cultural and leadership landscape.
If you are not sure where to start, start by asking questions. Start by ensuring the right conversations are being had within your organization. Or start by bringing in the right support you need. One of the leadership engagement's we offer is The Leadership Experience for Women. The Leadership Experience For Women is a customized experience designed to accelerate the readiness of women leaders. It's a great learning engagement to bring to your organization for Women's History Month or anytime throughout the year. This experience focuses not only on the development of the most common leadership competencies, but also your organization's values and core competencies as well. The Experience is offered in several formats to meet your needs. Contact us @ hello@courageouslifeacademy.com.
Stay connected to get tips and learn more about our upcoming live events throughout the coming months.

About the Author
Melissa J. Nixon is a captivating keynote speaker, leadership trainer, business growth coach, and author. She specializes in growing and developing leaders to maximize their career and business results. Melissa is also a contributing writer for the Huffington Post, LifeHack, Addicted 2 Success, and the Network of Executive Women. Invite Melissa to speak or train at your organization email hello@courageouslifeacademy.com or visit www.courageouslifeacademy.com.
Calling all HuffPost superfans!
Sign up for membership to become a founding member and help shape HuffPost's next chapter