 She also revealed President Barack Obama doesn't shy away from his duties as husband-in-chief -- he makes sure to tuck her into bed as part of a daily ritual.
"We have a ritual where he tucks me in, because I'm usually in bed before anybody," Obama said. "He'll come and turn the lights out and give me a kiss and we'll talk. He's like, 'Ready to be tucked?' I'm like, 'Yes I am.'"
The couple also take private walks with Bo to check in without the kids, she said.
Obama has been promoting American Grown, her new book about the White House Kitchen Garden. While discussing her husband, she joked about the president's now widely-discussed penchant for singing, saying it's sometimes difficult to get him to stop.
"He loves it in the shower in the morning, sings to the kids," she told People. "But it's not a song. He'll sing one line of something romantic or cute."
She said she's less proud of her singing ability, but admires pop star Beyonce's gift. This isn't the first instance Obama and Beyonce have traded pleasantries in public. The singer penned an open letter praising the first lady in April following the debate over Hilary Rosen's controversial remarks on Ann Romney. Obama tweeted in response: "@Beyonce Thank you for the beautiful letter and for being a role model who kids everywhere can look up to. —mo." (The "mo" signifies that Obama, not her staff, penned the tweet.)
Despite pushing her Let's Move! fitness campaign, the first lady admitted to People that she's no expert when it comes to swimming and has no desire to show off her own physique: "That's been my one goal: I don't want to be caught dead in a bathing suit!"
The full interview hits newsstands on Friday.
Before You Go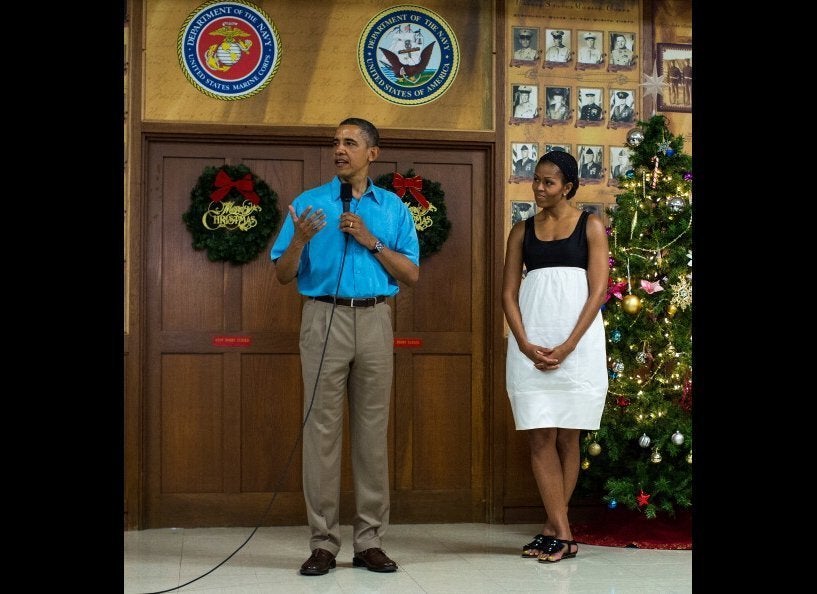 FLOTUS Lookbook 2012
Popular in the Community