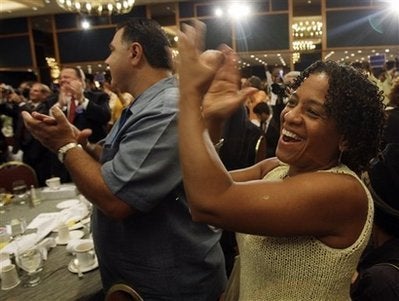 Will Michelle Obama be women's rights activists best friend in the White House since Eleanor Roosevelt?
While recent first ladies have focused on everything from drug abuse to highway beatification, few modern first ladies have put a high premium on issue of particular concern to women -- issues like breast cancer, the cost of child care, and reproductive rights. To be sure, Hillary Clinton was a strong ally to women during her stay in the White House, but she made the broader issue of health care -- rather than issues of particular concern to women -- her highest priority.
As I reported in Women's eNews, Obama says her top concern is issues facing women in the workplace -- that is, pay discrimination and difficulties women have balancing the demands of work and family.
Policy issues that fall under that rubric include efforts to amend fair pay laws and initiatives to allow employees to take paid leave to take care of themselves or family members, encourage companies to offer flexible work schedules the opportunity to telecommute -- all initiatives that would help women because they shoulder the nation's caregiving responsibilities in addition to work responsibilities.
While playing the conventional role of a political wife in her speech on the opening night of the Democratic National Convention in Denver, Obama stuck in a plug for equal pay -- sparking thunderous applause by the delegates in the convention hall.
In her speech she also paid tribute to the suffragists, noting that Tuesday marks the 88th anniversary of the passage of the 19th Amendment giving women the right to vote. And she gave a nod to Hillary Clinton, thanking her for putting "those 18 million cracks in the glass ceiling"--a reference to the votes she received in the primary contest--"so that our daughters and sons can dream a little bigger and aim a little higher."
Obama has made issues of importance to women a common refrain on the campaign trail.
"What about the vast majority of women, who are the lifeblood of our society -- nurses, schoolteachers, bus drivers, single-parent mothers -- who don't have that structure?" asked Obama, a working mother, in a 2007 interview with National Public Radio. "Is there a way that we can invest differently in this country to bring more support and attention to the issues that are basically strangling the family unit?"
If her husband wins the White House, Michelle Obama, in fact, may be the best friend women's rights advocates have had in the White House for a long time.
Allison Stevens is Washington Bureau Chief of Women's eNews.
Calling all HuffPost superfans!
Sign up for membership to become a founding member and help shape HuffPost's next chapter