President Obama isn't the only O on the line after the first 100 days in office. It's also time to review the performance of the First Lady — did she make the grade in the first few months in her new role? There were some highs — her stunning bare-armed appearance and warm hugs at her husband's speech to the joint session of Congress — and some lows — did she REALLY get touchy-feely with the Queen? So just how did Michelle average out? Let's examine her record.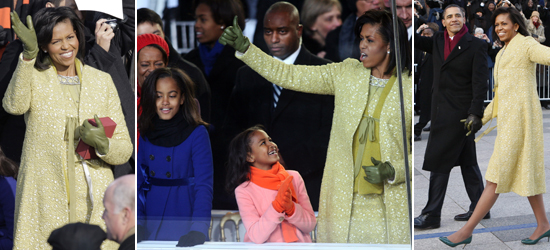 INAUGURATION DAY: OVERALL A
No Question: Michelle gave an A+ performance along with her husband, walking down Pennsylvania Ave. before his swearing in. Her marks - A for the warm, genuine smiles and hand-waving, A for the jade Jimmy Choo shoes with a walking heel height, A for choosing a talented but underrated American designer, Isabel Toledo, to design her day outfit. But B for the design itself. The chartreuse color stood out boldly however the heavy fabric did make Michelle resemble a walking couch.
As for her daughters: A++ for the bright, adorable J. Crew outfits which had moms and girls swooning all over the country. Not too stuffy or preppy, which would have shouted "elitist" like the Bushies.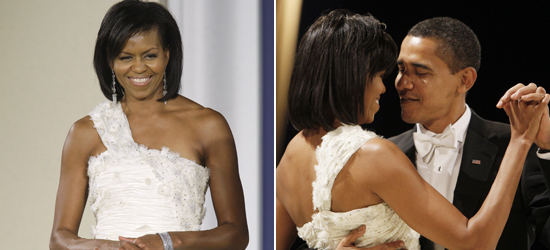 INAUGURAL NIGHT: OVERALL B++
Presidential PDA: who ever would have expected it? But there, you had it. The First lady and her hubby of 16 years, acting like they were on a first date. A+ to Michelle for being such a close, loving marital partner that Barack couldn't keep his hands and lips off her through eight inaugural balls and in front of millions of viewers. A+ to the couple for setting a new high standard for Presidential marriages and inspiring couples across the land.
However, a big B for the wedding cake ballgown which only emphasized Michelle's pear shape and made her look this time, like a walking confection.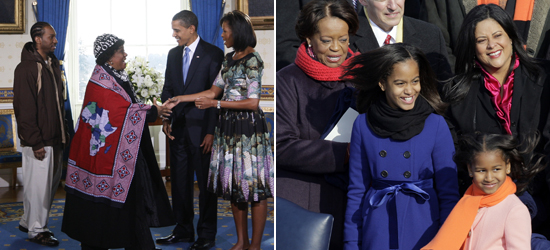 FIRST DAYS IN THE WHITE HOUSE: A+
There wasn't one misstep to be even the tiniest bit critical about. Michelle's first order of business — two days after the inauguration, Mrs. O threw her premiere First Lady bash, making it a showcase for inclusiveness. She invited the entire White House staff — all 90 of them, from cleaning staff to top aides — to an East Room get together. A++
On the personal front, more As. A for moving her mom into the White House to be the first grandma-in-chief, bringing stability and continuity into her daughters' lives as well as publicly standing up for the importance of having a close knit family.
A for announcing that "Just Like Us" she'd be using affordable Pottery Barn in her White House renovations — no trolling for donations to buy thousands of dollars worth of new fancy china per Nancy Reagan — and A for letting it be known that in these trying times she'd be using the Obamas' own money to redecorate, not dipping into public funds.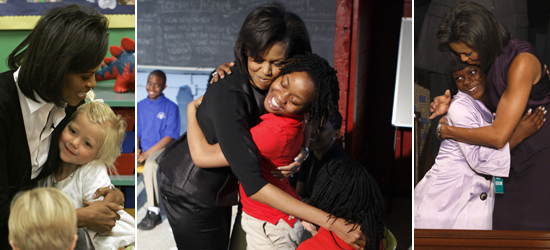 Nothing says I'm a First Lady who cares about the American people more than a big, warm hug. Michelle delivered them to military families at Fort Bragg, Ty'Sheoma Bethea, the 14 year-old school girl from South Carolina who wrote to the president about the appalling disrepair of her school, a White House usher and many more.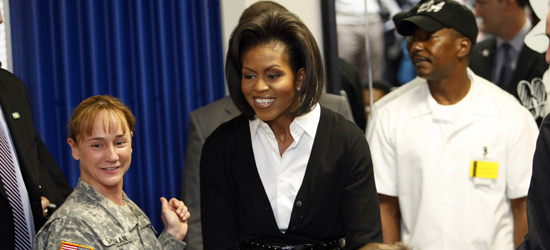 MAKING MILITARY FAMILIES HER MISSION: A+
This move just demonstrates how A+ smart Michelle is. It's counterintuitive for a Democrat to take up what's supposedly a Republican cause AND it's such a wonderful and worthy thing to do. A+ for not just meeting with many military families but for publicizing how a military wife had to use food stamps to get by while her husband was on high-risk deployments. "That's not right or fair," Michelle pointed out. Amen!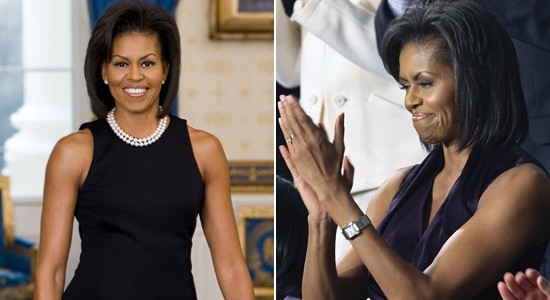 BARING HER BEAUTIFUL ARMS: A
Michelle gets a gold star here for the multiple points she made with this repeated move; #1) She's inspired millions of women to get off their couches, into the gyms and to start their bicep curls. With 66% of American adults overweight, that's a good deed. #2) She's helped re-orient our beauty ideals — you don't have to be a stick thin, 20-something blonde to be considered the most trend-inspiring and attractive woman in the country. #3) With her choices of sophisticated, grownup woman clothes — sometimes inexpensive — from a variety of American designers, she's given a much needed lift to the beleaguered fashion industry.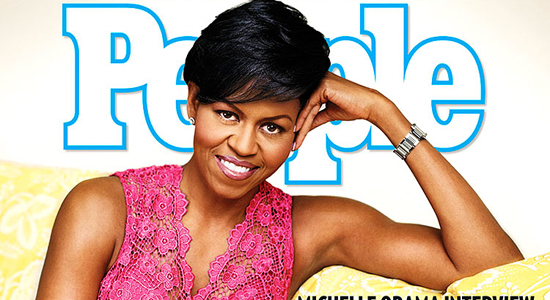 WAITING TOO LONG TO WEAR AN AFRICAN-AMERICAN DESIGNER: C
She should have known that NOT wearing clothes by an African-American designer would be a sore point. She shouldn't have waited for over a month until the Feb. 25 issue of People to finally wear a beautiful pink sheath by African American Tracy Reese.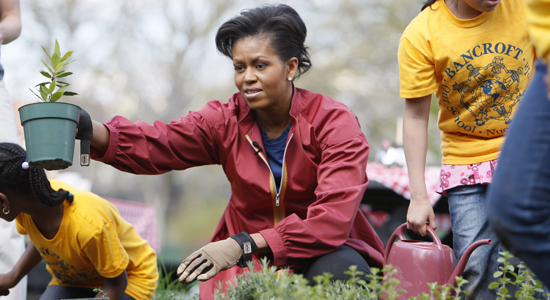 Simple, smart idea to make the points that Michelle's a gardener like average folks, and like many parents is worried about pesticides and toxins in her family's food. Really clever photo op.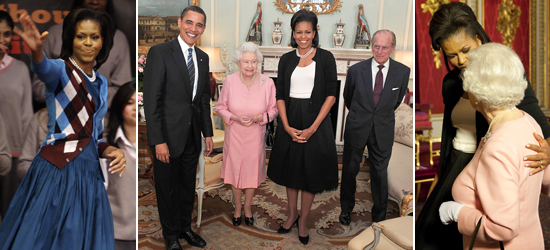 This should have been a no-brainer run of A++'s. Instead it was marred by a few unfortunate fashion choices — skirts that emphasized her wide, womanly hips too much, a head-scratching form-shortening bust belt and a too-casual funereal black outfit to meet the Queen. But the only D on the First Lady's 100 day report card — putting her arm around the Queen. It wasn't a booboo as in bad manners to touch the Queen. If anything, it was wonderful of her to be so enthusiastically American. The D was for distraction. Just by doing it, Michelle became a distraction in the press at a time when her husband and other leaders had way more important issues to focus on.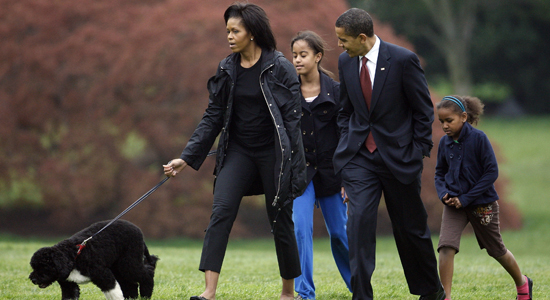 For not disappointing her girls a big A. During Bo's first photo op, the President looked like he'd rather be dealing with a nuclear standoff. Clearly it was mom who made that dog happen. On behalf of dog loving Americans — thanks Michelle!
GRADE MICHELLE YOURSELF: DID MICHELLE SCORE As IN HER FIRST 100 DAYS?
All photos AP except People cover