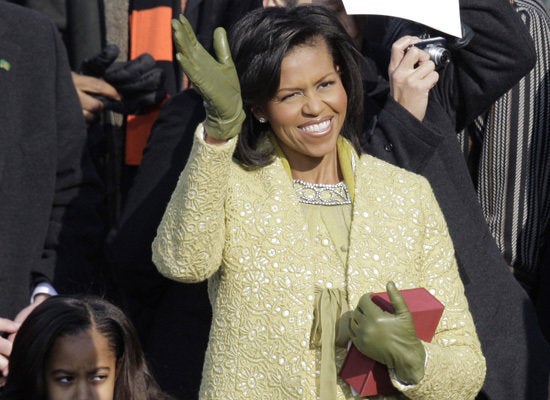 Michelle Obama. Did she make a brave and inspired fashion choice, or is she walking around in inaugural upholstery? "Oh my God, she's wearing a couch," one female observer exclaimed upon seeing her. "She's a total babe," said a male supporter.
The style merits of Obama's matching yellow lacy brocade and coat suit dress by Cuban-American Isabel Toledo are definitely debatable, but what's obvious is that Michelle has made a major statement with her outfit. She's done it before -- remember when she first visited the Bushes and the White House in a bold "I'm ready to be first lady" red dress (read my post about it). This is a woman who speaks through her clothing.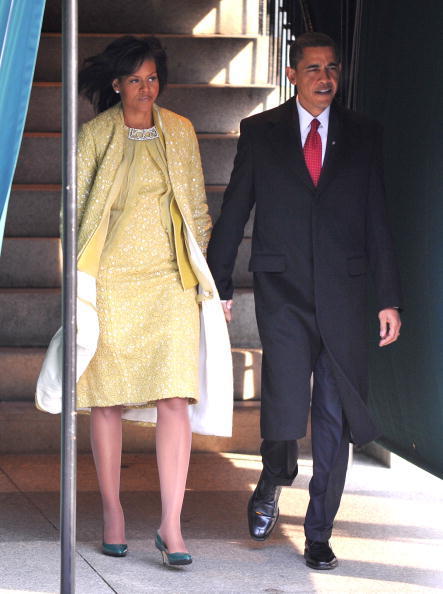 There was nothing traditional, meek or remain-in-the-background about this outfit. She deliberately DID NOT wear a tasteful "First Lady" frock. From the sunny, optimistic color to the choice of a dressy, almost evening look, she's telling us she's independent, proud, self-confident, and young.
She's not going to be stuffy, she'll remake the rules of First Lady-ness, just as she's remaking the rules of what's acceptable and stunning to wear on inauguration day. She's not afraid of controversy -- she knows we'll be debating the merits of this outfit -- she knew that not everyone would like it. But she also knows she's a striking figure, who can be an ambassadress of the American fashion industry. She's not afraid of taking up that mantle and choosing a look that is all-woman and pushes the definition of what a "career woman" can wear on a special occasion.
Like other "young" career women, she doesn't have to wear a mannish suit or even a suit at all, to be taken seriously. It's like she's an heiress of the style leadership of modern Sex & The City careerists, Carrie Bradshaw and Samantha Jones, while showing a lot less skin.
Michelle is making sure that we know with her "non-traditional" dressed up outfit that she'll be a non-traditional First Lady AND she'll be an optimistic one. Her husband made sure to tell us that there is much hard work ahead and that we all bear responsibility in turning our country around. Michelle is ensuring that we know that she and her husband believe we will get there. The present may be gray, but there are sparkles ahead.
Popular in the Community