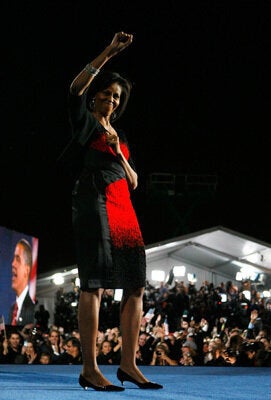 Mrs. Obama's appearance in Mr. Rodriguez's dress will likely give a boost to the designer. Chicago-based designer Maria Pinto, for example, says she's seen retail orders increase 45% within the last 12 months due in part to Mrs. Obama making key campaign appearances in her dresses.

Mr. Rodriguez, who first rose to fame in 1996 after designing Carolyn Bessette's wedding dress, last month terminated his 18-month partnership with Liz Claiborne Inc. over a strategic disagreement. (The designer now owns 100% of his label, which incurred a loss of about $15 million on revenue of about $4 million last year.)
The fashion set has genuine cause to be excited this morning. Not only because last night's victor is Barack Obama -- who the fashion industry overwhelmingly supported and whose campaign they generously helped finance -- but because Michelle Obama shall go with him to the White House with truckloads of fabulous taste and clothes. Last night she wore a dress from Narciso Rodriguez's spring 2009 collection, one of the most critically acclaimed of New York Fashion Week.
What did you think of her dress? Tell us below in comments.