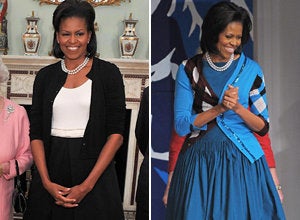 Touching the Queen wasn't the only major misstep Michelle Obama made yesterday at Buckingham Palace. April 1, 2009 will now forever be remembered as the day the First Lady wore her first fashion DUD!
Yes, there were debates about her upholstery-like Inaugural dress suit and her wedding cake-ish Inaugural ball gown BUT each choice had arguable merits. However, the black and white silk satin crepe Isabel Toledo sleeveless dress worn with a shapeless black Azzedine Alaia cardigan, was just WRONG,WRONG,WRONG!

WRONG because it looked too casual for a momentous royal visit. One does not meet the Queen every day. The Toledo dress LOOKED like a skirt and top worn with a casual cardigan -- an outfit more appropriate for a fundraising cocktail night at her daughters' school than for meeting the woman whose profile still appears on the coins of numerous countries. Why the First Lady bothered to spend big bucks on an Alaia cardigan, I have no idea. It could have been any old cheap schmatte, it appeared so shapeless.
WRONG because in almost every way for Michelle, the outfit was a figure DON'T. At 5'10" Michelle has a strong statuesque figure that is striking in outfits with clean, long lines. This black and white dress cut her length in half, making her suddenly appear short-waisted. Then to add injury to insult, the big flaring bell skirt ballooned out over her curvy pear-shaped hips adding feet to her width. Yeah, Michelle looked like a bell all right from her wide base all the WAY up to the tippy top of her new disaster do.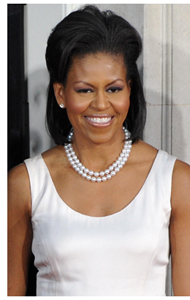 WRONG because that new hair do made our gorgeous First Lady join the mile-high club -- the mile-high forehead club, that is. Had you ever noticed that Michelle had a landing strip across the top of her head? Me neither, until now. But exposing her huge forehead wasn't the only thing wrong with this 4 inch hair pullup -- the world now thinks we have a conehead for First Lady.
Then as if the First lady's outfit wasn't disappointing enough for her debut on the world stage -- boy, Carla Sarkozy must wish she had come after all, it would have been a no-brainer fashion contest -- Michelle dragged her husband into one of the style world's worst crimes: clone couple-itis! The Obamas totally coordinated their black and white outfits. We had two presidential penguins and not just one.
Why couples think they need to dress in matching colors when appearing in public, I have no idea. But it is a highly disturbing thing. And in this case, in the photos of the enormously tall Obamas towering over the tiny royals, they looked like two funeral directors accompanying an elderly couple to a wake.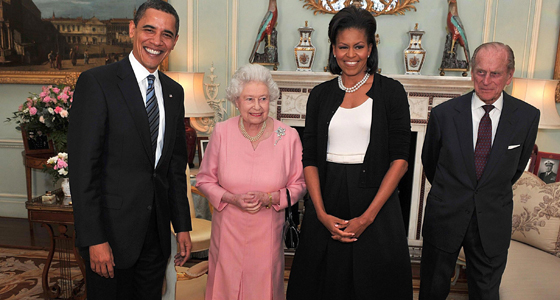 A wake is what should be held for this first dud outfit. Michelle, it's time to own your good looks and striking figure. Sleek, sophisticated lines, bold colors, clean, fitted shapes - that's what will make you look best. And now that we're over the election, you can wear a suit or even just a short, fitted suit jacket. You don't need to fear looking too powerful. Disguising yourself as a bell, will not do America proud!
Sadly, the First Lady's first fashion messup wasn't a random event. It now appears she's on a losing streak. New photos of her in an argyle cardigan and hip-extending blue prom skirt on her second day in London indicate we have a much bigger problem on our hands.
Michelle, it's time to get out Jackie Kennedy books out, hire a stylist -- do whatever you have to do to get back on the style icon path.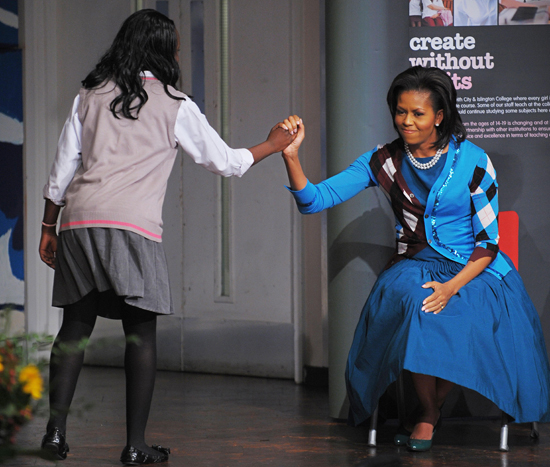 Related