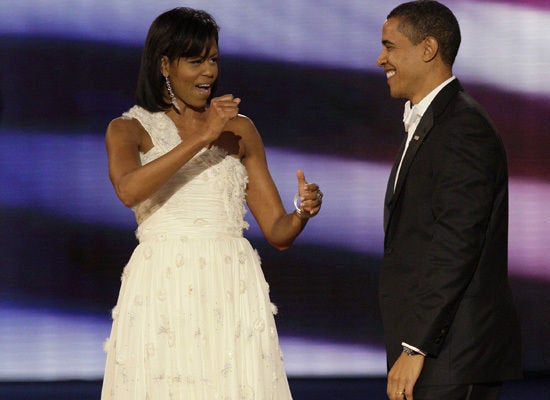 OK--she didn't put it to the dance test before the big Night--that
was obvious. But how else did the gown fare in the eyes of the fashion
pros? Here, they sound off!
Stacy London, co-host of TLC's What Not To Wear
"Talk about a stimulus package! Michelle has given a huge boost to the
American fashion industry. I'm so thrilled that she wore white because
looking at historical photos of First Ladies on inauguration night --
the bright colored looks end up getting dated. White is timeless. I'm
also so glad she showed her arms because they are her best feature."
"I thought she looked elegant and beautiful. I think white was
appropriate for the evening complementing Mr Obama's white tie and
formal dress."
Lesley Seymour, editor-in-chief More magazine
"It's not my fave dress. A bit to froo-froo for her body. She's better
in structured stuff--and a bit more modern. But what I like is that
she's promoting American designers and we really need that."
"It was perfect-- very elegant but young. I love that she's choosing
looks from the young guard of American designers (this gown by 26-year-old Jason Wu). She chose a path less-traveled. While it did
remind me of a wedding cake, it also made me think of spring flowers,
which is a nice symbolic choice - time for a fresh start."
Tara Kraft, group beauty & fashion director, Star magazine
"Barack must have been reminded of his wife on her wedding day- she
really was breathtakingly beautiful. The dress was very on-trend. So
many of the actresses at The Golden Globes recently wore flesh-toned
or white dresses. I also love that she wore her hair down. So often
first ladies wear their hair up in French twists or buns and that
would have made her look like someone else."
Lysa Cooper, celebrity stylist (styles Rihanna, Shakira and Beyonce)
"I love it, love it, love it. And she took a great risk wearing white
in a room full of black and white, and she still stood out. I loved
that she had the courage to show some skin and that she kept her
jewelry super-simple and clean."
Philip Bloch, celebrity stylist
"She delivered! She brought the glamour! She wore two of the most
beautiful first lady looks ever. It was timeless, iconoclastic. You
could have seen this dress on Princess Grace. Would have looked great
in any of the last seven decades. And her gown choice was clever. It
was designer but not $12,000.
She also went ethnically diverse with her designers. Her day look by a
Cuban-American and her evening look by a designer born in Taipei."
Jenna Lyons, creative director for J.Crew
"Michelle looked beautiful, modern, youthful, and most of all--HAPPY.
The bare shoulders and asymmetrical neckline were a great choice, and
the fabric looked rich and luxurious."
Robert Verdi, style expert and TV personality
"I love that she was showing the cultural diversity of the fashion
community--these designers are now a part of fashion history and,
interestingly, both Isabel Toledo and Jason Wu both moved to this
country after being born elsewhere, and they're now living the
American Dream. Eva Longoria was actually the first big celebrity to
wear Jason Wu's clothes. I think Michelle Obama probably liked the
fact that Jason actually started out as a doll designer. He designed
the RuPaul doll.
I thought she might be a little more body-conscious, and that as one
of the youngest first ladies that we've had, that she would be a
little more risque. I wasn't totally blown away. I thought the width
of the strap in the front was a little severe."
John Barrett, celebrity hairstylist
"Here is the most beautiful fashion-forward first lady, and I was
looking for something more spectacular. She has a fantastic statuesque
body, and yet I felt the wide sash and the rouching distracted from
her beauty. To me it was too bridesmaid-like."
Michael Henry Adams, designer
"So far, no black designer has ever created an inaugural ball gown.
Does it matter, one might ask, if Michele Obama still hasn't
patronized African American designers for her high profile wardrobe?"
Follow more of Bonnie's reaction to the inauguration on twitter.com