Michelle Obama looks particularly chic today in a pale yellow gown by designer Isabel Toledo. You can see more of her designs here, and read more about the designer herself here. Scroll down for photos of Michelle, and for more info about the inaugural fashion from AP. (Images from Getty)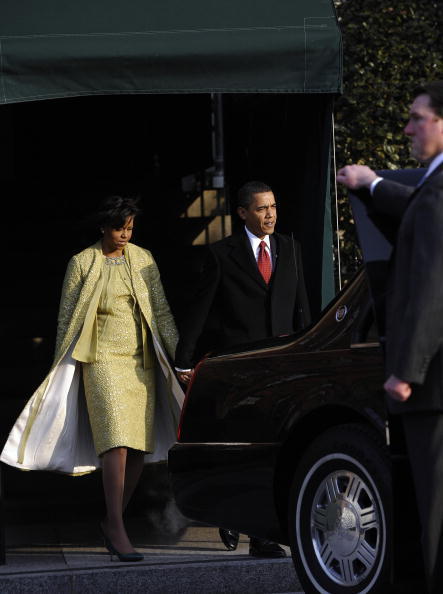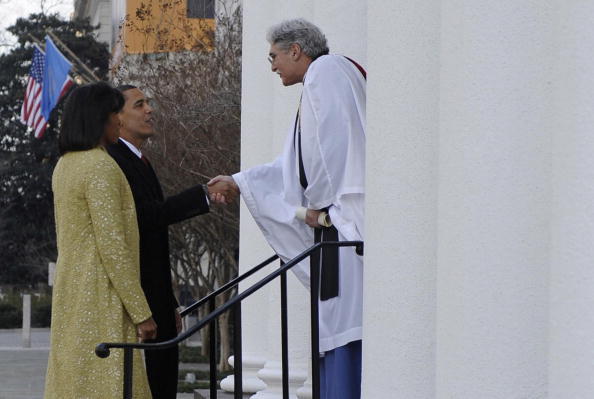 First lady Michelle Obama wore a sparkling yellow-gold sheath dress with matching coat by Cuban-born American designer Isabel Toledo for the inauguration of her husband, a choice many applauded as a cheerful message of hope and a vote for the American fashion industry.

She paired the embellished ensemble with green gloves from J. Crew and green shoes.

President Barack Obama wore a red tie and white shirt with his suit, topped with an overcoat adorned with an American flag pin.

Their daughters were style icons in their own right, with 10-year-old Malia in a double-breasted periwinkle-blue coat with a blue-ribbon bow at the waist, and Sasha, 7, in a pink coat with orange scarf and satin belt, a coral-colored dress peeking out at the hem. Their coats were from Crewcuts by J. Crew.

The fashion industry has anxiously looked to the election of Obama for months, embracing his wife as an emblem and ambassador of modern American style. She has won praise for her penchant for lesser-known designers and bold fashion choices, mixed with her unabashed love for mass fashion from mainstream American retailers.

"She is single-handedly breathing new life into designers like Narciso Rodriguez and Isabel Toledo, who have had a rocky past," said red-carpet and editorial stylist Mary Alice Stephenson.

"What's so powerful about Michelle Obama is we all see ourselves in her. She's a modern woman who is fashionable and even flamboyant in her style and she is still taken seriously," she said. "She's wearing that dress today for all of us. We're all wearing that dress with her. The dress is elegant, appropriate and has the individual style stamp of Michelle Obama and is timely for a woman in her 40s and she wears embellishment during the day. Hallelujah!"

Nicole Phelps, executive editor of Style.com, notes that Michelle Obama has found an elegant silhouette that works for her: the narrow sheath dress and complementary coat.

The inaugural outfit is a "classic choice rather conservative compared to some of the things she's worn so far," Phelps said, but she still gives her fashion wink with her gloves and colored pumps. The gold, she adds, captures the glistening sun.

"This choice sends a great message to the fashion community. She could have gone with someone more obvious, like Ralph Lauren, but this sends a message to the American designers who are struggling. ... It also says that just because she's in the White House, she'll support the under-the-radar designers she wore on the way to the White House," Phelps said.

Designer Toledo, who just a few years ago unsuccessfully tried to infuse more modern style into the venerable Anne Klein label, is considered among the more avant garde U.S. designers.

Michelle Obama has been noted for choosing unexpected fashion designers, including Narciso Rodriguez, Zero Maria Cornejo and Chicago designer Maria Pinto. For the "Kids Inaugural" concert on Monday, Michelle Obama wore a J.Crew ensemble, including a metallic lace top, aqua-colored pencil skirt and cardigan.

The Obama' look Tuesday contrasted with that of the outgoing Bushes, with Laura Bush in a dove-gray skirt suit and matching coat.

On the podium with the Obamas, Vice President Joe Biden wore a bright blue tie, while his wife, Jill Biden, had on a bright red coat and high black leather boots.

Also catching style-watchers' eyes: Aretha Franklin singing to the immense crowd gathered at the Capitol in an over-the-top hat with an oversized bow and beading.