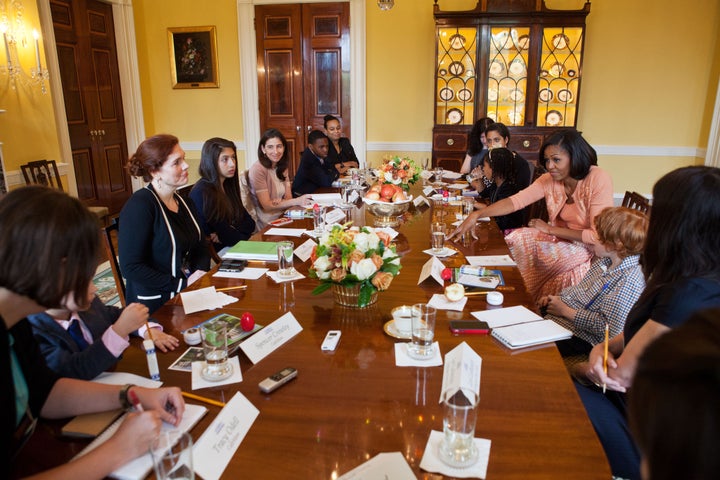 In the cab on the way to the White House, where we'd been invited to spend Take Your Child To Work Day, my 8-year-old son sat slumped on the seat next to me, chewing his fingernails and staring out the window with a distant, slightly-panicked look on his face.
"Are you nervous, sweetie?" I asked.
"Do you want to talk about it?"
Long pause. "I just don't think I'm ready to go to the White House," he said gravely. "I only have eight years of experience."
I'll start with the ending of the story first -- Carlos did great. It was a small gathering -- just five mothers, all journalists who cover parenting and women for online media, with a child apiece, sitting around the gleaming table in the old White House dining room with Michelle Obama, just talking. Our one-hour roundtable discussion touched on topics ranging from how working moms can carve out time for themselves to the latest Mommy Wars dust-up to how to fit exercise into your family's rhythm. It was surreal to be having these discussions with the First Lady, arguably the most important working mother in America, and -- it must be said -- just as warm and smart and funny and beautiful and down-to-earth and elegant in person as she appears from a distance. (I had to get that out of my system.) The kids also had a chance to pose questions to the First Lady and their queries were treated just as thoughtfully as their moms'.
Carlos, who was seated next to Mrs. Obama, was the first of the children to ask a question.
"Do Sasha and Malia have sleepovers at the White House?" he wondered.
"Yes, they do," the First Lady answered. "But my kids are like every other kid in the sense that everybody else's house is more interesting than their house. So I'm like, why don't you have the kids over here? Oh, no, mom; I want to go over to X's house. I live here. It's not interesting for me to be here. And it's like, well, don't you think it'd be interesting for your friends to be here?"
And later, when it was his turn to ask something else, he brought up one of FLOTUS's favorite topics -- school lunch.
"I know you're all about healthy stuff and all of that," he began. "Well, a couple of mornings ago, I heard this thing on the radio that all school cafeteria food had to be good. But I don't think my school is really following that."

The First Lady assured him that new standards for healthier school lunches would go into effect in the fall.

"So in this coming school year, it's going to be important for you and your mom, and other parents, to look out, because they're going to be required to raise the standards. My recommendation would be that if it's still not up to snuff, that you think about doing some of your own organizing." Carlos explained that he'd been trying to convince his friends to eat healthier but it was hard because they really like the cafeteria food as it is. She made him promise that he would report back to her in September and let her know if there had been any improvement.

What Carlos learned, then, on Take Your Child To Work Day, was that eight years of experience was plenty. What his mother learned, was that if you take a family and move them to the White House, they are still a family, and that the parenting conversation around a shiny White House table sounds pretty much like parenting conversation around yours or mine.
Here are a few other things Michelle Obama had to say:

On What Women Can Learn From Men
It started when I had Malia...and what I noticed is that my husband was still getting his workout in, almost miraculously... Instead of getting angry about that, which was my first reaction -- and I did for a short period of time -- I sort of thought, now, why am I mad at him? He's doing what he needs to do, which is ordering his day so that he gets things done, and I would work around that.

So that was the beginning of me saying, I've got to do what he does. I can't get mad at him for doing what he's doing, I just need to figure out how to do it, and how to get the help I needed. This is when I started having the crazy early morning workouts. I got up -- 4:30 in the morning -- to go work out. And when I came back from the workout no one was dead. Baby was fine, everyone was happy, I don't -- she might have cried for the entire hour, I didn't know, but she was okay.

On What Work/Life Balance Looks Like During A Campaign
I still maintain that parameter that protects family time and girl time. So last campaign, they had three days a week for me and I still do that; today, my schedule is three days a week and today is one of those days. And they're filled, they're packed, but when I'm done, I'm done.

But I try to be here for the girls' sports, for when projects are due, presentations, graduation, the last game. I've got to go to one of Malia's track meets before it's all said and done, so I had to cancel something, because I'm going to go to two of them. So we really prioritize the girls first.

On The Necessity Of Mom Friends
There was a group of moms -- we're still close -- we all had girls around the same time. We would have Saturday mommy and baby play dates that started when the kids were 8 months old. And it was basically -- we'd set them in their little carriers and we'd hang out and just talk about these issues. And that became -- we kept doing that every Saturday until the kids were in school and they started having their own activities.

On Screen Time
The girls have limited television and screen time -- none during the week unless it's school-related, because now kids are doing these -- they video chat study groups. And when they're doing that, I always go in their room to make sure they're actually talking about school. So there's more of that. Kids, instead of how we used to call on the phone and talk about homework, they get on the computer now and chat. So I don't want to interfere with that, so I monitor with the teacher to make sure that the kids who were studying together are actually -- that then they're studying in a way that's helpful.

On How Everything Changes When You Become A Mother
And I tell young, professional women you may feel one way today and then you have a child, I guarantee you, you will feel differently. And then, you have two, you'll feel differently. And then, when they get a certain age, you'll feel another way. Then, you'll get to a certain age and you'll feel another way. This is all very fluid. And that's what gives me a sense of calm is that I know that I have to figure out what works for me at any given time.

On Helping Your Children Do The Right Thing
If you've got your little clique over there, and there's somebody always asking -- Malia are you looking out for the kid on the outside? Are you the one? Because you can't sit there with your friends chatting and talking about, oh, she's weird. Are you the one helping to pull that girl in, so it's got to go both ways. But we have these conversations, and I know you guys do too. So it isn't any different. It isn't any different.
On What Superhero She Would Be If She Could
And my favorite superhero is probably Superman. He just seems -- the whole construct of powers that he has and the fact that he is like a real person most of the time, living amongst us.
Carlos sitting next to the First Lady: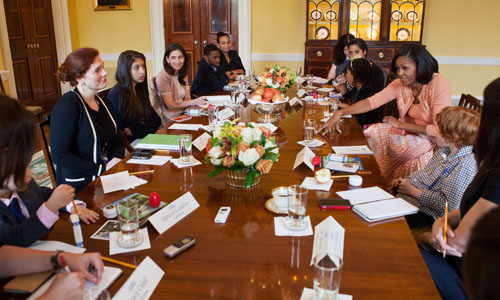 What Carlos drew on The White House stationery while sitting next to the First Lady: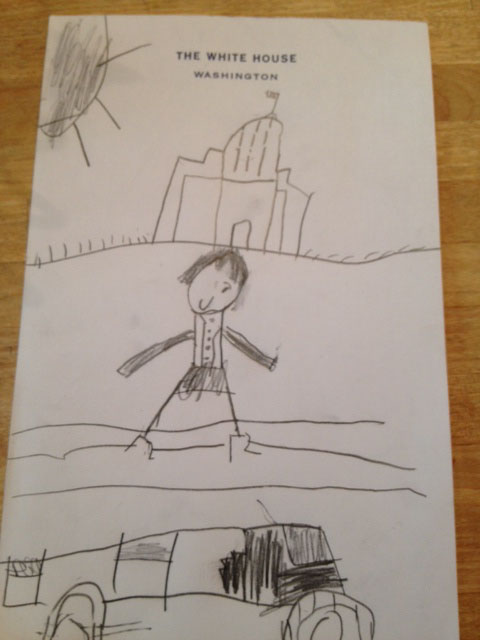 Popular in the Community