This past Sunday I ran into one of my favorite beauty people at the West End SoulCycle in DC -- Carl Ray, celebrity makeup artist and the man responsible for Michelle Obama's always perfect makeup. He almost didn't recognize me because I was not sporting my signature red lip (it is true, I do not SoulCycle with lipstick on... but maybe I should?!). Indeed, him and I have often discussed the power and class of a red lip. And here, he gives his simple and implementable recommendations for the best red lipstick for each skin tone.
In the midst of asking him about red lipstick, I had to add a couple additional questions, as I am fascinated by the idea that he travels with the First Family to do FLOTUS's makeup. It sounds so glamorous... and the best thing is that any woman in DC can have her makeup done by Carl -- at One80 Salon downtown DC (he just moved to this salon after many years with George at the Four Seasons).
AP: As you and I have often discussed, I love a bright red lip -- what is your red lipstick philosophy? Favorite reds? Can anyone pull off a bright red? Sometimes it can seem intimidating...
CR: There is a red lipstick for everyone. Skin tone will help dictate which shade is best for every woman. Also there are different formulas of red to take in account -- sheer, gloss, stain, cream and matte. These reds look best on different skin tones from light to dark: Ruby Woo by MAC, Cherry Lush by Tom Ford, Red Carpet Matte by Bobbi Brown, Heat Wave Semi Matte by NARS.
AP: What are the makeup items you think every woman should have?
CR: Mascara, sunscreen in form of a tinted moisturizer and / or foundation, lip gloss and bronzer or blush. Make sure your eyebrows are groomed at all times.
AP: What is a "normal" day for you?
CR: I'm an early riser! I start the day with a cup of coffee and some fruit. I typically review my schedule the night before so that I can start my day ready for the varied client appointments. It is important that I somehow get in a workout at SoulCycle or light weights each day.
AP: Tell me about your summer trips with the First Family -- highlights?
CR: I travel with the First Family throughout the year for official and cultural visits. Each trip is special in its own way. A few of the destinations that I have had the opportunity to travel with the family in the warmer months include Japan, Cambodia, London Summer Olympics, Berlin and Buckingham Palace. There have also been visits to foreign destinations when we are in winter months and it is extremely hot where we travel such as Africa and South America. Recently we were able to visit Venice and were able to experience a "boatercade" vs a "motorcade" which was cool.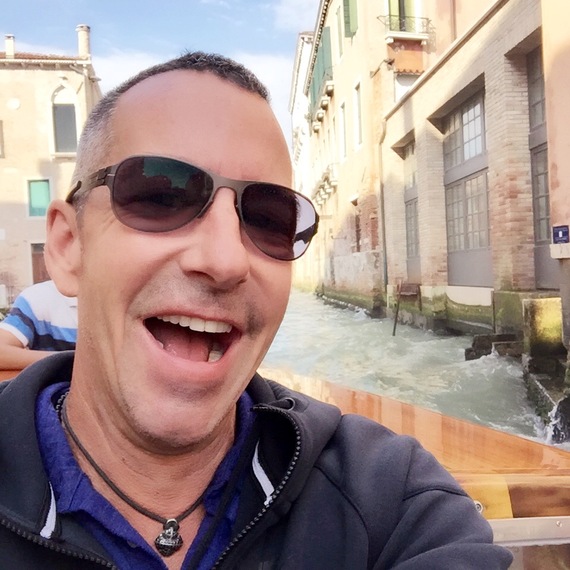 Carl Ray in the Venice Boatercade (courtesy of C. Ray)
AP: How did you get in the beauty industry?
CR: I am an artist and painting is my favorite medium. I did my mother's makeup in my teens. My first real makeup job was at EFX which is now BlueMercury. I was the resident makeup artist for 5 years.