Not long ago, I wrote about Michelle Obama's family in Henry County, Virginia and shared this document in which her Jumper ancestors indicated that they had been free before Emancipation. In the columns where others listed the names of their last owner, Peter and Dolly Jumper simply said "free."
While this certainly made the Jumpers a distinct minority, many aren't aware that approximately ten percent of African Americans were free prior to Emancipation. This is an important reality for anyone interested in African American genealogy because those of us living today had quite a few ancestors back in the 1860s. Depending on your age and assuming generations of roughly 25 years, you might have had approximately 16, 32 or 64 direct line forebears at the time (two parents, four grandparents, eight great-grandparents, etc.). And with so many branches in your family tree, there's a decent chance that at least one of them was free.
The reason this matters is because those ancestors will be easier to research since they weren't hidden behind the obscurity that slavery inflicted on so many. Free ancestors will appear in census, military and other records with all the details genealogists hope for - names, dates and places. Moreover, their paper trail will often be supplemented by regular appearances in local court records. Why? Because they had to prove their freedom - over and over again.
In Virginia where Mrs. Obama's Jumper ancestors resided, the General Assembly passed an act in 1793 requiring the registration of free blacks. It was only about a decade earlier in 1782 that Virginia had passed an act permitting the manumission of slaves, but the growing number of free blacks during that interval concerned some, so the 1793 legislation was the beginning of efforts to impose controls on the African American population. Free blacks had to register every three years at the local courthouse, and lists were maintained by the courts. Once registered, an individual was given 'free papers,' which had to be produced on demand to prove one's status.
Although the direct link to Mrs. Obama's family is unclear, the first known recording of a Jumper registering for freedom in Virginia is found in Petersburg in 1800. According to research conducted by Paul Heinegg (author of Free African Americans of North Carolina, Virginia and South Carolina), a woman named Hagar Jumper asserted her freedom on the basis of her descent from an Indian woman. His research also revealed earlier mentions of Jumpers dating back to a court case involving Tuscarora Indians in 1707, suggesting that the First Lady may well have some Native American ancestry.
If one follows the path of those bearing the Jumper name in Virginia, a gradual southwestern migration becomes apparent until some reached Henry and Pittsylvania counties where Mrs. Obama's family lived. It's Pittsylvania County where Richard Jumper (probably a brother of her 3rd great-grandfather) registered for freedom in 1838. At the time, he was about 20 years old and five foot ten, and the details provided indicate that he sported several scars as well a sixth finger on each hand.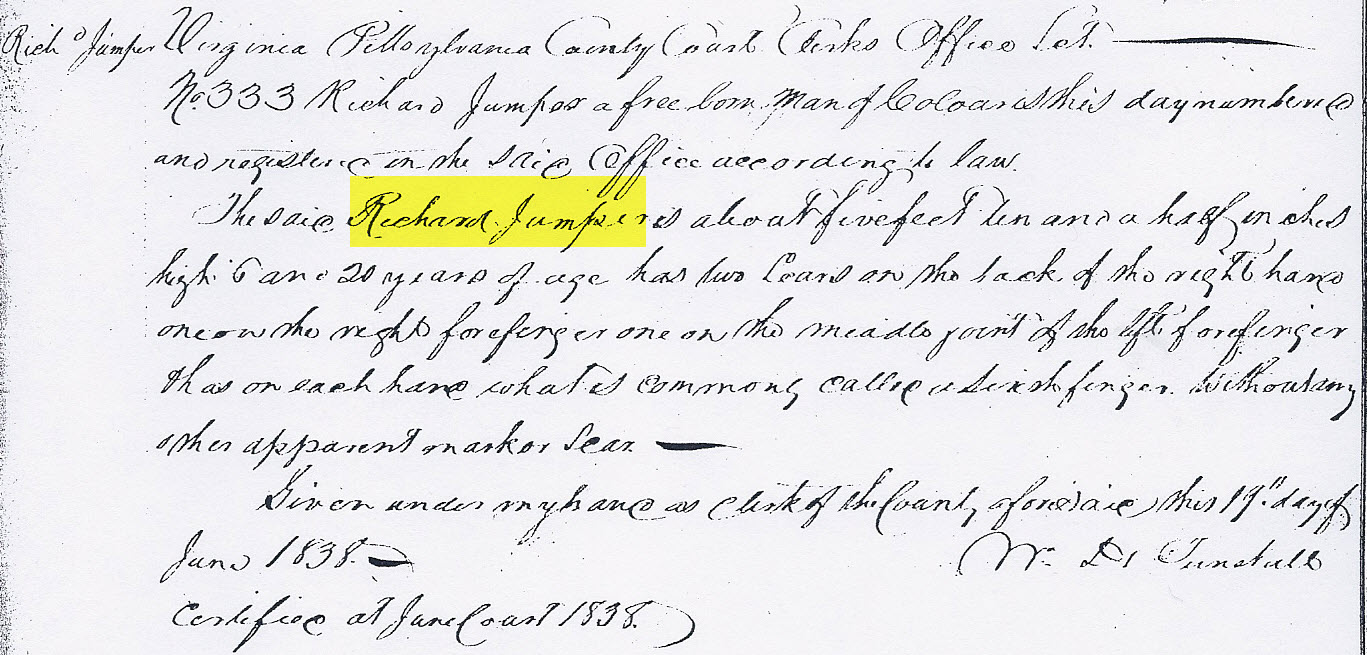 By the 1850s, the records show Mrs. Obama's family in Henry County. Here, for instance, are several members of her family, including her 3rd great-grandmother Dolly, in a list of "free Negros over 12 years."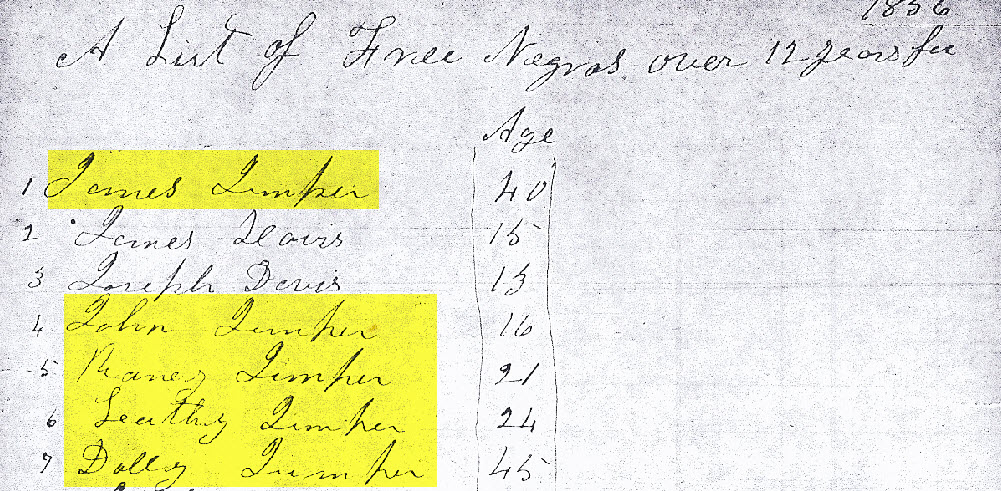 Three years later in May 1859, members of the same family went to the courthouse together to keep their registration in good standing. Note that her family used both the Jumper and Hall surnames (Hall was Dolly's maiden name) and that nicknames also enter the picture. Serena Hall, for instance, is the same person as the Raney Jumper listed in the 1856 record.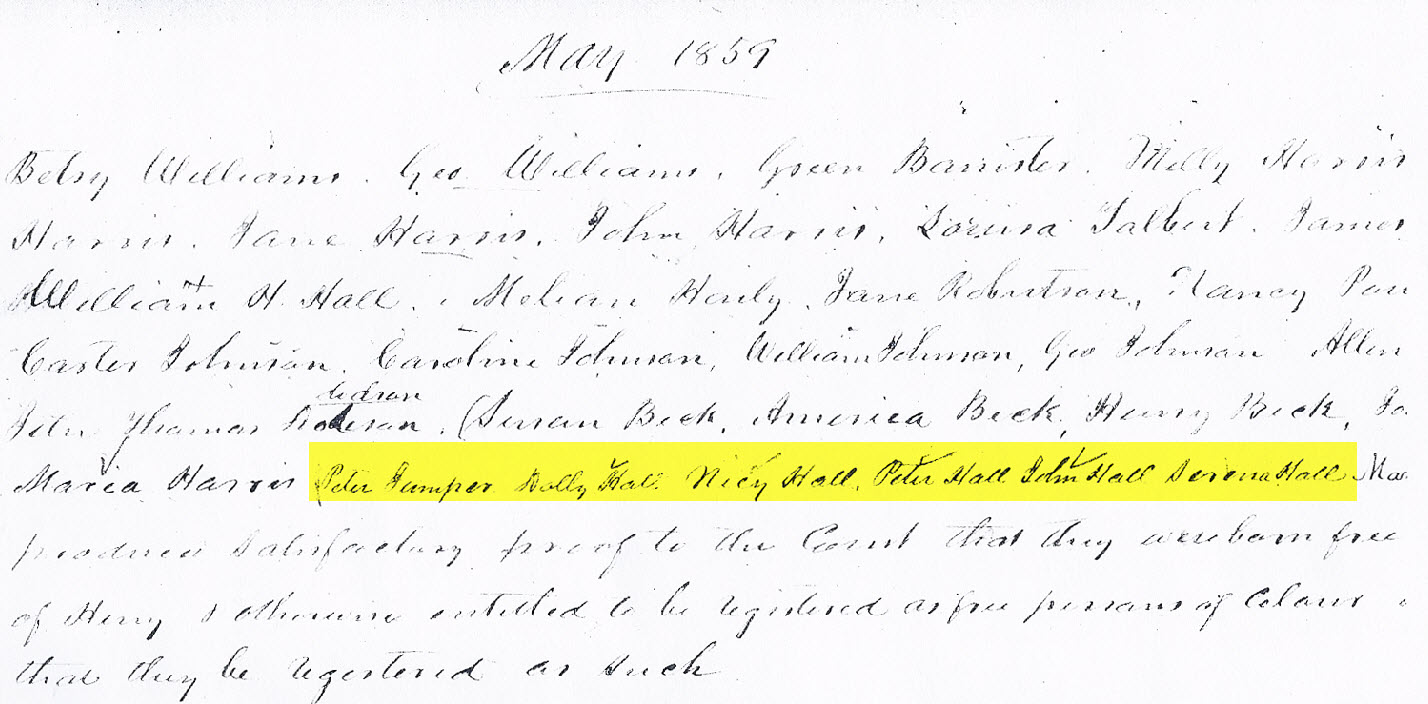 Mrs. Obama's ancestors were fortunate in gaining their freedom earlier than others, but were required on a recurring basis to substantiate and reassert their liberty. The last record in which the Jumpers stated their freedom is the 1866 list mentioned at the outset of this article. Some 80 years later in 1946, Margie Jumper - born in Henry County, but then living in Roanoke, Virginia - was arrested for refusing to give up her seat on a bus when a white man who had just boarded asked the conductor to make her get up. This was almost a decade before Rosa Parks would do the same in Montgomery, Alabama. True, Margie had married into the Jumper name, but she lived up to its history that day.
Related
Popular in the Community