UPDATE: 'Sesame Street' sent us the following photo and information on May 5th.
First Lady Michelle Obama visited Sesame Street today to tape a Public Service Announcement with Elmo as part of Sesame Workshop's Healthy Habits For Life initiative. Mrs. Obama and her pal Elmo talked about eating right, exercising regularly and being a healthy and positive role model for children. (c) 2009 Sesame Workshop. All Rights Reserved. Photo Credit: Richard Termine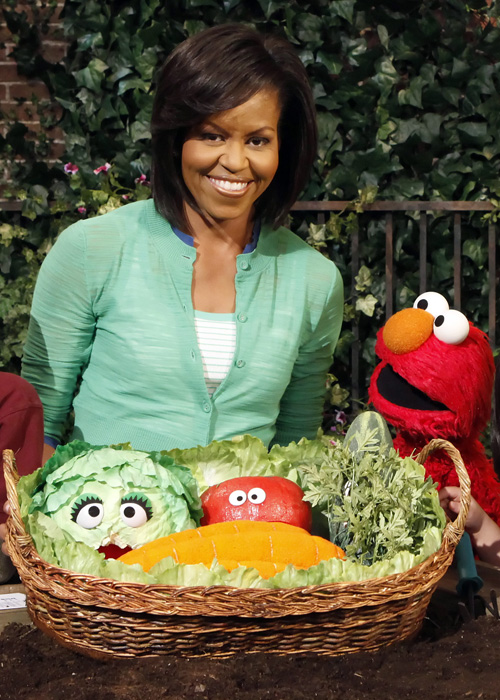 ***** Michelle Obama arrived in New York on Tuesday afternoon, where she spoke at the UN while wearing the same Tracy Feith dress she wore to the National Prayer Service the day after the inauguration. Photos below, pool report and full remarks below.
She will address the Time 100 dinner in New York on Tuesday night.
The first lady also revealed that she taped "Sesame Street" today, saying the appearance was "probably the best thing I've done at the White House." Air date to be announced.
Pool Report Amy Chozick The Wall Street Journal.

FLOTUS visited the United States Mission to the United Nations on Tuesday afternoon to deliver brief remarks and thank long-term government employees. She stood behind a heavy wooden podium emblazoned with the United States Mission to the United Nations seal, three flags behind her, and spoke for about ten minutes to the roughly 150 employees of the U.S. Mission in New York. U.N. Ambassador Susan Rice introduced the first lady.

"It is a great honor to welcome the First Lady of the United States," Rice said. "The folks gathered here are truly the foot soldiers on the front lines of the new administration." She called the group "tireless, talented and tremendously dedicated" and said they are "making the change in our foreign policy real every day."

Rice then went on to praise the first lady. "You insist on reminding people that your extraordinary life is rooted in the ordinary women that surrounded you," Rice said. "We love your style, your warmth, your brilliance."

She called FLOTUS "wicked smart" and said she had a gift of UNICEF children's books, light-up pens and soccer-related stuff to Sasha and Malia.

"Because they don't have enough," Mrs. Obama interrupted in the background.

"I am thrilled to be here," FLOTUS said, wearing a black print dress with three-quarter length sleeves by Tracy Feith. She talked about a Tuesday visit to Sesame Street where she talked about healthy eating and nutrition. "I never thought I'd be on Sesame Street with Elmo and Big Bird and I was thrilled. I'm still thrilled. I'm on a high. I think it's probably the best thing I've done at the White House."

FLOTUS thanked Rice and called her a "trusted advisor and friend to the president." She returned the compliment and said Rice is "wicked smart."

Obama told the crowd she has been trying to get to know her new neighbors in Washington.

This is Mrs. Obama's first visit to New York since she became first lady and her 10th visit to a government agency. The list of agency visits is as follows: Education, HUD, Interior, Agriculture, Transportation, EPA, State, DHS, Office of Personnel Management. FLOTUS told the crowd that her "goal is to hit all of them."

Her mission, she says, is to put a spotlight on the nation's employees who may feel underappreciated. 40 long-time U.N. employees sat to the left of the stage. These included Ivan Ferber who has worked at the U.S. Mission to the U.N. for 47 years. "Longer than I've been alive," Obama said, as she thanked Mr. Ferber.

Other honored employees included: Bruce Rashkow who has worked at the USUN for 38 years and Raymond Boneski who has worked there for 36 years.

FLOTUS talked about her recent meetings with schoolchildren in DC and read a letter sent to POTUS by Jack Turner, a first grader and son of Scott Turner, a USUN employee. "Dear Mr. Obama, Can you come to New York?" the letter read. "People are doing bad stuff in New York."

FLOTUS joked that Jack has the potential to become the next NYC police commissioner.

Obama told another story about the time Ambassador Rice's 11-year-old son-visiting his mom's office during take-your-child-to-work day-threw away his ice cream so that he would make a good first impression on the South African ambassador. "That's diplomacy right there, for an 11-year-old to dump his ice cream," Obama said.

FLOTUS said people who work at state agencies are willing to "sacrifice and roll up their sleeves" and cited the H1N1 virus. "We know now we cannot wall ourselves off from issues that are challenging our neighbors," she said.

"We are rooting for you and we need you, so thank you so much," Obama said.

After the remarks, FLOTUS posed for photos in an eight-floor foyer with employees.

Mass. Sen. John Kerry's sister, Margaret "Peggy" Kerry, works for the U.S. Mission to the U.N. and was in attendance. "I think it's great" that the first lady is here, she told reporters. "She made the rounds in Washington and now she's in New York."

More about the U.S. Mission to the U.N. (from the mission's website): In 1947 the United States Mission was created by the United Nations Participation Act to assist the President and the Department of State in conducting U.S. policy at the U.N. An important function of this Mission is to keep the Department of State informed of events at the United Nations. Mission officers report on meetings and make recommendations to the State Department as to what course of action the U.S. should pursue in the world organization. The information is also relayed to overseas American Embassies which have an interest in particular items under U.N. consideration. USUN is also a link between the U.S. Government and the U.N. Secretariat, headed by Secretary-General Ban Ki-moon. Almost all U.N. member nations maintain missions in NYC.

According to the website, the current U.S. Mission to the U.N. at 140 East 45th Street (between Third and Lexington Avenues) is temporary while permanent offices are being rebuilt across the street from the U.N. headquarters on 1st Avenue.

Endit.
First lady's full remarks:
THE WHITE HOUSE

Office of the First Lady

________________________________________________________________

For Immediate Release May 5, 2009

REMARKS BY THE FIRST LADY

TO EMPLOYEES AT THE UNITED STATES MISSION TO THE UNITED NATIONS

U.S. U.N. Offices

New York, New York

4:28 P.M. EDT

MRS. OBAMA: Thank you. Thank you so much. I am thrilled to be here. Thank you, Susan, for that kind introduction. I'm thrilled to be here, but I was just at Sesame Street, I'm sorry. (Laughter.) And I never thought I'd be on Sesame Street with Elmo and Big Bird, and I was thrilled. I'm still thrilled. I'm on a high. (Laughter.) I think it's probably the best thing I've done so far in the White House. But we were there talking about nutrition and healthy eating, and it's just been a thrill. So I'm glad I could take the time to be here with you all.

You know, I just want to tell you that Susan Rice -- I could take her introduction of me and turn it around and do the same thing for her. She is a trusted adviser and friend to the President and to me. And I know how appreciative Barack was when Susan agreed to serve as Ambassador to the United Nations, because of the importance that he places on the work that you all do. And having someone that he trusts and expects -- and respects and admires and who is also wicked smart -- I like that one -- (laughter) -- just is a sign of how valued this work is to the White House.

It is a pleasure to be here in New York. This is my first trip back to the city since I've become First Lady. It seems like I was just here, but it's been a hundred and seven, eight, nine days or something like that.

But in addition to doing some traveling around the country and around the world a little bit, I've been doing, as Susan mentioned, a lot of traveling around Washington, and trying to meet our new neighbors. That's something that we were taught; that when you move into a new place, that you learn about your community, that you introduce yourself, and you not just talk but you listen.

And I've been going around to as many federal agencies as I can. The goal is to hit all of them, and I've been to about 10 agencies, and really trying to shine a bright light on all of the hard work done by our nation's employees.

You know, my task when I go is simple: is to say thank you. And many people don't hear that. Many people don't feel that the years that they've put in -- sometimes are not appreciated. And my visits are just a simple way of saying yes, in fact, we see you, we know who you are, we value what you do, and we couldn't be here, wouldn't be here without you.

I've had the chance to meet so many people who've dedicated their lives, their entire careers to strengthening our nation. And in fact, here today I want to acknowledge 40 of those people who are sitting in the front rows here -- oh, this is the 40. (Laughter.) I was trying to figure out while I was standing there, which is the 40? (Laughter.) It's you!

It's my understanding that everyone over here has worked for the U.S. government for more than 20 years, and that includes Ivan Ferber. (Laughter.) Where's Ivan? (Applause.) He has worked here a remarkable 47 years -- longer than I've been alive. (Laughter.) So let's give Ivan and all of them a round of applause. (Applause.)

I have also been going around to do one of my favorite things, and that's meeting with kids in the schools and community centers and encouraging them to study hard -- my whole model is, being smart is really cool, so get it together -- telling them that we're going to need them to be prepared, basically, to take on the reins and become the future leaders, the future public servants, really trying to let them know that developing careers in public service and thinking about that now is a really good thing -- because we're going to need them, we're going to have a lot of work to do.

And I've learned that I don't need to work too hard sending that message to your kids, because the President was sent a letter the other day from the son of Scott Turner. (Laughter.) Where's Scott? All right, so Scott's son, Jack, a first grader -- okay, I know I'm going to embarrass you, but this is a good one -- (laughter) -- he wrote the following letter to the President:

Dear Mr. Obama, can you move to New York? (Laughter.) Because people like you so much in New York. I will help you come to New York. (Laughter.) And people are doing bad stuff in New York. (Laughter.) I will help you get the bad people. And when I catch the bad people, I will put them in jail. (Laughter.) That's why I want you to move to New York. From, Jack. (Laughter and applause.)

So ladies and gentlemen, I think we have identified the new future New York Police Commissioner! (Laughter.) Jack, on the case. (Laughter.)

Now, I know that part of Ambassador Rice's mission is to strengthen the U.N., but I also didn't think that nepotism was a part of it, but it's sometimes a good thing, and I've got an embarrassing story for her, as well.

A couple of weeks ago Susan's 11-year-old son, Jake, was here for Take Your Child to Work Day, a day that I know all drove us crazy, but the kids liked it. We had -- we enjoyed it at the White House, as well. But he was apparently embarrassed to be caught eating ice cream when the South African Ambassador was approaching his mother's office. And not wanting to, and this is a quote from Jake, to "make a bad first impression," Jake dumped his ice cream -- (laughter) -- just so he could introduce himself. Now, see, that's diplomacy -- (laughter) -- right there for an 11-year-old to sacrifice ice cream to shake the hand appropriately of a fellow ambassador.

AMBASSADOR RICE: If only he was so -- (inaudible.)

MRS. OBAMA: Well, you know -- (laughter) -- they never -- they never do that with us. (Laughter.) But good home training -- he was able to do it outside. So I want to thank Jake for taking so seriously his role in creating the best impression of American diplomacy.

But I think our future is in good hands, from what I've been seeing, traveling around. And I know that each and every one of you has a child in your life that you are desperately pushing ahead, and you know they can do it. So I believe we're going to be okay.

And I believe we're presently in good hands because of all of you. From what I'm seeing in my agency visits, people are ready and willing to sacrifice and roll up their sleeves.

As the President has said, the United States is pursuing a new era of engagement when it comes to advancing America's interests around the world. This new policy recognizes the fact that America's future is intricately linked to the rest of the world; that the threats facing the global community know no borders, and no single country can tackle them alone.

And we've learned this again with the recent outbreak of the H1N1 virus. We know now that we can not wall ourselves off from issues that are challenging our neighbors. It is moments like this when having relationships based on mutual trust and respect will be most beneficial. And as the world becomes even smaller and our future more inter-connected and the stakes ever higher, your work is more important. It has never been more important. Your work links the world to America and American ideals that are beacons of hope for millions of people.

As I told the young women at the Elizabeth Garrett Anderson School in London during our recent trip, I told them there was nothing in my life that would suggest that I would become First Lady. Rather, it is the premise of America and the promise kept that brings me here today.

There are millions of girls and boys in countries near and far who are looking for a way to make the most of their lives. There are parents struggling to raise those kids, there are teachers working hard to teach them, community leaders struggling to give them safe, nurturing communities where they can grow and thrive. And they're doing this against some pretty incredible odds, especially in developing countries.

And that's why the work that you do here to advance America's interests and to make the U.N. a more effective and efficient organization is so important.

There are people around the world counting on the success of your efforts. The young boy who is forced to carry a rifle and become a child soldier, he's counting on you. The girl locked out of the school house or attacked because she had the audacity to want to learn to read or write, she's counting on you. The mother walking hours each day to find clean water for her children, she's counting on you. And the father who leaves his family for months or years on end in search of work, he's counting on you, as well.

Social and economic development programs give millions of people hope and a chance at a brighter future, paving the way for a more peaceful and prosperous world for us all.

And in my role as First Lady, what I hope to do is to work with you in some way, shape or form to help build that mission. And I am looking forward to joining you in this endeavor.

So I want to thank you all for what you've done, what you will continue to do. We are rooting for you, and we need you. So thank you so much. (Applause.)

END 4:38 P.M. EDT
Popular in the Community