Michelle, I've got news for you. When you get dressed, there's a new accessory that you've got to add to your wardrobe and this time, it's not your handsome husband. Along with that purple sheath dress, you need to layer on some armor. The attacks are about to begin. As Maureen Dowd pointed out in the New York Times last week, now that Alpha Female #1 Hillary Clinton is out of the Presidential race, all the sexist misogynists who see big benefits in demonizing democratic women, will turn their viciousness on you.
And I've got more news for you Michelle, you're the perfect target for this type that sees a powerful woman as a terrifying prospect in the White House. Especially one with a metrosexual-seeming husband who might actually be sensitive to the less fortunate in society. Who knows what strong influences a powerful, articulate wife like Michelle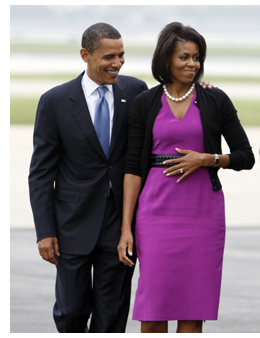 might have on such a man?
I believe that GOP right wingers figure if they can scare voters off Michelle, they can make voting for her husband a nonstarter. Labeling her Obama's "baby mama" and calling her jubilant fist jab a "terrorist fist jab," is only the beginning of the nastiness. "She's going to be targeted like crazy," believes Marie Wilson, founder and president of the White House Project, an organization dedicated to advancing women in leadership roles in both the public and private sectors.
"The right wing has no shame against making any sort of attacks against candidates on the Democratic side," agrees Matthew Traub, a managing director of Dan Klores Communications and a former Democratic adviser.
So what antidotes can Michelle use to inoculate herself and the American public against the anti-Michelle machine?
"She needs to continue to be the very intelligent, poised, dynamic figure she has been so far," counsels Traub. "She musn't take the bait when she's attacked. If she remains dignified and true to the ethos of the campaign, the public will see through the attacks and embrace her."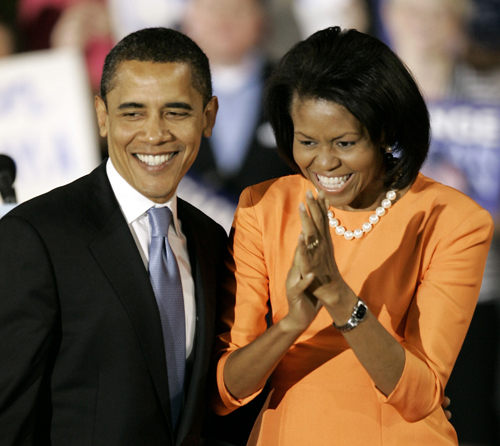 Glamour editor-in-chief Cindi Leive warns Michelle against refuting rumors like the false accusation that she had used the word "whitey." "The more you refute them, the more you repeat them." On the other hand she says that when the Obamas are freely affectionate in public with each other it's a powerful weapon working for them. "Barack Obama obviously adores his wife and that's an incredibly appealing thing — it makes them deeply likable. As much as the Obamas can telegraph that they have a genuinely happy marriage — with no obvious PDAs — it will serve them both well well."
Wilson of the White House Project believes that Obama needs to take on the sexist attacks but use surrogates to do it. "She needs to ask other women to speak up about sexism for their own sakes and the sakes of their daughters." A lot of women should be willing to do it because they've been surprised and frightened by the blatant sexist language that they've heard.
Her other suggestions to Obama: encourage young women to get involved in the campaign and beyond that, in ongoing public life. "And thank older women, especially Clinton supporters, whose hard work overcoming sexism in the past has made it possible for women like Michelle to be successful as professional women and mothers."
Michelle needs to stand up to the bullies and keep being herself, asserts Atoosa Rubenstein, former editor-in-chief of Seventeen and now creator of Alpha Kitty, the viral digital movement devoted to empowering young women. "I like that she doesn't look like a Barbie doll or sound like a Stepford wife."
Speaking of looks,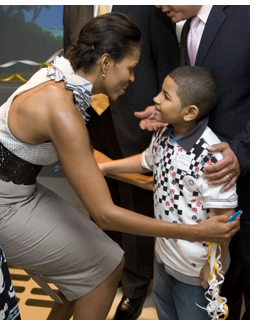 celebrity stylist Robert Verdi thinks that her 1950s power style — refreshing bright colors, knee-length skirts and strands of beads around her neck hit the perfect note of approachability and stylishness, and he tells her to stick with it. "Together the Obamas convey a youthfulness that restores the idea that we're still a nation that is growing, progressing, and full of hope."
However, Houston Chronicle newspaper columnist Whitney Casey believes that in the south, Michelle Obama's bold upright stance and choice of bold colors may turn off voters, who could be frightened by her directness.
To win over this part of the country, "she could be a little more demure, toss out the feminine mystique and use her feminine wiles. I know this sounds silly and sexist," admits Casey, "but she should do it so she can be who she is when the time is right."
Casey's suggestions for Michelle: "Keep your arms open, not crossed or on your hips when you stand. Soften your shoulders, maybe with sweaters, switch to softer colors — powder blue, yellow, soft lilac — wear lower heels, loosen up your hair, and switch from structured to looser, flowing skirts."
Michelle may find this hard to swallow, and what female sympathizer can blame her. After all, as businesswoman and supporter Millie Becker points out, "The problem's not with her, it's with society," or some parts of it.
She's attractive, she's accomplished, she was a practicing attorney, she's Ivy League, she's a beloved wife and mother. Says Becker, "as we say in the hood, 'she's got it going on.'"
Yes Michelle, it's precisely because you've got it going on that your and your husband's enemies will work so relentlessly to make it appear that you don't. The most backward elements of American society have had some big successes with employing the b and the w words when it comes to strong women. So take all this advice and take out an invisible Teflon suit and get ready for target practice. You can prevail!
Support HuffPost
The Stakes Have Never Been Higher
Popular in the Community