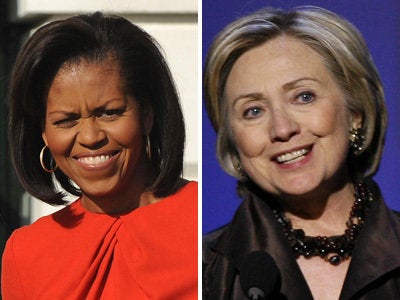 In the weeks following the 2008 election, there has been little talk of anything not tinged with our country's pride in electing our first African American president. The dramatic crossing of this racial threshold had been a loud, heralding cry to the rest of the world that the dawn of a new American order is at hand. However, a subtler storyline in our nation's equality narrative is also being written as we transition into this new age. American women, it seems, may be entering the final climactic act in their feminist drama.
If the recent election cycle has shown us anything about the women's movement, it's that the caricatured militant crusader for gender equality is fading from our feminist repertoire. This generation's vision of female power is no longer the pantsuit-wearing, corporate-ladder-climbing, bra-burning activist we have all come to associate with feminism. This was evidenced plainly by the huge swaths of female support received by then-Senator Barack Obama during the Democratic primaries. In what should have been a sweep of the progressive women's vote by Hillary Clinton, the Obama campaign made deep inroads with a message that resonated with our gender's younger voters. The harsher old-school feminist tone of the Clinton campaign lost ground against growing female support for the genderless "I am my brother's (and sister's) keeper" message espoused by Obama. The genius of this central message of the Obama campaign was that it touched what is ultimately the most feminine within us - our desire to care for our fellow humans, and to nurture and sustain the people and the country we love.
An April 2008 US News & World Report article cited Michele Swers, an associate professor of government at Georgetown University, who pointed out how the women's vote has been broken down by age, with women over 50 consistently helping out Clinton and younger voters trending toward Obama. "These are the women who experienced the feminist movement the most concretely," said Swers, talking about the older female voters. Younger women, it can be inferred, are not default loyalists of sixties feminist thinking. They obviously see their interests best served by a man who champions the values of the next generation of female voices.
We have reached a point in our global evolution - rampant ethnic and ideological violence, the destruction of our planetary home, and a time of decreased physical, emotional, and psychological safety for our children - that has redefined what this planet needs from its females. With a professional landscape that has been infiltrated by women at its uppermost echelons, the demand for equal pay for equal work has been overtaken by a deeper (and dare I say more noble) stewardship-based concern for our world. And we, as women, are hardwired for that sort of thing.
At first glance, it may seem that the feminist movement took a major blow with Clinton's primary loss, but a deeper look may spotlight a different female voice emerging, one that is personified by our incoming first lady. A Cum Laude graduate of Princeton University and holder of a Juris Doctor from Harvard Law School, Michelle Obama is hardly a woman who struggles with proving herself in a "man's world." Yet she has demonstrated over and over that by harnessing our feminine strength as the nurturing hubs of our families and communities, we wield a genuine power that has the simultaneous ability to inspire and affect (as her husband has admitted many times) even the decisions of our President.
It goes without saying that we don't all want to forgo careers and give up professional aspirations to tend exclusively to our families or to the social needs of our communities. At the same time turning over our caretaking responsibilities to schools, childcare providers, and government organizations doesn't feel right either. In order to become fully actualized, the women of Generation Y will need to be able to bring to bear that other feminine gift - the skill of balance.
As our world suffers the ills of predominantly male-conceived policies, it is in desperate need of healing female energy. Never before have our talents for creating balance out of chaos and marrying cross purposes into single visions so clearly held they key to our future. The time has come for women to step into the fullness of ourselves. And it's ok if that includes a keyboard and a crockpot.