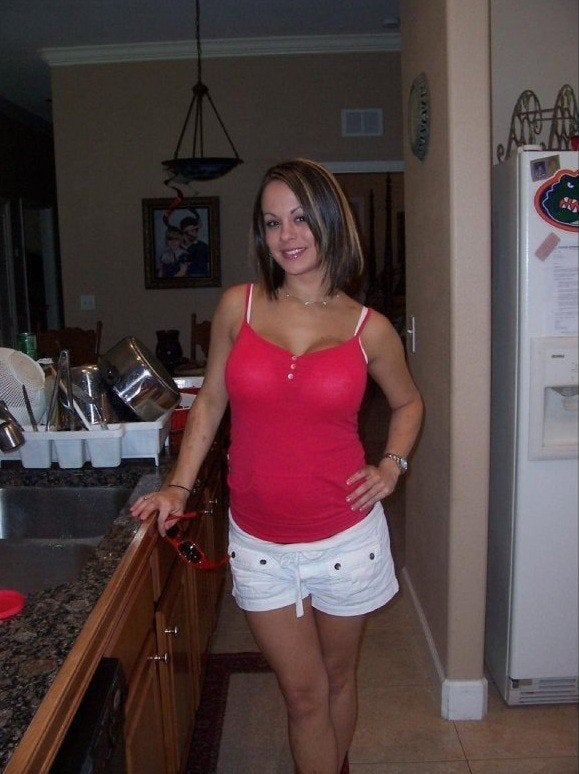 Florida police resumed its search Sunday for Michelle Parker, an Orlando mother of three who vanished nearly a year ago just after an episode of the "The People's Court" featuring her and her ex-fiancé aired.
Police officers with search dogs and more than 100 civilians joined Sunday's search of wooded areas off Goldenrod Road in the Lee Vista area. According to Orlando's WKMG, the FBI urged detectives to conduct Sunday's search near the Carter Glen condominiums where Parker's 41-year-old ex-fiancé Dale Smith lives. The area was previously searched.
According to Parker's father, Brad Parker, searchers found some bones there, but he did not know if they were from a human or an animal. They are currently being examined by forensic experts. "It was a long day, but it was good," Parker told the Orlando Sentinel.
Michelle Parker was last seen Nov. 17, 2011, the same day she appeared on "The People's Court" with Smith. The two were on the show to settle a dispute over a $5,000 engagement ring that was lost after she threw it at him during an argument. During the program, which was taped months earlier, Parker alleged that Smith had a drug and alcohol problem, and had been violent with her in the past.
MICHELLE PARKER CASE PHOTOS: (ARTICLE CONTINUES BELOW)
PHOTO GALLERY
Michelle Parker Missing
"He gets pretty malicious and vindictive," Parker said on the show. "And he's a mean person, especially when he's been drinking. He shouldn't have put his hands on me, and he shouldn't have put his hands on me prior. He shouldn't have left me three or four times over the past year and a half that we've been together."
After hearing both sides, Judge Marilyn Milian ruled the couple should split the cost of the ring and ordered Parker, the mother of an 11-year-old son and two 4-year-old twins, to pay $2,500 for her half.
A few hours after the episode aired, Parker dropped her twins off at Smith's condo for a scheduled visit. At 7:30 p.m., Parker failed to show up for her job at The Barn restaurant in Sanford.
According to family members, the last text message sent from Parker's phone was to her brother at 4:26 p.m. the day she disappeared. It contained the single word, "Waterford," a possible reference to a nearby area. Police say the cell phone stopped transmitting a signal near a tower south of downtown Orlando.
On Nov. 18, Parker's 2008 black Hummer H3 was found in a parking lot on the west side of Orlando. Decals for her Glow mobile tanning business had been removed from the windows, police said.
The missing mom's cell phone was later found by a police dive team under a bridge at Lake Conway in Belle Isle. The location is not far from the cell phone tower that registered the last ping from Parker's iPhone.
"The phone was found in remarkably good condition and is currently undergoing forensic testing in the hopes that it will yield physical evidence and/or data which will assist in this investigation," said an Orlando Police Department news release.
Police initially said Smith was cooperating and was not a suspect, but during a press conference two weeks after Parker's disappearance, Orlando Police Chief Paul Rooney announced that Smith was the primary suspect in Parker's disappearance. Rooney did not elaborate.
Smith's past, however, may play a role in why police suspect him. According to NBC's "Today" show, he was convicted of battery in the 1990s, serving 10 days in jail. His second wife, Shannon, died of an accidental drug overdose.
His five-year stint in the U.S. Marine Corps ended in 2001 when he was found guilty of drug and domestic battery charges. Smith was subsequently dishonorably discharged in 2003. More recently, in 2009, Parker attempted to obtain a restraining order against Smith, but the request was denied due to lack of evidence.
A statement posted to the "Michelle Parker Missing Person" Facebook page by her family says: "Today I am thankful for the over 140 people who showed up to search for Michelle ... I never thought I would ever have to spend a day in my life cutting through woods searching for a loved one with a machete. We are cut, scratched, bleeding, sweaty, exhausted, dirty and sun burned and I can't wait to do it again. While we didn't get our answer just yet, we covered miles of ground. Every step in knowing where she isn't, is a step closer in closing the gap to where she IS."
Parker's family is reportedly considering another search on Nov. 17, the one-year anniversary of her disappearance.
"We are looking for Michelle ... We will not stop," the Facebook post said. "We will not let the evil that has taken her from us, her son's and daughter win. We will search however long and how ever far we have to."
Parker was last seen wearing jeans, a Florida Gators sweatshirt and a silver cross necklace. Anyone with information about her disappearance is asked to call Crimeline at 1-800-423-8477.
Calling all HuffPost superfans!
Sign up for membership to become a founding member and help shape HuffPost's next chapter
BEFORE YOU GO