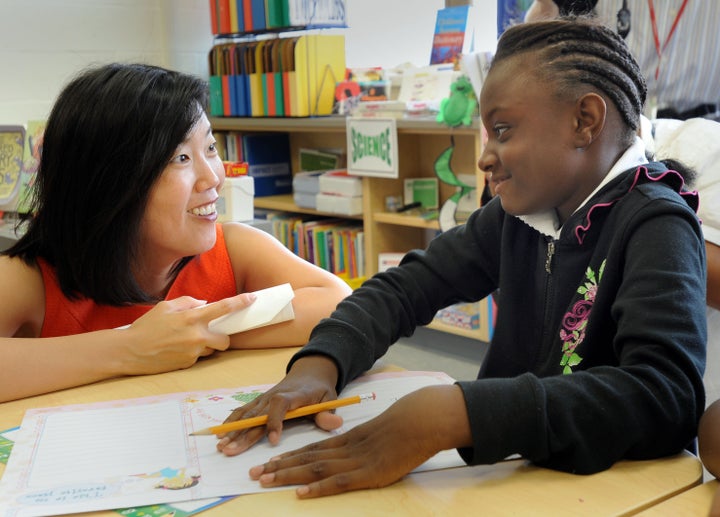 More than five years after Michelle Rhee took over Washington, D.C., public schools, and nearly three years after she left her position as chancellor, critics are still looking for closure and demanding a more rigorous investigation of the seeming rise in student test scores under her reign.
In what's become an annual ritual of sorts, D.C. school administrators on Friday released an investigation into the district's 2012 standardized tests. The report concluded that 11 schools had "critical" test security violations -- and in some cases, teacher cheating -- on last year's DC Comprehensive Assessment System.
A&M investigated 41 testing groups -- students tested by the same administrator in the same environment -- after they were flagged for certain indicators, like having many answers erased and changed from wrong to right and low score variations.
Still, only 18 of the testing groups investigated were found have critical violations, amounting to 0.6 percent of all those in the district. So far, no teachers have been dismissed because of the investigation, DCPS spokeswoman Melissa Salmanowitz said.
The findings may seem negligible, but school districts nationwide are on alert after a grand jury two weeks ago indicted 35 educators for a widespread cheating scandal in Atlanta. And in D.C., the annual investigation of student tests has its roots in controversy: The results come as renewed questions swirl around the veracity of testing data that came out of DCPS when Rhee served as chancellor of the district, from 2007 to 2010.
During her tenure, Rhee fired many teachers, and the IMPACT system she implemented tied teacher evaluations and bonuses, in part, to test scores -- a move critics argue put pressure on teachers to deliver higher scores and could even have moved some to cheat. Rhee became a polarizing figure, drawing the ire of the teachers union. She now heads the group StudentsFirst, an organization that seeks to spread her education policies across the country.
Critics of Rhee wondered at the time whether the report invalidated her push to expand her policies nationally -- and, more broadly, whether evidence of cheating undermined the national education reform movement's push to hold teachers accountable using students' test scores.
Several investigations into the district's testing -- by the security firm Caveon, by D.C.'s Investigator General, by the U.S. Department of Education's Investigator General (which used its subpoena power) and two by A&M -- have occurred since then. All concluded there was no widespread cheating.
But some Rhee critics still think those investigations didn't go far enough.
On Thursday, the night before the latest audit's release, John Merrow, a longtime PBS Frontline education reporter, posted an article that contained what he termed a "missing memo," a note that previously had been absent from the public record concerning an investigation into D.C.'s 2008 exams.
In the memo -- only recently obtained by Merrow -- consultant Sandy Sanford said erasure data from D.C. showed "191 teachers and 70 schools ... implicated in possible testing infractions," and added that he needed more information to "come up with confident recommendations."
Bloggers and teachers interpreted the note as new evidence that Rhee had been forewarned of widespread cheating, and that she had summarily discarded the evidence. On Friday afternoon, Randi Weingarten, president of the American Federation of Teachers, released a statement calling on the D.C. City Council to investigate DCPS and Rhee with its subpoena powers. (Weingarten and Rhee sparred vitriolically over the DCPS teachers' contract during Rhee's tenure.)
According to a Huffington Post analysis of over 200 pages of correspondence between the Office of the State Superintendent (OSSE), made available by USA Today in 2011, and interview logs resulting from a Freedom of Information Act request into the federal government's investigation of cheating in D.C. schools, the "missing memo" simply restated an earlier warning.
The documents instead paint a picture of confusion, and possibly negligence, surrounding the consequences of increasing the stakes of student testing.
In the fall of 2008, staff in Superintendent Deborah Gist's office noticed a large rise in DC Comprehensive Assessment System test scores in some schools. The data was puzzling because there had been no leadership change in the schools between 2007 and 2008 that might have led to significant instructional changes.
Around that time, OSSE learned its contract with testing company CTB included analysis to check for erasures on students' tests. For the first time, the superintendent asked CTB for that analysis, and for the American Institutes of Research to look at the results. Their research found that "many" schools had right-to-wrong erasure rates beyond the normal threshold. So in October 2008, Gist contacted Rhee to say she planned to ask for an investigation. She received no immediate formal response.
In November, Gist sent Rhee a formal letter including the analysis and asking that DCPS investigate the schools flagged for potential cheating. "These analyses do not suggest reasons for the high erasure rates," Gist wrote. "Please take appropriate steps to investigate the results enclosed and provide a report to OSSE spelled out within 60 calendar days." That request was followed by a back-and-forth about statistical methodology and questions about whether to use a more conservative analysis that would flag fewer schools for cheating.
Erin McGoldrick, chief of data and accountability for DCPS, then asked OSSE for an extension until Feb. 28, 2009, "in light of the high volume of classrooms and schools with statistically aberrant erasure rates." OSSE granted the extension, but Gist later told federal investigators that it appeared to her staff that Rhee's office was stalling and, according to the DOE's report, "may have wanted to find a way to show the data process used to determine that the high number was inaccurate."
Meanwhile, on Jan. 28, 2009, Sandy Sanford was given the November OSSE letter with the erasure analysis and, as he told investigators, was asked to "read this and tell me what you think." Sanford set out to prepare a "project brief sheet" to outline his analysis of the OSSE letter.
His conclusion is the "missing memo," the one Merrow surfaced on Thursday evening, and it identified 70 schools that were "possibly culpable at some level." Sanford's analysis was based on information in the November OSSE memo, but he told investigators he was only asked for his opinion, not for a formal investigation into cheating.
After that, Sanford's work with DCPS remained informal -- he answered questions about data and vaguely recalled Rhee ceasing further investigation into the 2008 exams because it conflicted with the 2009 administration of the DC CAS tests.
In February 2009, McGoldrick sent DCPS's report to OSSE. It contained data analysis, questions for an investigation -- including those suggested by Sanford in his memo -- and a literature review. According to USA Today's summary, the district pointed to two methods for detecting abnormal test erasures, and DCPS said it needed more information on the methodology of identifying cheating schools. CTB wrote to advise "against concluding that cheating behavior" occurred in the flagged schools -- not because there was definitive evidence against it, but because "the statistic calculated for each school and classroom does not appear to be consistent with any known approach to analyzing erasure patterns."
In a July 2011 interview with federal investigators, D.C.'s general counsel confirmed that the investigation into the 2008 test results was probably terminated because DCPS felt it came too close to the 2009 exams, and Rhee's staff didn't want to interrupt preparation for those tests.
Since then, D.C. has updated its guidance and security procedures for its standardized testing. It also has decreased the amount by which standardized tests count toward teacher evaluations. And investigations, like the one released Friday, have been conducted for subsequent years of exams.
But some, like Merrow, still wonder what exactly happened in 2008 and why Rhee didn't go further with her investigation -- and what results a deeper probe would have yielded.
Rhee feels differently. "I'm pleased," she said in a statement Friday, "that both inspectors general (DOE and DCPS) reviewed the memo and confirmed my belief that there was no widespread cheating."
The documents below log the interviews federal and Washington, D.C., investigators conducted in light of allegations of potential cheating under Rhee's reign as D.C. schools chancellor:
Before You Go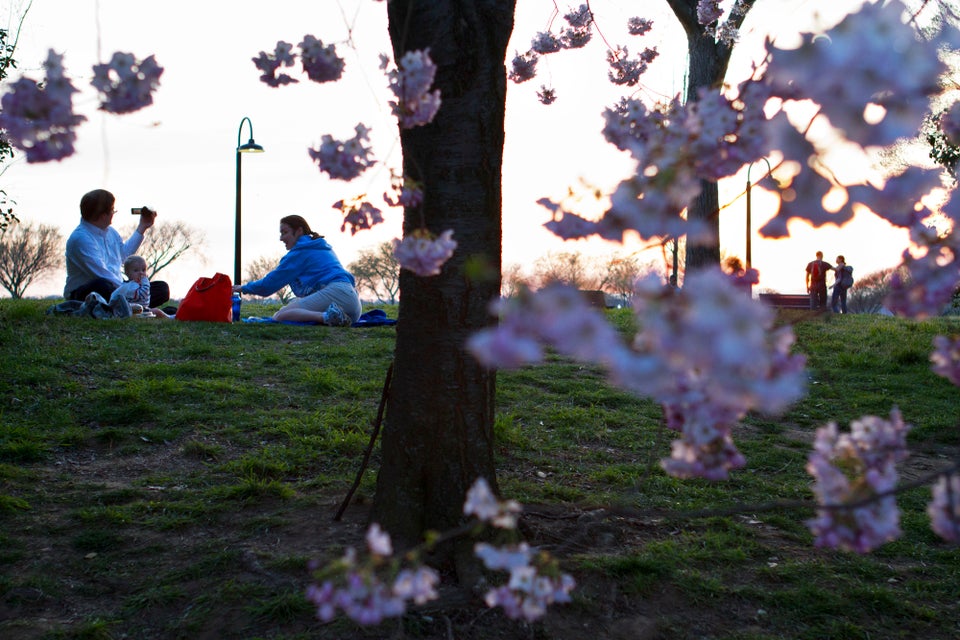 D.C. Cherry Blossoms In Bloom
Popular in the Community