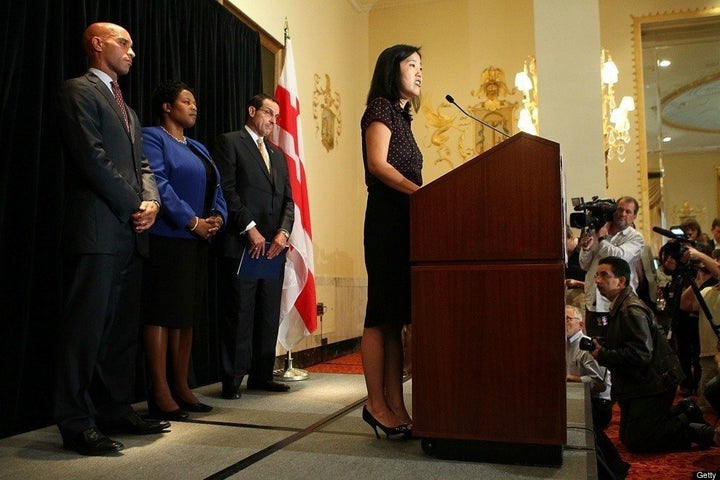 Late Tuesday, The Washington Post broke the news that Michelle Rhee, the controversial and passionate D.C. Schools Chancellor, would be resigning.
As anticipated, Rhee announced her resignation Wednesday morning, a decision that comes on the heels of the election of Vincent C. Gray to mayor. Gray defeated incumbent mayor Adrian M. Fenty, who appointed Rhee to the position of chancellor in the Democratic primary.
According to Newsweek, speculation was widespread that Fenty's outing meant the end of Rhee's three-year tenure.
At a news conference Wednesday, Rhee delivered her resignation speech, which she also posted online on her blog.
Rhee spoke of her resignation as a mutual decision she made with Mayor-elect Gray.
"...is one that I believe is essential to allow Chairman Gray to pursue our shared goal of uniting this city behind the school reforms that are making a difference in the lives of our children. In short, we have agreed -- together -- that the best way to keep the reforms going is for this reformer to step aside."
Rhee reminisced about the passion which she brought to her position.
I've put my blood, sweat and tears into the children of the District for the last three and a half years and have completely enjoyed every moment of it.
Her zealous pursuit of reforms -- including firing hundreds of low-performing D.C. teachers -- brought her both national acclaim and censure.
Calling all HuffPost superfans!
Sign up for membership to become a founding member and help shape HuffPost's next chapter