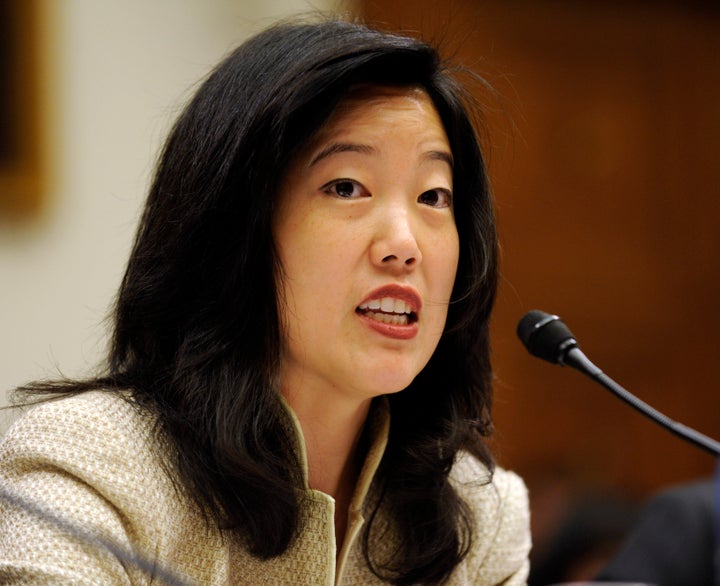 WASHINGTON -- The nonprofit group set up by former Washington D.C. schools chancellor Michelle Rhee is facing criticism for hiring a lobbyist to work on controversial legislation in Ohio that partially restricted the collective bargaining rights of teachers.
Between January and April of 2011, StudentsFirst employed Robert Klaffky, the president of firm Van Meter, Ashbrook & Associates and a close adviser to Ohio Governor John Kasich (R) to help push various aspects of education policy.
In particular, the group, established by Rhee after she left the D.C. school system following then-Mayor Adrian Fenty's defeat, had Klaffky work on SB5, the infamous anti-collective bargaining bill passed into law but already facing the likelihood of referendum.
Klaffky, in a brief phone interview, said that as a lobbyist for StudentsFirst he did not work on some of the bill's toughest provisions, including language that limited collective bargaining rights among public employees (including teachers) for benefits, or language that eliminated binding arbitration and prohibited those same employees from striking. Rather, he confined his work to the issue of merit pay.
"The only piece of that that I touched was specifically the teacher evaluation language that was put into SB5 and that was on behalf of StudentsFirst," he said. "There was a feeling that you can't have merit pay without some sort of evaluation. You can't just leave it to the whims of a principal. It just had to be something objective, some kind of process. The House ended up adding language that filled that out a little bit."
Mafara Hobson, a spokesperson for StudentsFirst, also stressed that the lobbying related to last-in-first-out layoffs for teachers, evaluation processes, merit pay and other topics. While collective bargaining was not a topic of organizational focus, she stressed that on this matter, Rhee and Kasich did not see eye-to-eye.
"She has never spoke specifically on SB5," said Hobson. "I know our first meeting there when we had a press conference she and the Governor were very clear that there were things she didn't agree on. People think she is against collective bargaining and that just isn't the case."
How much work StudentsFirst actually did on SB5 is not entirely clear. While Klaffky said he was tasked with putting language into the controversial bill, Hobson insisted that the group's primary focus was on the budget, HB153. The reason SB5 was put on the lobbying disclosure, she said, was because Klaffky simply discussed the matter with StudentFirst officials.
That explanation, however, appeared to contradict local reports, which had Rhee personally asking Kasich to include performance pay for teachers in SB5. It also did little to win over critics of Rhee, who argued that the former chancellor's willingness to work with the likes of the Ohio governor gave him the type of cover needed to make sweeping changes to the collective bargaining law. Adding amendments to the bill, the logic goes, inherently supports the bill.
"It now turns out that Michelle Rhee hired a close friend of the governor to lobby in favor of SB5," said Piet van Lier, head of Policy Matters Ohio who has worked on education in Ohio and opposes SB5. "This bill would require merit pay and test-based evaluations for teachers, neither of which has solid research support as a way to improve schools."

"SB 5 also dramatically weakens teachers' rights to collective bargaining at traditional public schools and would prohibit charter school teachers from forming a union at all," van Lier added. "Rhee's support for this bill shows pretty clearly that she opposes collective bargaining for teachers."
Rhee enjoys an increasingly tumultuous relationship with the progressive and labor community, both of which have accused her of disguising a sharply conservative agenda behind the mantle of 'crisis-driven' education reform. She maneuvered carefully with respect to Gov. Scott Walker's anti-collective bargaining legislation, saying she supported some aspects but not others (she called the attacks on collective bargaining gratuitous). In addition to appearing alongside Kasich at a recent event with the US chamber, she has also worked closely with Gov. Rick Scott (R-Fl.), the third leg of a triumvirate of new, sharply anti-union governors.
Union groups have already started petition drives to put SB5's repeal on the November 2011 ballot alongside several municipal elections. Nearly 215,000 signatures were collected in the first month alone, not too far from the 231,149 threshold for ballot inclusion.

Related
Popular in the Community