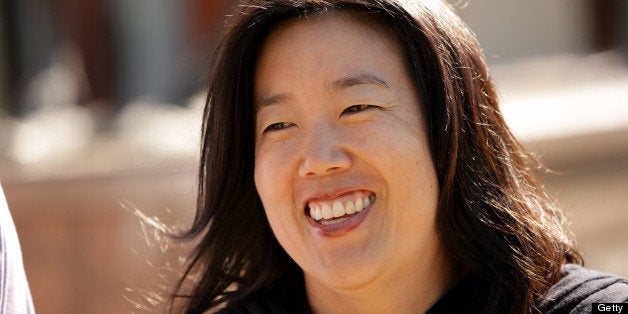 The national lobbying group that aims to spread the education-reform gospel of former Washington, D.C., public schools chancellor Michelle Rhee is hauling in significantly more cash but has so far failed to meet its own fundraising goals, recently filed tax documents obtained by The Huffington Post show.
When Rhee launched StudentsFirst in December 2011 in an appearance on "Oprah," she said her goal was to raise $1 billion in one year. StudentsFirst then adjusted its projection, saying it aimed to raise that hefty sum over five years.
The group still appears to be falling short. In the fiscal year starting August 1, 2011 and ending July 31, 2012, StudentsFirst raised $28.5 million, more than tripling its $7.6 million fundraising the previous year. During that period, the group's political 501(c)(4) arm raised $15.6 million and spent $13.4 million. Rhee herself drew a salary of about $300,000.
When it launched, StudentsFirst billed itself as a single-issue group in the tradition of the NRA, rolling out a lengthy policy document that zeroed in on measures that affect teacher hiring and firing and support the growth of charter schools.
Rhee has said that changing the makeup of the teaching profession can fix U.S. schools; in D.C., she became notorious for firing teachers and instating teacher evaluations based on students test scores. (The role of those scores has since been reduced in the district's educator ratings.)
The group initially resisted stepping into the fray on the broader issues that affect students' and teachers' lives, saying it only focused on its policy agenda. But StudentsFirst's staff has since learned the difficulty of working on specific education-reform issues in isolation.
Fueling this confusion, sources say, is an internal evaluation system known as "SFStat" that awards points to the group's state directors who get legislation passed addressing one of 36 specific policies outlined in StudentsFirst's agenda. These directors don't get credit for pushing any other policies, meaning they lack incentives to get involved in broader education issues that could provide goodwill in state legislatures for future changes.
In a StudentsFirst memo, the Sacramento-based group says it takes credit for having "helped states pass over 110 student-centered policies" in the 18 states where it operates. The group also says it has tripled its budget from last year.
The documents show how the organization has spent its money. StudentsFirst spent about $638,000 on Change.org petitions and paid $302,000 to lobbyist Bradley Tusk and $2 million to the public relations firm SKD Knickerbocker. According to blogger Alexander Russo, the group gave candidates $3.7 million in campaign contributions in 14 states -- 42 percent to Democrats, 58 percent to Republicans.
Read StudentsFirst's tax documents below:
Support HuffPost
The Stakes Have Never Been Higher
Popular in the Community