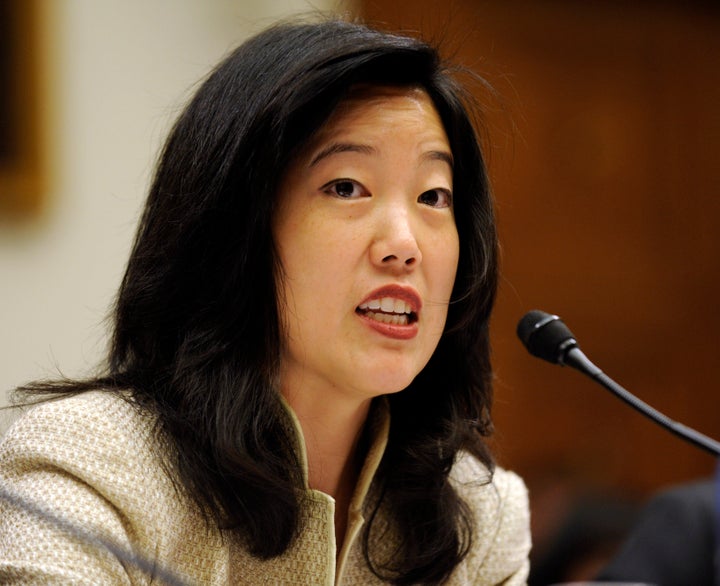 Update: On Thursday, Willow Creek Rev. Bill Hybels told audience members at the Global Leadership Summit that Starbucks CEO Howard Schultz did not speak at the church due to their anti-gay reputation. Hybels also said Willow Creek is not anti-gay. Read more about Hybels' comments here.
Schultz has not confirmed his reasons for skipping the event, but Gina Woods, Director of Executive Communications for Starbucks told the Huffington Post he is holding off on any public events until September following an elective neck surgery. The cancellation comes amid allegations that the firing of an openly gay Starbucks employee at a Long Island location was discriminatory.
Now, those angry about Schultz's planned appearance are criticizing education advocate Michelle Rhee for her participation.
Rhee, former chancellor of D.C. public schools and founder of the PAC StudentsFirst, remains on the docket and is scheduled to address the conference late Friday morning.
Her presence at the church is shocking, and far more inappropriate than Schultz's, says Asher Huey, a gay rights advocate and blogger whose Change.org petition calling on Schultz to denounce the church's position or avoid the summit has gathered nearly 800 signatures.
Although the church severed ties with Exodus International and has released statements welcoming the LGBT community, they continue to offer counseling services and use phrases like "same sex attraction" that LGBT rights advocates reject. In April, Willow Creek hosted a presentation by Christopher Yuan on his memoir, "Out of a Far Country: A Gay Son's Journey to God, A Broken Mother's Search for Hope," and his recovery from homosexuality.
Although the conference is sponsored by an international association of churches, not the South Barrington Willow Creek Community Church specifically, Huey says the event is inextricable from the political positions of the church where it will be hosted and broadcast to 200 similar congregations across the country. He believes that participation without explicit objection to the church's position represents an implicit endorsement, which is particularly problematic in relation to Rhee's presence.
Hari Sevugan, a spokesperson for Rhee's political action committee, told the Huffington Post that Huey, who works for New Partners consulting, has been trying to tie Rhee to the far right for months. New Partners has worked with the American Federation of Teachers and the AFL-CIO, organizations that have opposed many of Rhee's reform initiatives over the years, and accused her of union busting.
"Ms. Rhee is speaking before a conference that has also had President Clinton and Bono speak before it in recent years without any objection," Sevugan said. " .. Pastor Hybels was invited by President Obama to introduce him at an event for a more just immigration system last year, similarly without any objection. We are assuming this record is why no one has ever asked us not to speak at this conference and the inquiry by the Huffington Post was the first we had heard of any concerns being raised at all."
But Huey contends that Rhee's position as an advocate for students invariably overlaps with issues facing LGBT children and teenagers, including the high incidence of bullying that has led to a rash of suicides among queer youth.
"[Rhee's appearance] makes a statement that these anti-gay churches are acceptable, that they're mainstream, and one can go to them and speak and not have to denounce their views," Huey said. "She's speaking at a church that legitimizes the idea that [LGBT individuals] can change, and that's what a lot of the bullying we see is based on."
Editor's note: The original version of this story did not reveal Asher Huey's position at New Partners, a consulting organization connected with the American Federation of Teachers and AFL-CIO.

Support HuffPost
The Stakes Have Never Been Higher
Related
Popular in the Community