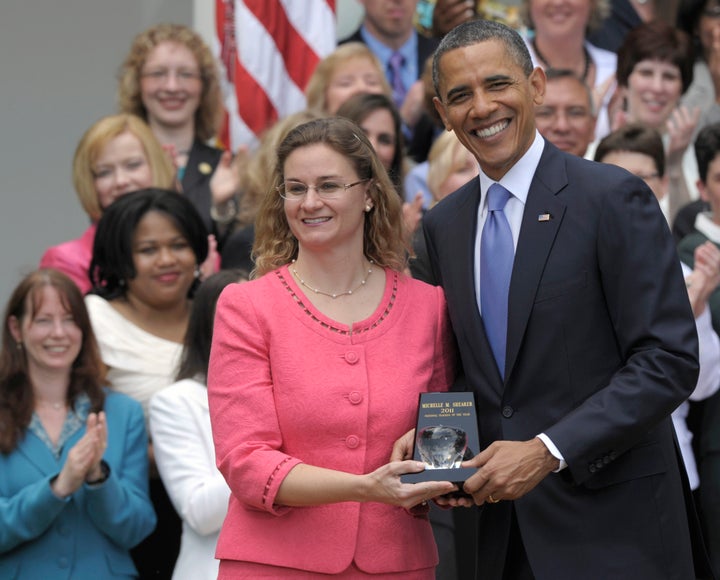 On Tuesday, May 4, Michelle Shearer stood beside President Obama in front of the White House to accept her award as the 61st National Teacher of the Year. Obama used the opportunity to reflect on the importance of teachers and how they will impact America's future.
"Even though we can never really thank teachers enough, today's a chance we can offer a small token of our appreciation for the difference they make in the lives of our children and the future of our country."
He credited Shearer, and teachers like her, for giving America strength through tough times, and highlighted the need for new bright teachers to continue to commit their talents.
"America will only be as strong, in this century, as the education we provide to our students. At a time when our success, as a nation, depends on our ability to out-educate other countries, we desperately need more Michelles out there."
Shearer, who is an Advanced Placement chemistry teacher at Urbana High School in Ijamsville, Maryland, has committed over 14 years to educating students. As an pre-med undergraduate at Princeton, Shearer stumbled upon her passion for teaching while volunteering at MKSD, a New Jersey school for the deaf.
Since then, she has helped students with dyslexia, dysgraphia, ADD, Aspergers syndrome, and countless others, conquer AP chemistry. She also brought AP chemistry to the Maryland School for the Deaf (MSD) enabling deaf students to take the class for the first time.
Shearer holds dual certifications in chemistry and special education, and throughout her career has reached out to students who are statistically unlikely to excel in science, such as special needs students, minorities, and women. In her application she described how this shaped her teaching philosophy and led her to believe that anyone can learn chemistry. She wrote:
"My greatest contribution to education is my steadfast belief that there is an aspiring scientist in all of us."
Shearer supports her students outside the classroom as well. Beyond writing countless recommendations, she coached Urbana's varsity swim team, spearheaded service projects, and served as an interpreter in many different instances, including a week-long Space Camp trip. She also cultivates good citizenship in her students, encouraging each one to contribute to their community each day. She tells them:
"Be involved. Exercise academic integrity. Make positive contributions as you collaborate with others. Do your part to maintain and care for shared scientific equipment. Work hard, even in the absence of an incentive."
Shearer's commitment to her students was reflected in her acceptance speech, which she used to focus on them rather than herself and her own achievements.
"As we celebrate the success we have achieved in our classrooms, I see the faces of students: My 90 advanced placement chemistry students, who took their AP exam yesterday; students I taught over a decade ago, who now teach with me in public schools; deaf and hard of hearing students, and students with special needs who taught me always to see abilities -- not disabilities; and students -- like my 5-year-old daughter -- young children full of promise and potential."
The National Teacher of the Year Program, which was sponsored by the ING Foundation and Target, is considered to be the most prestigious awards program for teachers in the country. Gene Wilhoit, The Executive Director of The Council of Chief State School Officers (CCSSO) that organizes the program each year said, in a CCSSO report about the award, that Shearer was chosen as example other teachers can aspire to.
"Michelle Shearer's passion for teaching and dynamic skill set provides a foundation to truly enhance student learning," said CCSSO Executive Director Gene Wilhoit. "As National Teacher of the Year, Michelle will inspire educators across the country to embrace innovation and prepare their students to live and work in the 21st century."
Shearer is used to inspiring others, and in her acceptance speech she talked about how she motivates her students to find their inner strength.
"My students will tell you that I love to give pep talks, and Friday was their last one before their AP Chemistry exam. Among other things, I said 'you are problem solvers, no matter how challenging the questions, have confidence, forge ahead, make progress toward solutions."

Obama was also inspired, and concluded the ceremony by adding:
"I think you can see why Michelle is Teacher of The Year. I am going to send her up to Congress to give them a pep talk!"
Calling all HuffPost superfans!
Sign up for membership to become a founding member and help shape HuffPost's next chapter