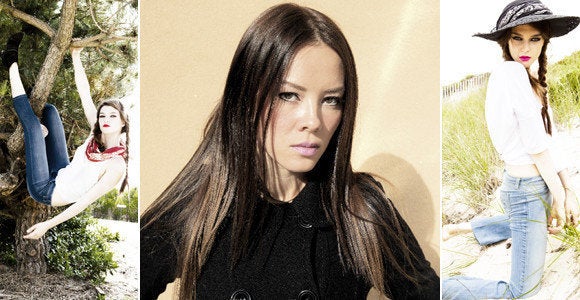 Michelle Siwy is a bit of an anomaly: she's half-Vietnamese and half-Polish; she's a designer who's even hotter than her models; and, perhaps most strikingly, she's a woman in the male-dominated field of denim. In fact, she's the only female denim designer based in New York. Since she began her line, Siwy Jeans, in the spring of 2005, the 34-year-old Rhode Island native's jeans have been embraced by the likes of Kate Moss and Sienna Miller as well as everyday women in search of jeans that embody a tough, downtown aesthetic with a flattering, feminine cut.
For her spring/summer collection, titled "Strange as Angels," Siwy was inspired by the constant movement of gypsy life. "As icons of freedom, gypsies travel to faraway places, adopting native styles that mix and cross cultures," she says. "This is not only an aesthetic but also, a way of life and state of mind." The collection, which includes the full spectrum of fits from super-skinny to super-wide leg, features soft, sun-faded colors that Siwy says evoke vintage beach colors.
HuffPost caught up with Siwy to talk about the collection, her design process, her life in New York, and what it's like being a girl in the boys' club.
HuffPost: Tell HuffPost readers a little more about Siwy jeans and what makes them unique in the premium denim market.
Michelle Siwy:Each jean is adorned with a signature label, limited edition derived from vintage feed-sack material from the turn of the century though the 1940's. Side seams are gently pushed forward and edge stitched to slightly give the allusion of slimness in the thighs. The signature pockets are quilted in a trapunto style that raises design for the purpose of capturing the subtleties in wash detail and aging with beauty. A work of art is developed over time. The rounded signature pockets are strategically placed and add to give the illusion of lift while giving a nod to traditional vintage styling, look and feel of the 70's. The curved back yoke works with the curves of a woman by providing the ultimate fit and lift with a flattering and feminine look.
HuffPost: How long have you lived in New York City? How has it influenced your work?
Michelle Siwy: I moved to New York City in 1996 to attend FIT. I started off living in the dorms, but then moved out to the Hotel Chelsea, where I had a new appreciation for the city. Meeting and living amongst iconic New Yorkers really made me dream big. For the first time in my life, I never felt alone because there is a silent understanding of what drew us here. New York is the type of place that attracts people from around the world who are in search of something greater, something bigger than they are or to find themselves. The rich cultural history of this city and the interaction with people from around the world exposes you to new ways of thinking minute by minute. There is never a boring day in the city.You can meet the most fascinating people and have great conversation just walking your dog or meeting through other friends.

HuffPost: Where in the city do you live/work/spend your time? What local spots inspire you?

Michelle Siwy: I have been living on the Lower East Side for the past 12 years. I tend to stay below 14th Street but since I've been traveling so much, I have a new appreciation for the city. I split my time in Los Angeles and with the amount of driving I do there, taking a subway to 23rd Street or anywhere else in the city doesn't seem so far anymore! I love checking out young, new designers and artists. They are so hungry and talented that it keeps me on my top game. We are dealing with the best of the best in this city.
HuffPost: How does your process work? How long does it take you to conceive each new design?
Michelle Siwy: In denim the general inspiration for design works the same, where I conceptualize a mood and start to develop the line in two separate ways and then unite them. I have to first take my concept and apply it to the actual washing of the denim, to produce as many new shades that are not only beautiful, but technical and also flattering on the female body.
Denim is an emotional fabric that can translate into millions of different shades and the only fabric that can handle the extremes. Then the next part is coming up with new silhouettes that are not only beautiful but functional as well. In denim, it's the subtleties that can completely transform your body for the better. It's something I have to spend a lot of time designing measure by measure to perfect for the best possible fit, style and flair.
HuffPost: What are you thinking/planning for Fall/Winter?
Michelle Siwy: The most exciting part is that we are expanding into a full sportswear collection with knits, wovens, sweaters, leathers, furs and lots of sophisticated rock n' roll style!
HuffPost: What's it like being a female designer in New York -- particularly in the male-crowded denim field? Do you think it puts you at an advantage or a disadvantage?
Michelle Siwy: I always tease my male colleagues that a man may know what they think a woman should look like, but only a woman can tell you that and how you should feel in the denim. I try on each and every single style right before we ship. I know what to hide and what to flaunt!
It can only be an advantage as far as design and detailing. I get a ton of fan mail, with very personal questions about how people want their denim to fit and feel. I don't know if they would ask those same questions to a male and yes, I almost always try to respond with personal guidance on selecting your Siwy's. It's like having one of the girls (me) help you look your best.
I don't feel one bit intimidated because male or female, because really, what has staying power is the love of design and the talent to produce beautiful works of art with denim.
Below, watch a video from Siwy's Spring/Summer 2011 shoot:
Siwy Jeans are available at department stores including Nordstrom and Bloomingdale's and local New York stores including Intermix, Atrium-Broadway, Big Drop, Dash NYC, Ferality Shaw, Foravi-Madison, Genesis, Privada, Suite Orchard, Untitled, What Goes Around Comes Around (WGACA) and Lesters.
Calling all HuffPost superfans!
Sign up for membership to become a founding member and help shape HuffPost's next chapter