Search her name, search her name.
And with all that, you might have missed her stint as a member of a popular late '90s girl group — nay, the popular late '90s girl group. At least, according to Google.
On Friday, a Twitter user noticed that in a Google search for "destiny's child five members," a picture of Michelle Williams (the actress) ― and not Michelle Williams (the actual Destiny's Child singer) ― pops up.
At first, this seemed too ridiculous to be real. So I put it to the test, and the same result occurred. In fact, I even searched "destiny's child original members," and the Oscar nominee kept showing up as a Beyoncé collaborator.
For the record, Michelle Williams (the singer) was in the later Destiny's Child lineup, not the original, which included Beyoncé Knowles, Kelly Rowland, LaTavia Roberson and LeToya Luckett. So really, zero Michelle Williamses should show up when Googling the original Destiny's Child members, let alone the Michelle Williams who says she'd be cool coming back as a ghost to haunt the "Dawson's Creek" kids.
Alas, there she was, in a mobile search ...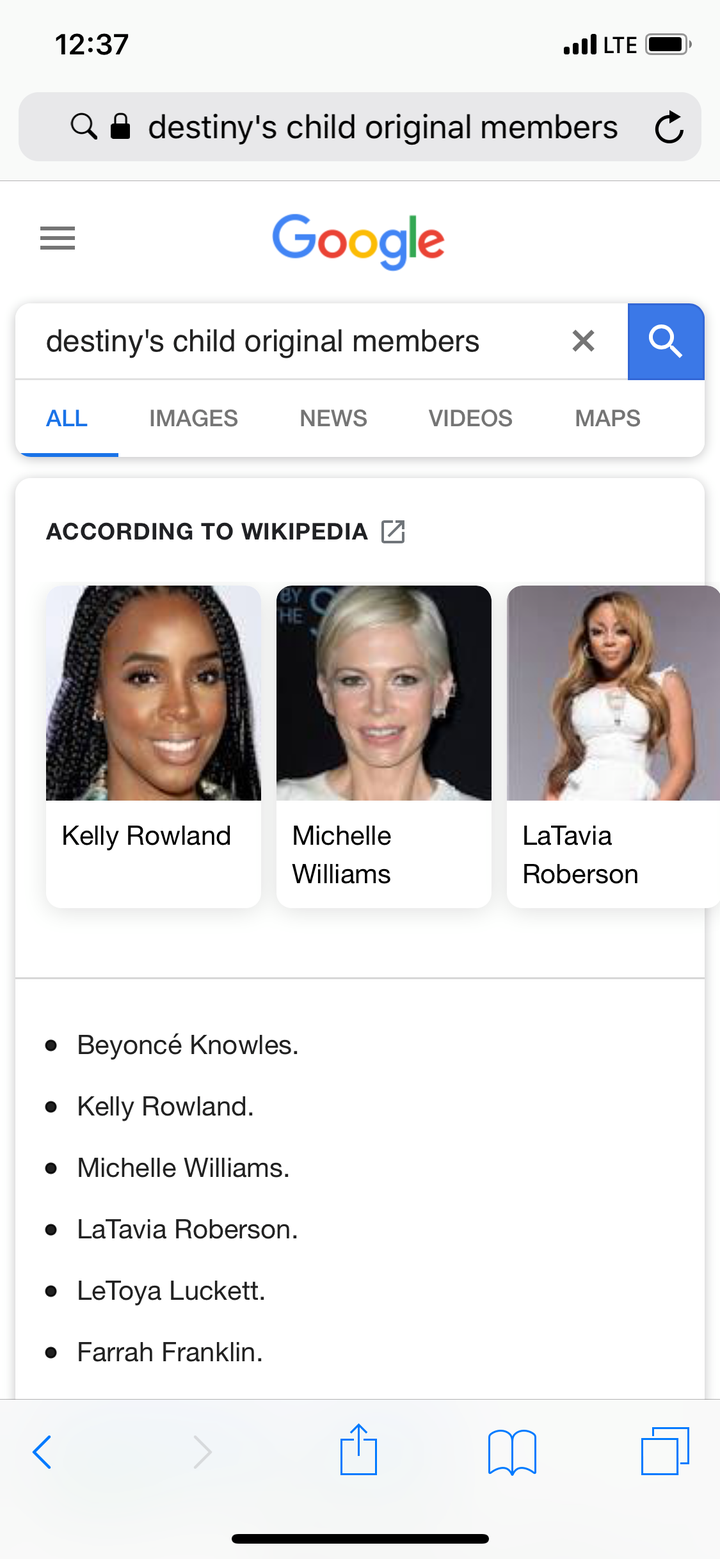 ... in a desktop search ...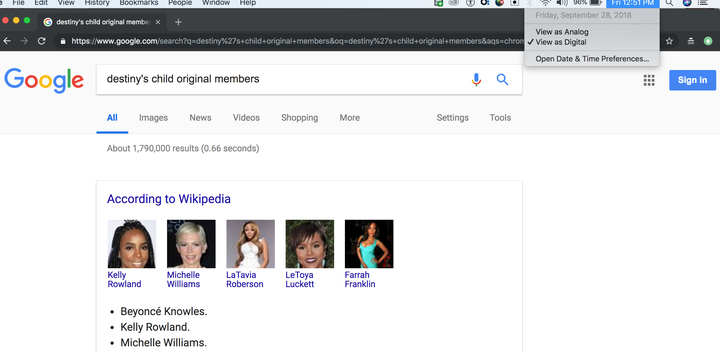 ... it was crazier than when it's 11:30 and the club is jumpin', jumpin'.
In a call with Michelle Williams (the actress) on Friday for "Venom," I asked what it was like being a part of Google's version of Destiny's Child. And like the girl group once sang, it is apparently just emotion taking her over.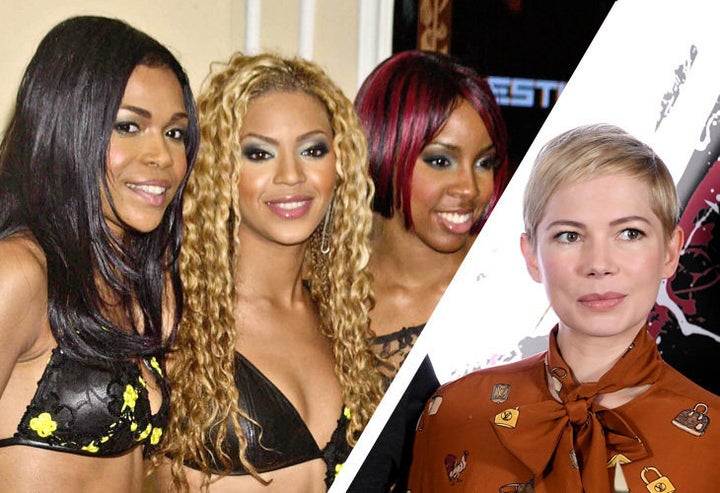 "It gets me one step closer to Beyoncé, so I'm pretty good with it," she said. "Now I'll have an ice breaker if I ever get to meet Beyoncé. I'll talk to her about the old days of Destiny's Child. So thank you because I'll obviously be tongue-tied if and when that ever happens, and now I'll know exactly what to say."
Williams has never met Michelle Williams (the singer), but this isn't the first time one has been confused for the other.
"My daughter is an enormous Stevie Wonder fan, and we went to a Stevie Wonder concert," the actress recalled, "and when I was in line to pick up our tickets, the guy said, 'No, you're not,' and I said, 'I am. I'm Michelle Williams,' and he said, 'No, you're not.' And I said, 'I really am.' I showed him my ID, and he said, 'Oh, that Michelle Williams. I just assumed that it was gonna be ... Oh cool. What?'"
Speaking of "Independent Women," here's how Williams described her "Venom" character, Anne: "It was really important to me that the film felt pinned to this year, from my character's perspective that it felt pinned to 2017 and 2018, and that we had an example of a woman that knew her own worth and knew it enough to ask for it. ... When [Tom Hardy's character Eddie Brock] transgresses, she holds him accountable. She doesn't let him walk all over her."
She continued, "What I was thinking about today is that it's so reflective in all the pop music that my daughter and I listen to in the car when we're driving places. It's all of this like, 'Hey, Baby. I'm worth it' ... 'No, you can't have all this if you don't respect all this.' That's the message that's out there on the radio, and that's really what I wanted to embody in this moment in time in Anne and in this movie."
OK, back to Destiny's Child. Subsequent Google searches this week were a mixed bag. At first, it appeared that the online anomaly had been corrected. The picture of Michelle Williams (the actress) wasn't appearing alongside pictures of the actual women in the group at the top of results. Then, in a subsequent search in incognito mode (which is how I did all the desktop searches since it disables browsing history and storage), Williams made her pop music comeback.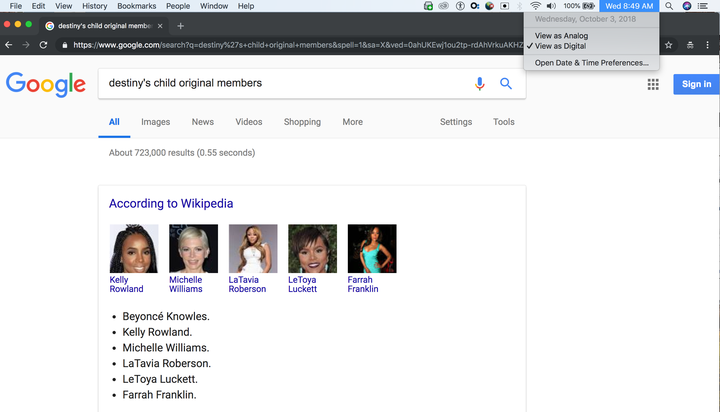 So don't be surprised if Williams' photo appears in search results if you're Googling the girl group in the future, because like the Destiny's Child song, it's a survivor. It'll keep on surviving.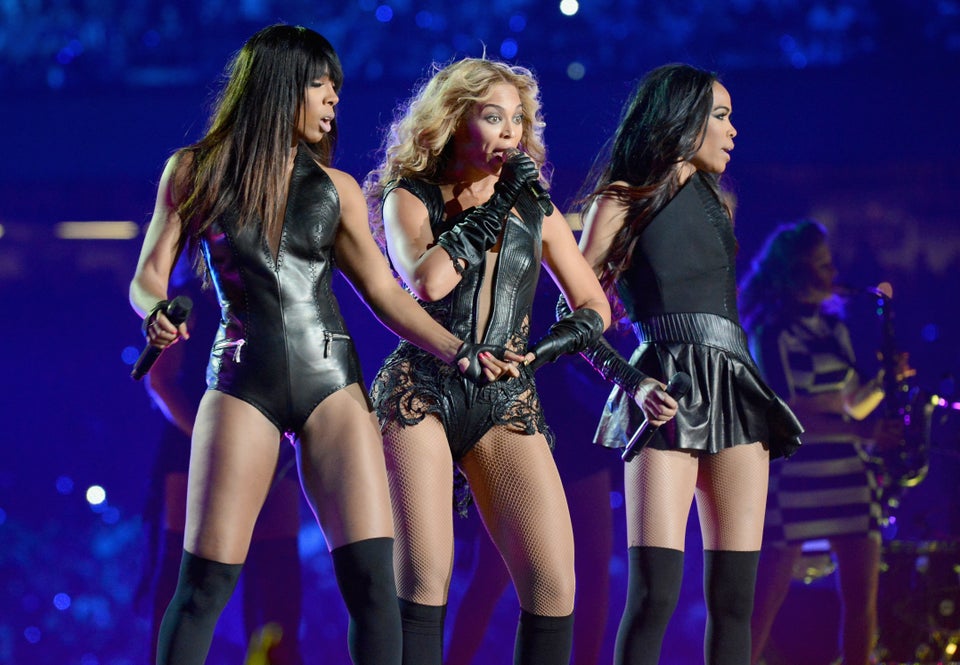 Beyoncé en la Super Bowl: con 'Destiny's Child'
Popular in the Community