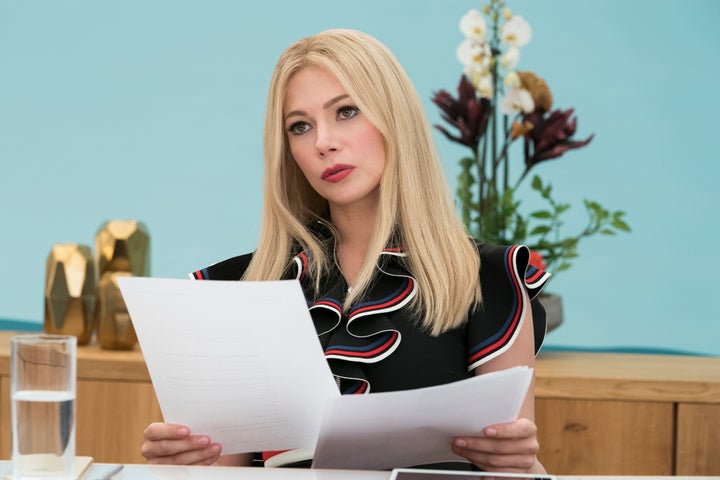 At one point in "I Feel Pretty," after the newly emboldened protagonist, Renee Bennett (Amy Schumer), has landed her dream job as a receptionist at a haughty cosmetics company, she is in the cafeteria when the couture-clad CEO, Avery LeClair (Michelle Williams), spots her. Bosses at bustling beauty enterprises are, the average story goes, bloodthirsty. Avery, on other hand, is thirsty for an understanding of how normal people ― ones whose grandmothers aren't the namesake of an imperious brand ― live their lives.
Naturally, that's something of a struggle for someone whose privilege butts up against her eccentricities. "I thought I smelled animal products," she meows upon seeing Renee.
If an actor is fortunate, at some point she'll give a performance so unlike anything we've ever seen her do that it's downright startling. This week, Michelle Williams is that actor. Even though Williams' first lead in a movie was playing an airheaded teenager who inadvertently exposes Richard Nixon's Watergate break-in in the 1999 satire "Dick," she's since matured into a so-called serious actress with indie clout and four Oscar nominations to her name ― a fact that makes her bonkers work in "I Feel Pretty" all the more delicious. It's the type of role that's only memorable coming from an established performer, especially one known for dramatic heft like "Brokeback Mountain," "Blue Valentine" and "Manchester by the Sea."
Maybe your jaw will drop as low as mine did upon first hearing Williams speak in "I Feel Pretty," which opens this weekend. Instead of the velvety innocence that usually accents her on-screen persona, Williams speaks with what co-directors Abby Kohn and Marc Silverstein call "high-pitched vocal fry." It's an odd confluence of Valley Girl lilt, enunciated baby-speak and spacey stonerisms, further underscored because the character actually fits none of those attributes. Avery, we learn, has an MBA from Wharton and clerked for a Supreme Court justice before taking a leadership post at Lily LeClair.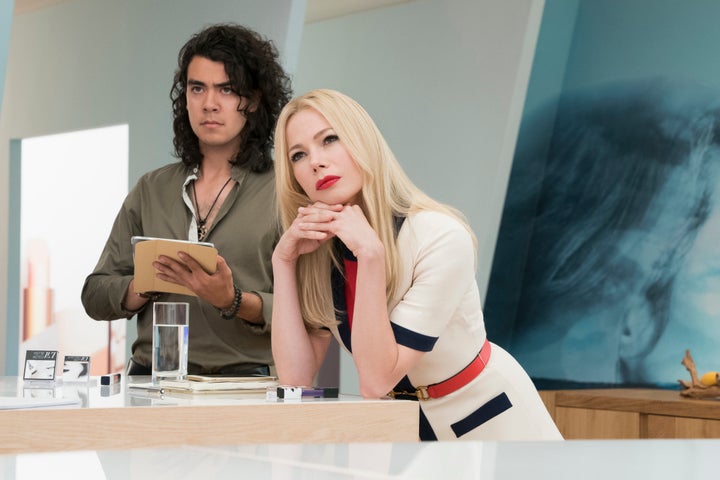 Coupled with the bamboozled but relentlessly relaxed aura Williams brings to the film, Avery's flat cadence skirts the dragon-lady stereotype that defines the high-powered fashionistas portrayed by Meryl Streep in "The Devil Wears Prada" and Tilda Swinton in "Trainwreck." She carries herself with the weight of a feather, gliding along as if oblivious to her surroundings at all times.
Kohn and SIlverstein, longtime creative partners who also penned "Never Been Kissed" and "He's Just Not That Into You," had written Avery's intonation into their script, but they had no idea what Williams would do with it until a couple of weeks before she arrived on set. Williams sent Kohn and Silverstein an NPR story from 2015 about a woman incapable of feeling fear. The woman's speech, which sounds almost identical to the voice Jenny Slate created for the adorable stop-motion creation Marcel the Shell, was Williams' inspiration, though the results were still a work in progress when she tested it for Kohn and Silverstein over the phone. They didn't hear the final version until they went to Williams' trailer on her first day shooting the movie.
"Truthfully, the thing she did for us on the day in the trailer was not like anything we'd talked about before," Silverstein said. "It was so much better."
"We were like, 'Can you sustain it? How is it to do a voice like that?'" Kohn recalled. "She was like, 'Yes, I got it. I can do it. It's part of the whole thing.'"
Avery's wardrobe completes the "whole thing." Costume designer Debra McGuire, who was attracted to "I Feel Pretty" because its empowerment message works in opposition to the "tight, sexy" clothing she felt obligated to use while working on "Friends" in the '90s, based Avery's grandmother (Lauren Hutton) on a cosmetics guru she once knew who dressed head to toe in Chanel. With that in mind, McGuire wanted Avery to put a "fun" twist on high-end fashion, bringing a California ease to the office's cutthroat New York setting.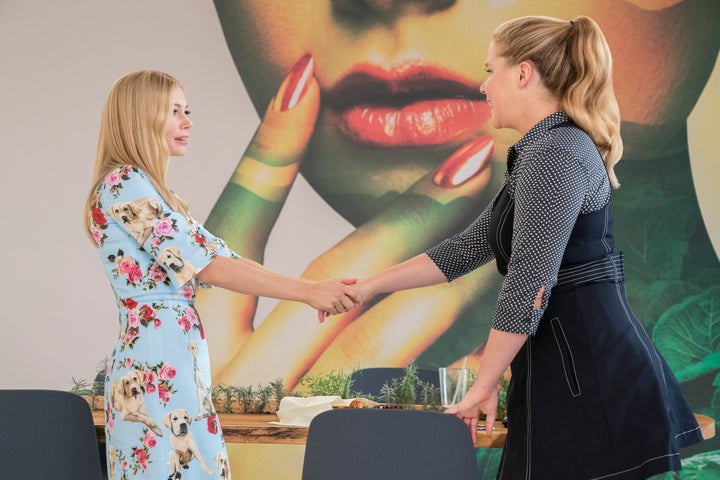 Furthermore, Avery and the self-effacing Renee needed to work as complements, not foils à la Streep and Anne Hathaway in "The Devil Wears Prada." When Renee falls off a SoulCycle bike and knocks her head, her feelings of unworthiness vanish. Convinced she is suddenly thinner and more conventionally beautiful ― "Modeling is an option for me," she later tells Avery and her colleague (Naomi Campbell) ― Renee encounters a series of contrivances that ultimately lead her to realize she got the job (and a boyfriend) without actually shapeshifting or altering her appearance.
Normally, McGuire would have designed Avery's attire from scratch. But she didn't have access to Williams during pre-production, as the actress was filming another movie in Europe (presumably "All the Money in the World," which Williams shot in Rome immediately before "Pretty"). Instead, McGuire scouted Tom Ford, Dolce & Gabbana and Gucci boutiques. Knowing that Kohn and Silverstein didn't want Williams to wear the same sort of regalia she dons in real life, McGuire sought an "au current" metropolitan sensibility accentuated by straight, flowing blond locks. "There was an Ivanka Trump vibe going on there," she said half-jokingly.
That dichotomy ― corporate gloss meets puerile squeal ― is best evidenced in a baby-blue dress Avery wears with pink flowers and golden retrievers all over. A Dolce & Gabanna original that McGuire said was inspired by the designers' own dogs, the blithe garment reflects Avery's lifelong struggle to cultivate a personality despite the fact that no one takes her seriously. The movie's producers first balked at the canine frock, thinking it might be too distracting, but McGuire, who had the directors' support, wasn't budging. "That dress was going to be on camera even if I had to stomp over anybody who didn't want it," she said. "I felt this was just a perfect place to show part of who this character is because there's a snobby vibe to the Lily LeClair aesthetic. To come to work in a puppy dress, you've gotta be some kind of woman to do that."
Avery's accouterments and wispiness mask a crippling insecurity. "I sound like a freaking moron," she moans in an uncharacteristically candid moment, listing the line items on her astoundingly intellectual biography to prove how belittled she is because of her voice. In the same way that Schumer learns to value her body by the movie's end, Avery is meant to better understand her place in the class-conscious, image-obsessed world. She is the face of Lily LeClair, but it's her inability to muster the confidence needed to excel that encourages her to extend the brand to reach more than just snobby rich women. That arc is baked into Williams' oddities.
"On the first day, she did this one thing where she, like, leaned on her hands together like she was posing for a picture while she was talking," Silverstein said. "Avery has seen human behavior and tries to emulate it in ways that are not right: 'Oh, this is what a person would do right now. They would lean on this table as they talk.' [Williams] really got into that. This is the story of a person of privilege, yet someone who's grown up with a lot of obstacles in her way and maybe without a lot of personal connections and without a lot of real human interaction. It's just a really fun thing to watch her do this and find the line."
Popular in the Community