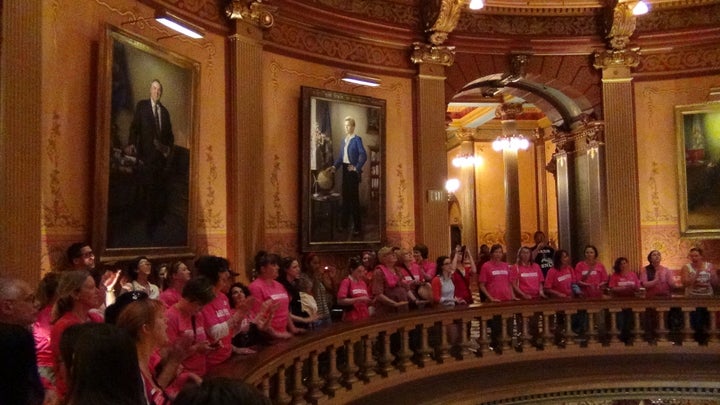 Hundreds of protesters descended on Michigan's Capitol in Lansing on Tuesday to fight sweeping anti-abortion legislation that opponents say would impose so many restrictions on abortion providers that it could effectively end abortions in the state.
Live camera feeds showed the protesters swarming into the gallery of the state House of Representatives, which is expected to vote on the bill this week, chanting "This is our house!" and "We'll remember in November!"
When pro-abortion rights members of the Republican-controlled House entered the chamber, the crowd cheered wildly.
If the Michigan legislature passes the 60-page "super-bill," it would be the most restrictive anti-abortion bill in the nation. The bill would criminalize all abortions after 20 weeks of pregnancy, without exceptions for rape victims, the health of the woman or in cases where there is a severe fetal anomaly. There are 10 other states that ban abortions after 20 weeks of pregnancy.
The bill would also require health centers that provide abortions to have surgery rooms, even if they don't provide surgical abortions, and would require doctors to screen women for "coercion" before providing an abortion.
The proposed legislation also includes a provision to create new regulations for the disposal of fetal remains and ban "telemedicine" abortions, in which doctors use technology to remotely prescribe abortion-inducing medications and the morning-after pill.
Opponents of the bill worry that these restrictions, particularly the requirement that all health centers providing abortions become licensed as freestanding surgical centers, could force all such health centers to close.
Ari Adler, a spokesman for House Speaker Jase Bolger (R-Marshall), said the bill is not intended to end all abortions in the state, but rather is about "protecting the health of women in terms of what is happening at abortion clinics." Adler said Tuesday's protests were unlikely to sway anyone's vote.
"There hasn't been anything I've seen that has swayed us from moving forward with the legislation," he told The Huffington Post. "This is an important issue for a lot of people, and they feel it needs to be addressed."
The House Health Committee cut off testimony during a hearing for the bill last week in order to push the bill out of committee and onto the House floor, preventing Planned Parenthood and other opponents of the bill from testifying. Megan Groen, a spokesperson for Planned Parenthood Mid and South Michigan, said she believes that the bill has traveled so quickly through the legislature that "a lot of legislators don't know the full ramifications of it."
"It's the most extreme anti-woman and anti-women's health legislation going through any state legislature in the country right now," Groen told HuffPost on Tuesday. "It's about a 60-page overhaul of the public health code that does a heck of a lot of things and is incredibly dense, and they're not allowing adequate public testimony about what it would do."
REAL LIFE. REAL NEWS. REAL VOICES.
Help us tell more of the stories that matter from voices that too often remain unheard.
BEFORE YOU GO