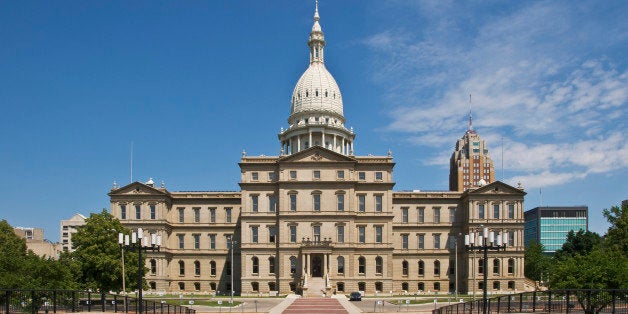 At the same time, Snyder vetoed another bill that would have prohibited insurance companies from providing abortion coverage as a standard option and instead would have forced consumers to purchase an additional rider for abortion coverage.
But an anti-abortion group may have found a way to make it law despite the veto.
On Friday, the group Right to Life submitted 315,477 signatures on a petition that, if approved, will send a citizen-initiated measure that calls for the same restrictions as the vetoed bill to the legislature. If the Board of Canvassers approves the signatures, with a required minimum of 258,088, the legislators have 40 days to act. And if they pass the legislation, they do not need Snyder's signature for it to become law.
It would also not be subject to a voter referendum. It seems quite possible that the legislation will be passed by the House and Senate after they approved similar measures last year, but if it does not, it would go to a statewide vote in 2014.
Right to Life's No Taxes for Abortion Insurance committee advanced the Abortion Insurance Opt-Out Act, which prohibits insurers from covering elective abortion without a rider and requires employers who purchase riders to notify their employees. According to the Free Press, the rider would need to be purchased before knowing if one was intending to get an abortion; it couldn't be purchased by a woman after she got pregnant.

"The people of Michigan have spoken clearly that they do not want tax dollars or health insurance premiums paying for abortion," spokeswoman for the committee and Right to Life Pam Sherstad told MLive.
The group makes the case that with subsidized health care offered through insurance exchanges, if abortion is covered, taxpayers will be indirectly paying for it. However, the law applies to all insurance policies, public and private.
Liberal advocacy group Progress Michigan issued a statement Friday condemning Right to Life for "circumventing the political process."
"It's unconscionable that Right to Life has launched a campaign against women's rights by finding a loophole in the law and skirting a signature from the governor," said Communications Director Jessica Tramontana. "The president of Right to Life went as far as describing this extra insurance like buying coverage for a 'flood or a car accident.' Rape is not an accident. Women should not be saddled with extra costs for insurance coverage in case they're a victim of a crime."
Calling all HuffPost superfans!
Sign up for membership to become a founding member and help shape HuffPost's next chapter
BEFORE YOU GO
PHOTO GALLERY
GOP's War On Sex