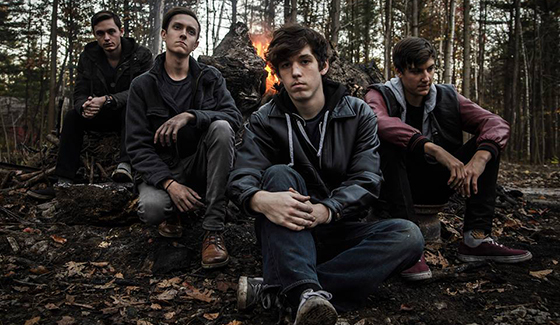 The seeds of the Stories Untold were initially planted when band member Jake Clark along with their former bass player Alex Manter set to make a post-apocalyptic movie together back in college. In the need for music for this project, this would set the path for what the band is now. The four-piece still showing the exuberance of their youth with all the members still 21 years of age, have quickly struck a nerve with their audience and have the potential to go places within the music world.
Stories Untold, consisting of Kevin Quednau (guitar/vocals), Jake Clark (bass/vocals), Tim Williams (guitar/backing vocals), and Brennen Moloney (drums) all met back in their school days, which wasn't that long ago, but they have been able to hone their craft quite quickly. They have their debut album Can't Go Home coming in the spring, but before that, they will be headlining a show at The Crofoot in Pontiac on Saturday, February 13th. I was able to sit down with the whole band recently and talk about all things Stories Untold.
What were some of the musical influences that you all had that pointed you creatively to the direction of the band?
Jake: We all grab influences from different places. Kevin and I are into totally different music. Him and I do not listen to the same stuff at all. We manage to take aspects from different genres and just pull it together. For example, when I'm writing I'll listen to one band one day, like I kind of like this part. I like all sorts of music, like post-hardcore, surprisingly I like classical music a lot, ambient music. We can all get on board with Taking Back Sunday and Brand New as well, that's something we all share in common. I have more of a post-emo genre personally that I drive from a lot.
Brennen: The first two bands of my life that I listened to were Our Lady Peace and The Beatles. As far as drumming, when I got the kit, I was in high school and it was immediately Incubus, Muse, Billy Talent, a lot of alt-rock. Eventually just shifted, I always challenged myself so I dug through some metalcore because that was really tough for me for a while to figure with all the breakdowns and stuff. Lately, its just been more into more just technical stuff like Circa Survive, Hail The Sun. I enjoy jamming to pretty much all genres of music and as far as what influences me, like Taking Back Sunday and Brand New. If you dig those bands, then I think you'll dig the stuff that we're laying down. For my drumming style, I was never formally trained on the drums but my dad has been playing for 30 years. I play with passion. I feel it.
When you're performing live, what's going on in your heads when you're up there?
Jake: I'm still trying to work it out personally. There's a lot of stuff that we have to focus on and its an ever going process. We're constantly working on our show. We constantly trying to figure out what we can do better, what can be improved on.
Brennen: We've been playing together for years now and seeing both Jake and Kevin, just the transformation in them, how much they have improved as vocalists and charismatic front men has been amazing to me. I'm behind the kit, for me a it's a little different, I'm hooked up to a click track. I got to be the backbone. I'm a math major machine. I can't mess up. There is no room for error. If I mess up, then the entire set is destroyed. So what's going through my head, I just lock into the groove and feel it. When I get on stage, its like a switch goes off in my head. I'm pretty calm and relaxed. One of my old roommates was a soccer player and he talked about before games, its just about getting in the zone, all positive, no negative. If you mess up, you're aware you messed up, but you just keep going.
Kevin: When we're playing a show, I just get lost in the music. I'm a really awkward guy in person, so still have to sometimes snap back to reality. When we get towards the end of the song, I have to like, oh shit, I got to talk to the crowd in like 30 seconds, what the hell am I supposed to say? Most of the time, I'm just lost in the music. I let the music move me and just go with it.
From your shows, what's the feedback you get from people?
Tim: We have this percussion piece in our set. That's the one thing people mainly remark on. We end with the single we have out now, at the end of that song it goes into this percussion piece that we wrote. All three of us get drums. We do a stall with guitar until everything is set up. People mainly dig that and our closing song gets people really involved too.
Brennen: What we do with that closing song, we bring out either a bass drum or floor tom, depends on what we were doing that night. We just been giving it to people in the audience. Just somebody gets to grab a stick and be a part and share the experience. For Kevin's mom's birthday, his mom was able to play. For my mom's birthday, she was able to play. What we do, we don't do it on the stage, we take it out into the crowd, so people get to be a part of it. We hear a lot of feedback on that. Just the interactivity, a lot of people say the drum thing that they never seen anything like that. Its just crazy seeing how many people see us one time at this show or that show, and we started getting into the scene about May, and next thing you know, we get people that literally come to every single show. Its just been building and building and culminating. Now we are headlining The Crofoot Ballroom and we have only one song released at the current moment in time. Its crazy that was able to build itself. I think the root of that was just people were super receptive to the live show and they just kept telling their friends and they just came out to every single show. We do everything we can to make it an experience. We just make sure no two sets are the same. You're going to be feel something different no matter what stage it is at.
Stories Untold are set to headline The Crofoot in Pontiac, Michigan on Saturday, February 13th with special guests Shapes & Colors, The Banshee Pilot, Rumors, The Scenary, and Man Mountain. Their debut album, Can't Go Home is due out this Spring. For more information on Stories Untold, visit storiesuntoldband.com or facebook.com/StoriesUntoldBand
Calling all HuffPost superfans!
Sign up for membership to become a founding member and help shape HuffPost's next chapter