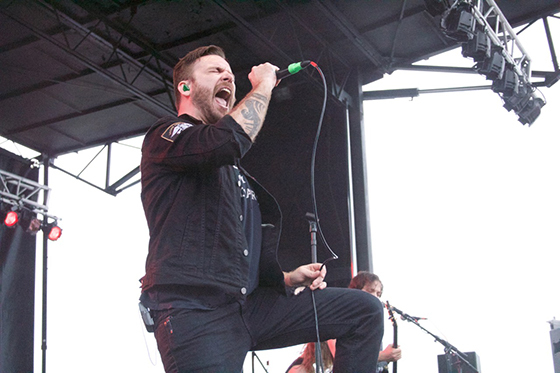 (Chad Nicefield of Wilson // Photo Credit: Kelly Frazier)
Sometimes, even "Detroit Rock City" doesn't get the best rock music events and festivals coming to town, so you have to venture out to the other parts of the Midwest and that's exactly what I did recently for the 10th annual Rock on the Range festival in Columbus, Ohio. While Ohio might be Michigan's bitter rivals in the world of college sports, many towns in the state have embraced Midwest rock and metal bands from all over; a sort of regional community.
With this year's Rock on the Range, the popular festival included some Michigan flavor over the three-day extravaganza. Rock On The Range was a prime example that right now Michigan has a collection of great hard rock bands that don't necessarily sound like each other, but continually cross paths whether its during festivals or even touring together. With bands like We Came As Romans, Pop Evil, Wilson, and Citizen Zero, they all took that first and sometimes hardest step to just hit the road and stay touring, being extremely confident in their talents, while still outwardly representing their home to the fullest.
None of this is possible without a love for the music and bringing an optimistic light back to their home in Michigan. "Just to see all the Michigan bands starting to spread, its always a positive thing to bring more attention back to Michigan," says Leigh Kakaty of the Grand Rapids-based rock band Pop Evil. "With all the issues we've had with the economy and of course the water in Flint, any positivity is always welcome."
No matter what part of the state there from, whether it's Detroit or all the way out in Grand Rapids like Pop Evil, there's a true connection between of these cities. "Any time a band can make it out of the city it's a good thing for the city," explains Dave Stephens, vocalist of We Came As Romans. "Its cool because I feel like whenever bands do come out of Detroit they always represent the city well. They are proud to say they are from Detroit."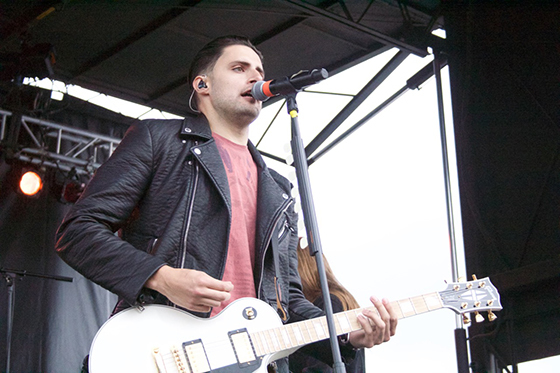 (Josh LeMay of Citizen Zero // Photo Credit: Kelly Frazier)
Even if Detroit or Michigan is not pumping out successful rock bands continuously, there is a clear sense of creativity that goes on within the scene. The hard working aesthetic of an area known for its struggles and its industrial roots garner an innate feeling that there is always somewhere else or some place else you can go with your art. "It's a real sense of community in that aspect that we have in our city and in Michigan in general," describes James Lascu of Wilson. "Michigan bands are pretty supportive of each other. It's really strange how different every band is in Detroit. There's a lot of cities you go to and bands are kind of similar flavor going on. Everyone, instead of stealing or taking from other bands, they are like that's pretty cool but I want to do my own thing. I like that."
And for those just forming a band and finally hitting the road, or even still playing shows in their own city, the supportive nature of the artists out their touring regularly can be quite motivating. Only a few years in thus far, Detroit area rock band Citizen Zero is finally starting to get their footing in this rock world, and finding themselves in the same places as their Michigan peers. "Its really inspiring just to see what they've done with their careers and to know that we could be doing that next," states Josh LeMay of Citizen Zero about crossing paths with other Michigan bands on tour. "That's just our goal to get our there and do what they're doing."
Even some of the most known rock bands still have to tour extensively these days to remain sustainable. It's tough out there and bands need to know that they have to continuously put in hard work and tour to keep it all going. As different as many of the bands are in Michigan, there is no one way to really go about it. Some bands have to instantly leave their own area to eventually get acceptance and some have to make a name in their home first, but in the end, they all need to spread their wings and hit as many towns and cities that will have them.
With We Came As Romans, they hit the road as soon as they could and its fact that their second gig was outside of Michigan. Not any easier of a route, they just went elsewhere and it paid off for them. "I don't think we started gaining momentum in Detroit until we started gaining momentum in like some of the surrounding cities," says Dave Stephens. "As soon as we could, we bought a van and started renting a trailer and whoever would book us, we would go and try to play, often times we wouldn't even have enough money to fill up the tank. We would have to stop at malls and sell t-shirts and ask for donations."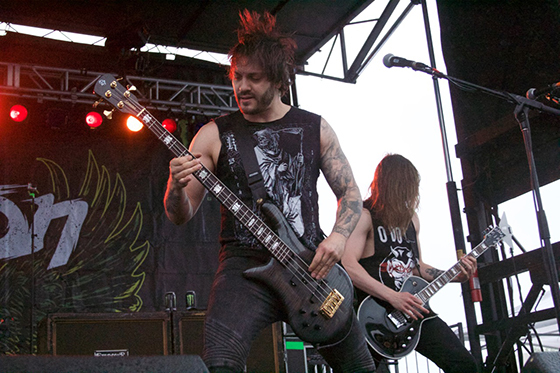 (James Lascu of Wilson // Photo Credit: Kelly Frazier)
Pop Evil took another route. They played the local shows, gained popularity among their own area, and even with the help of radio stations like 97.9 FM in Grand Rapids, were able to make a name for themselves locally first. "It's a slow and steady thing," says Matt DiRito, bassist of Pop Evil, about breaking out of their locale. "You have to conquer your hometown, then you have conquer your region, then got to conquer Michigan, then you have to hit the other states around there. It's slow and step by step."
Whatever way it takes to get out of your city, it's also important that if you do make it out, that you don't forget where you come from. A band like Wilson that originally was just started for a way that the guys could get free beer eventually took to the road, but never forgot where they've come from. "It was about pounding the pavement and getting in the van and driving really far away from home," explains James Lascu, bassist of Wilson. "Also, making the conscious effort to come back and play shows. There's been periods of time where we've been on tour for 5-6 months or so with a few weeks in between where we realized we haven't played at home or Michigan in 6 months and we need to put on a show. That's something we are pretty conscious of. We don't want people to think we've forgotten about them. We don't forget about anything like that."
While Michigan hasn't been this huge bastion of movers and shakers in the music industry since the Motown days, all the struggles and negatively that people have to endure if you're in any way associated with Detroit or any of those other outlying cities has only deepened the pride for people that call Michigan home. Whether you're from Detroit or Grand Rapids or any other city in between, it isn't just a place that you call home, there's an engrained culture that speaks through all of the art. With an album like Wilson's latest, Right To Rise, it's a dedication to their city and that through all of the negativity that is said about Detroit, it isn't all bad and that there's some cool shit that happens here. "There's a lot of hard rock roots in the city," explains James Lascu. "There's a lot of hard working people, blue collar people in the city and that's pretty much what we do. We do that except in a van. Our music is just a lot of old school influences, just keeping it straight forward simple just bang your fuckin head. You work your job then you want to party. That's what we do."
When it comes to seeing any of these bands that I've mention at a festival like Rock on the Range, or seeing their peers on tour or big events elsewhere, it tends to be good thing for our state. Everybody isn't going to like every band since they all sound so different, but the fact they are out there means that they have somebody they have touched musically. "We just want to bring more positivity back home and make more awareness that rock-n-roll is not dead and is very much alive and well, born in the great state of Michigan," explains Leigh Kakaty.
Calling all HuffPost superfans!
Sign up for membership to become a founding member and help shape HuffPost's next chapter