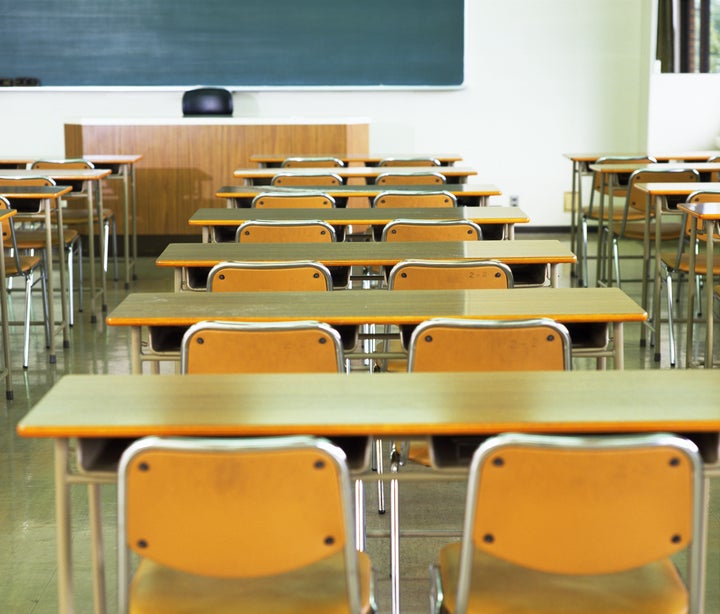 Among the bundle of Republican education bills snaking its way through Lansing is a pair of measures that, at first glance, appears to capitalize on national bipartisan trends in education reform: two bills that would dramatically expand both charter schools and cyber schools in Michigan. But the bills contain so few quality controls that even the education groups most likely to support them say they can't back them in their current forms.
Experts say that if passed unmodified, the bills could have dire consequences for Detroit, which is bound to explode with charters as the first major site for the expansion of the Education Achievement System. The EAS, a statewide special district for the worst performing schools, will pilot in the Motor City and perhaps elsewhere in Michigan next year.
Both bills passed the state Senate and are awaiting approval by the House, where conservative Rep. Tom McMillin (R) just took over the education committee following Rep. Paul Scott's (R) recall.
The Michigan Education Association backed the Scott recall in protest of the lawmaker's pushing through cuts for K-12 funding and reforming teacher tenure. McMillin, described by an MEA lobbyist who declined to be named as "the most conservative of all House members," stepped into Scott's committee leadership spot Nov. 9. McMillin is expected to continue supporting Scott's education policies, as well the charter school and cyber school bills.
Those bills are the products of a Republican legislature -- specifically state Sen. Phil Pavlov, who has taken in money from the DeVos-financed Great Lakes Education Project, according to campaign finance records filed with the state. The bills face vigorous opposition by the state's teacher's union, the MEA and some left-wing education reform groups.
McMillin and Pavlov did not return calls seeking comment for this article.
"They're going to go down as the worst laws we've looked at," said Sen. Bert Johnson, a Democrat who has accepted campaign money from both the teacher's union and Democrats for Education Reform, a national Democratic group that support candidates with education platforms that often differ from those of the unions, according to campaign finance records filed with the state. "It's being done in a willy-nilly way and doesn't amount to any accountability."
MORE CHARTERS, FEWER GUIDELINES
The charter-school bill would lift the state's cap on charter schools -- Michigan currently has 255 -- without installing any significant quality safeguards. The bill also eases regulations, making it easier for out-of-state charter-school operators to set up shop.
Charter schools are publicly financed but can be privately run. Charter school performance is mixed overall nationally and in Detroit. While some chains, like the Knowledge Is Power Program, are known for sending more low-income kids to college, others, such as charter schools in states like Ohio with lax charter-school laws, are notorious for stale curricula and baseless profits.
While many education-reform groups support school choice and competition through the development of charter schools, Sen. Johnson said the Michigan bills put Democrats between a rock and a hard place.
"For those Democrats that support choice, we have been put in an awful position because of the heavy-handed approach that Republicans have taken," Johnson said. "Because they put together these bills in secrecy, we end up being hands-off."
Meanwhile, the EAS is in its planning phases and charters are expected to figure into the special district in a big way, though the special district's chancellor, John Covington, has kept mum about the details.
"The EAS is going to be the governing body that eventually oversees the conversion of these schools into charters or be granted 'empowered school' [status], which are basically charters but keep their public identity," said Greg Harris, an education policy expert who recently ran Excellent Schools Detroit, a local coalition of education players and fundraisers. "The teachers will be paid less, younger. The savings they achieve will be used to refinance the debt of the old public school system. The problem [with the EAS] is it's not going to be better."
But the district is embracing charters.
"The war between Detroit public schools and charters is over. We're going to have charters," Detroit Public Schools Emergency Manager Roy Roberts, who is also the chair of the EAS board, told The Huffington Post. "We're going to have all kinds of schools."
The lowest 5 percent of underperforming schools statewide will be transferred to the EAS. But according to Wayne State University education professor Mike Addonizio, some worry that the school choice bill could attract low-quality charter managers that are so bad, they affect which schools are brought into the EAS, pushing out still struggling public schools.
"It's not because the lowest 5 percent will have gotten better, but that these new schools are actually worse," Addonizio explained.
In Lansing, several education-reform groups are trying to fix the bill by adding quality control standards. But after several conference calls in which the groups -- including Excellent Schools Detroit, former Washington, D.C. schools chancellor Michelle Rhee's lobbying group StudentsFirst and Democrats For Education Reform -- discussed solutions, it became clear that they could not agree on the details. They disagreed on language that would add standards to the bill in order to check new charter schools for quality -- so they went their separate ways.
DFER's Michigan arm is trying to iron their differences out.
"Our organization and other organizations that we're working with are not against lifting the charter-school cap. The other side is trying to paint us that way," said Harrison Blackmond, who heads up DFER's Michigan activities. "Our issue is: How do you go about doing this in such a way that it protects children?" He added that he's not confident the language could change before the bills' passage.
Tim Melton, a former Michigan Democratic legislator who recently began working as StudentsFirst's national legislative director, is less pessimistic. "That's something that we're working hard on right now to make sure that these bills reflect quality," Melton said.
Excellent Schools Detroit's current director Dan Varner said Pavlov seemed open to "convening conversations" on altering the bill. "He's now talking about what we can add after this is passed," Varner said.
But Doug Pratt, a spokesperson for the MEA, said his group wouldn't support the bill even with quality measures added. "The charter cap in and of itself is an important piece of accountability," Pratt said. "If you don't have a limit on charter schools, there's no pressure to ensure that they are performing and what they're trying to do is working."
Charter-school effectiveness is not a given in Detroit. A recent Detroit News analysis found charter high schools in Detroit performed worse than traditional public schools. According to the report, just six of 25 Detroit charter schools had higher math or science proficiency rates on the Michigan Merit Exam than those in Detroit's traditional public schools.
For his part, Roberts has thrown up his hands regarding the charter school legislation. Instead, he's working with local groups to devise Detroit-specific standards for new charter schools. "I want to spend my energy doing everything I can to ensure that we have good quality in the city of Detroit," Roberts said. "It's a waste of time to go back to the legislature."
Depending on what happens in Lansing, cyber schools, whose quality is just as mixed as that of charter schools, could also explode throughout Michigan.
Like the charter bill, the cyber school bill would lift the state's cap on cyber schools. There are currently just two cyber schools in Michigan, serving 1,400 students. The bill would also allow online programs to receive the same financial allocations per student from the state as brick-and-mortar public schools. Pavlov, the bill's sponsor, has said that the bill aims to get Michigan's educational innovation up to speed.
Different cyber schools use varying models, but they all exist online, without a physical institution. They are most useful for families who live in remote areas, and sometimes employ certified teachers. Advocates say that families are lining up for Michigan's cyber school options -- a reason to increase their offerings. Pavlov told the Kalamazoo Gazette that the new bill would create "a power­ful way to deliver learning in the 21st century."
The bill is worrisome to some, because there is little proof that online schools are effective. A recent study produced by the union-backed National Education Policy Center found "serious flaws with full-time virtual schools." For example, only one quarter of schools managed by large cyber-school provider K-12 Inc. are making "Adequate Yearly Progress" under federal standards. Studies elsewhere have also found the quality of cyber schools to be inferior to those of traditional public schools.
Cyber schools were the subject of a recent investigative article in The Nation about a small group of lobbyists who stand to profit from legislation like that in Michigan. The piece noted that former Florida Gov. Jeb Bush, the de-facto leader of these lobbyists, has been to see Michigan Gov. Rick Snyder (R) twice to press for more open cyber school laws in Michigan.
Johnson said he voted no on the cyber school bill in late October because of quality concerns. "It's difficult to enact a policy into law and say it'll be successful when there's no example of that success lying around to visit," he said. "To say that this brand new way of educating students should be available at a large scale -- we can't say where that money is going."
The virtual school bill passed the Senate in a narrow 20-18 vote at the end of October. It is unclear when the House will take up the issue.
Blackmond said that DFER is just as cautious of the cyber school bill as it is the charter bill.
"We're opening the door to more cyber schools without putting in place accountability and quality measures," he said. "We don't want to subject our kids to five years of mis-education before we realize we were doing it wrong."
Calling all HuffPost superfans!
Sign up for membership to become a founding member and help shape HuffPost's next chapter