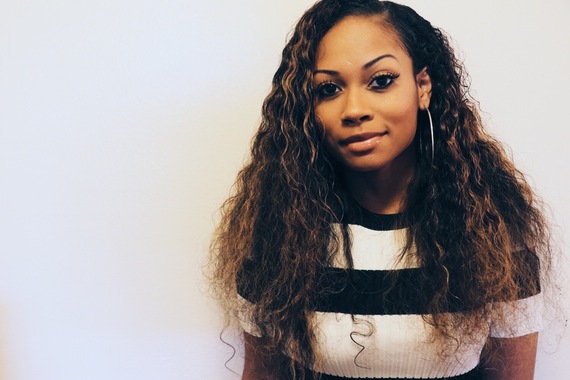 It's the first day of summer, temperatures are continuing to rise and nothing screams summer like unbearable heat. While most college students are enjoying life in the college "off season" without a care in the world, PhaShunta Hubert is doing everything except resting. In fact, she has taken a break from her very active 3 year old son to do some shopping for her outfit for the upcoming BET awards that she will soon be red carpet hosting for her brand, MissPhaShunta.com/. She'll rest when her dreams come true.
At first glance PhaShunta is your average 23 year old college student enjoying the hustle and bustle of life, but she is far from being average. PhaShunta's company has covered awards show for Disney and Nickeolodeon and she has been seen on TMZ, Vh1, MTV, TVOne and most recently P. Diddy's very own RevoltLive. While it may seem that PhaShunta has become a household name over night she will be the first to tell you that her rise to the top did not happen overnight and she's not done until she becomes a personality on E! News.
PhaShunta hails from Ypsilanti, MI and is a prime example of why you should never take no for an answer. Growing up and being inspired by the likes of Karen Civil, PhaShunta always knew she wanted to be a television personality. She recounts her first time asking for a celebrity interview and being denied: "I remember I used to ask celebrities for interviews and I had no website, no Youtube or anything and their first thought was who is this girl? I decided to show them who I was so I started branding and marketing myself and every time celebrities would come to town I would interview them and eventually people knew exactly who I was" and it's that persistence that continues to make PhaShunta shine.
Just a few courses away from her second college degree PhaShunta knows first hand the importance of having a tribe that's intact. "My family has really helped me out a lot. I have a routine, I don't even think about it anymore. I just do it," and that's the one thing that keeps PhaShunta going she just does "it" and at this rate this budding personality is well on her way.