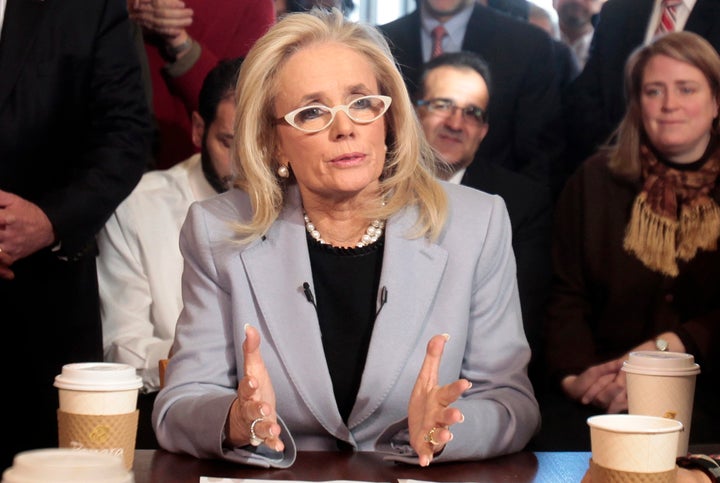 ANN ARBOR, Mich. ― Rep. Debbie Dingell implied Saturday that Muslim Abdul El-Sayed, a fellow Democrat seeking the party's gubernatorial nomination in Michigan, would face more obstacles because of his faith in the general election than the candidate she supports.
Dingell, like virtually all of the state's Democratic establishment, is backing Gretchen Whitmer, the former Michigan Senate minority leader who leads in polls on the Aug. 7 primary.
After Dingell spoke at a rally held by the Michigan Nurses Association, a labor union locked in a contentious contract fight with the University of Michigan Health System, HuffPost asked Dingell why she was supporting Whitmer.
"We gotta win" the open governor's seat, Dingell replied. "We hope Abdul stays very engaged in public policy. I think he's one of the brightest people I know."
"But there's too much at stake for working men and women in this election," she continued. "And I think [Whitmer's] the strongest candidate to win in the general."
Dingell, who represents the Muslim hub of Dearborn, was then asked whether she believes Michigan is not ready to elect a Muslim as governor.
"I don't want to say that because I think [El-Sayed's] fabulous, and I represent one of the largest populations of Muslims in the country," she said. "But there are people trying to divide us by fear and hatred, and [President Donald Trump] is one of them."
Dingell's comments reflect the unique challenges facing El-Sayed, a former director of the Detroit health deparment, and other Muslim Americans who run for office. They are frequently forced to answer not only for baseless accusations made by Islamophobes, but also to would-be allies concerned that other people's biases toward Muslims make their candidacies politically unviable.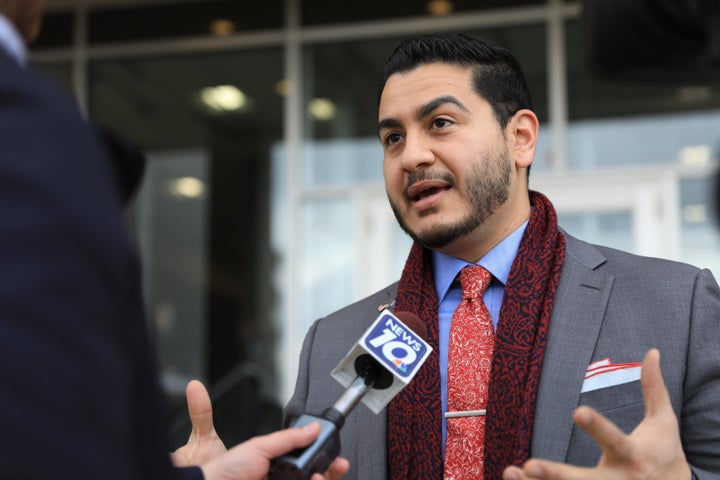 State Sen. Patrick Colbeck, one of four Republicans in the GOP gubernatorial primary, has already alleged ― without any evidence ― that El-Sayed is a Muslim Brotherhood agent bent on "civilizational jihad" against the United States. (Although he normally does not engage these allegations for fear of giving them credence, El-Sayed in an interview last year flatly denied any Muslim Brotherhood ties or that he was part of any conspiracy to impose Sharia law in the U.S.)
El-Sayed's go-to answer for skeptics of his electability is to remind them of another man with a funny name who nobody thought could win: former President Barack Hussein Obama.
When asked about Dingell's remarks, El-Sayed repeated to HuffPost a story he shared earlier on Saturday at a barbeque rally in Detroit's East English Village neighborhood. As the valedictorian of his undergraduate class at the University of Michigan in 2007, El-Sayed delivered a speech to his fellow graduates. Former President Bill Clinton, the commencement ceremony's keynote speaker, praised El-Sayed after his speech, suggesting he run for office instead of attending medical school.
"We will win because we have the honesty and humility to listen, learn from, and speak to all Michiganders."
El-Sayed initially laughed it off, reminding Clinton that his full name ― Abdulrahman ― is 11 letters long.
"I don't know if that's going to be possible for me," El-Sayed remembered telling Clinton.
El-Sayed's sense of what was possible changed radically after Obama's election the following year, however. "It was the first time I ever saw myself in a politician," El-Sayed told HuffPost.
"We will win because we have the honesty and humility to listen, learn from, and speak to all Michiganders," he added. "That is what Michiganders are hungry for ― regardless of what my name is or how I pray."
There were some signs at campaign stops on Saturday that El-Sayed's Obama analogy resonated with black voters.
After El-Sayed's speech at a candidate meet-and-greet in a senior housing complex in Detroit, Mario Morrow, an alumnus of Kappa Alpha Psi, the historically black fraternity hosting the event, stepped up to the microphone to make some announcements. But before he got to official matters, Morrow, who has not endorsed in the race, had some kind words for El-Sayed.
"I remember a guy by the name of Barack Obama that they said couldn't win either. So keep working hard," Morrow said, unprompted. (El-Sayed had not used the Obama anecdote in his remarks at that stop.)
Eric Pate, the fraternity's regional political and social action chairman, said that if people had "two cents' worth of a brain," they would listen to what El-Sayed had to say, rather than heed the conspiracy theories of Colbeck and others.
"He was speaking to where I come from," Pate said. "He was talking about poor people. He was talking about things that help America be what it says it's gonna be."
In a statement on Saturday, Dingell denied implying that a Muslim could not get elected as governor of Michigan.
"In a recent article about Michigan's race for governor, the Huffington Post stated that I implied a Muslim can't win," Dingell said. "This is not true, nor is it my belief."
"Faith and race have nothing to do with getting elected. Muslims are my neighbors and advisers," she added. "They are contributors to our great nation, loyal and patriotic Americans. I'm lucky to call them my friends."
El-Sayed responded to the article's publication by inviting Dingell to a campaign event on July 29 in Ypsilanti, a city in her district.
"You'll meet all kinds of Michiganders — they come because our movement goes beyond the old politics of division. The future is bright," El-Sayed wrote in a message on Twitter and Facebook.
Dingell accepted his invitation in a Facebook comment.
"Thank you for inviting me. These are the kinds of events I do every day when home and they matter," she wrote.
Below is the audio and transcript of HuffPost's interview with Dingell.
How important is [rallying with University of Michigan nurses] to you today? This [university is] ostensibly a nonprofit that gets tax-exempt status.

This is really important to me. Health care really matters to me. It's always been something ― but I've been experiencing a lot of it in the last few years. And you see the issues. That story I told was a real story. I saw the nurses stressed right there. Thankfully I wasn't ― I had sinus surgery.

But they can't do their job. We have to have safe staffing. And you know, that's what the fight's been over the years in organized labor: making sure that there's enough staff. So this is very personal to me. And it is about quality affordable health care for every American. Someone goes there, they've got a right to that.

What are the stakes of [Michigan's] governor's race and other state-level races this year?

This is really going to determine the way that this state goes. The Republicans are very anti-union. And I'm somebody that knows that what unions have negotiated have made every American safer. People forget the role that unions have played in the quality of life for every American ― from the 40-hour workweek to the vacations to the holidays they have to the stick days to the ratios in a hospital when they're sick, ratios in the classroom ― that's all been negotiated by a union. Employers want to reduce that and don't want to invest? That's about individuals taking care of them. We cannot be afraid to talk about the important role of unions.

You've endorsed Sen. Whitmer. Can you tell me a little bit about your rationale behind that?

We gotta win. I love Abdul, he's very ― but the delegation was concerned that the Republicans, at the point at which we all endorsed ― We, I hope Abdul stays very engaged in public policy. I think he's one of the brightest people I know.

But there's too much at stake for working men and women in this election. And I think she's the strongest candidate to win in the general.

Is there some concern ― to call a spade a spade ― that the state of Michigan is not ready to elect a Muslim?

I don't want to say that because I think he's fabulous and I represent the largest population of Muslims in the country. But there are people who are trying to divide us by fear and hatred, and this president's one of them.

Is it a little odd though that Sen. Whitmer isn't here? She has the endorsements of all the labor unions. Why isn't she here?

Did they endorse her? Did the nurses endorse her?

They didn't, but they're involved in a labor struggle here.

I can't speak for her. I'll speak for me. I'm here. It's where I belong.

There are some people who think that a cautious strategy is what cost Hillary Michigan ―

I'll tell you what cost Hillary Michigan. I said for two years that Donald Trump would win. And Donald Trump won because he talked about issues that mattered to working men and women ― like trade, like pensions. He showed empathy that wasn't real. But we weren't talking about the issues that mattered to working people ― the economy.

I say to people, what happened in this state after the auto recession ― first of all, that fear is still in people's heart and souls about what happened in 2008, and that they could lose their job at any moment. They haven't forgotten.

And Donald Trump understood. He is a master ― he understands people. And he manipulated them, but he showed empathy that Democrats didn't. I did. I get it. You know that if you've studied anything.

I read the book Shattered and you have a very important role in that book.

I said it. And I still say it. I say it in our caucus every day.

Do you hear that from Gretchen, though ― that same empathy and the policies to address things like trade?

Yeah. I think trade is more of a federal issue. But yes, I do.

What do you think her first priority should be ― what do you think a Democrat's first priority should be in the governor's mansion?

How to keep growing the economy, jobs. I'd like to see us work for health care for everybody. Protect pensions, care about working people.

One last thing, I was at a play yesterday about the life of Shri Thanedar―

How was it?

It was interesting.

I wanna go see it.

It's worth checking out. What do you make of his candidacy?

I'm not gonna be negative on any candidate. People that are brave enough to go out and put themselves out there deserve support. And we've got three candidates who are working hard.

But it is sort of odd that he claims the progressive mantle and yet he attended a Marco Rubio rally, gave money to John McCain.

Let the facts speak.
This article has been updated with comment from Dingell and with the transcript from HuffPost's interview with her.
Before You Go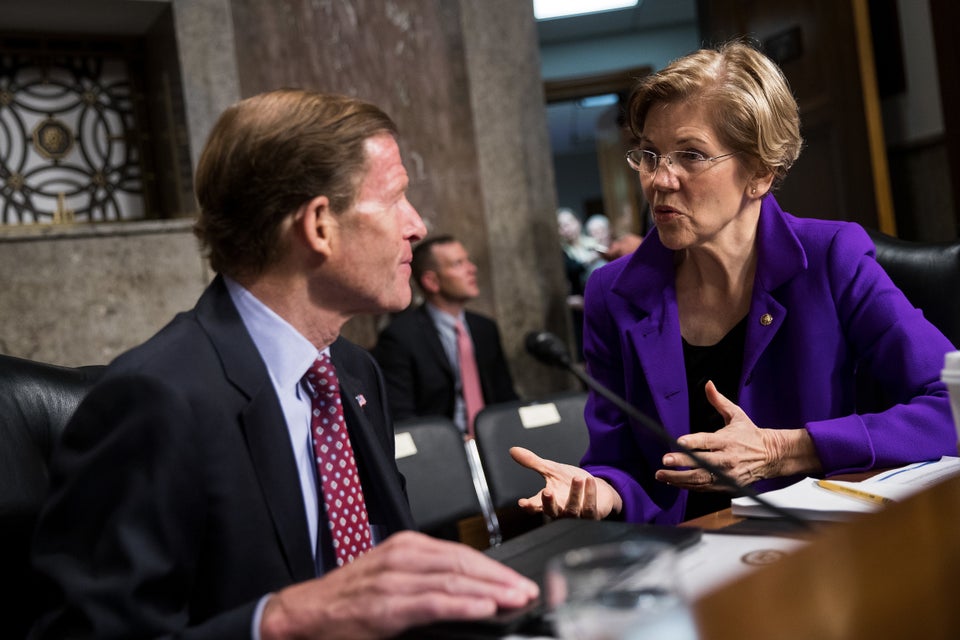 2017 Scenes From Congress & Capitol Hill
Popular in the Community