 In the farming community of Huron County, Mich., six immigrants were taken into custody to await deportation proceedings Wednesday after reportedly calling 911 to request an ambulance.
According to local police and local media, one of the six Mexican citizens requested an ambulance following a dispute with a supervisor -- but not for an emergency. The Customs and Border Patrol (CBP) was then called in, and the men were transported away from the construction site to commence deportation proceedings.
However, what has not been reported by local media and Huron's local sheriff is that no one spoke to the immigrants in Spanish about why the emergency call was placed, even though authorities acknowledge that the six men do not speak English.
CBP spokesperson Kris Krogan told The Huffington Post that there were language complications with the original 911 call. And when Huron County sheriff's deputy was unable to communicate with the men on site, he called the border patrol for "translation purposes."
Border patrol agents, however, never spoke to the six Mexican citizens in Spanish about the nature of the initial emergency call, according to Krogan.
Instead, the border patrol determined that the six were undocumented, and took them into custody to commence deportation proceedings. "The six men identified themselves as undocumented," Krogan told The Huffington Post, though he said he was unsure if their status was solicited by the border patrol agents, or simply offered up by the men themselves.
The version of the incident given by Huron County Sheriff Kelly J. Hanson, and repeated by local media outlets, sent up red flags for immigration law experts.
Erich Straub, an immigration attorney who has represented laborers and farm workers in Wisconsin for almost 20 years, said that an undocumented person calling for an ambulance for a non-emergency is suspicious.
"This would be highly unusual," Straub told The Huffington Post. "At the moment, there is an absolute climate of fear in these communities. Undocumented immigrants very much avoid contact with authorities and formal institutions at all costs."
"I can't imagine anyone in their situation calling for an ambulance for any non-emergency reason."
Straub also found it suspect that the sheriff deputies called border patrol for translation purposes, noting that most farming counties in his own state have some sort of translator in place for such instances.
"I seriously doubt that Huron calls in the border patrol for every single translation case. Federal law enforcement is expensive, and border patrol agents are busy people," Straub told The Huffington Post.
This isn't the first time an ambulance call has transitioned into a deportation proceeding. Two months ago, a store owner called for an ambulance when Claudio Molina, an undocumented Argentinian immigrant, had a medical seizure in front of his store on Long Island in New York. Instead of an ambulance, the police arrived , according a report by AOL Latino.
While providing medical services to undocumented immigrants has long been a contentious issue in the national immigration debate, hospitals are prohibited from refusing care to patients based on immigration status.
But Al Steiner who works for Hoffman Inc., a concrete company based in Iowa, said he was involved in the construction project where the six men were taken into custody and that he's not sure the men in CBP custody in Michigan are, in fact, undocumented.
"Unfortunately, these men were documented but didn't have documents on them. And they were not employed by us, but by a concrete sub-contractor out of Iowa," Steiner told The Huffington Post. "I wish the facts were really being reported. The story seems to have spun all out of control."
Steiner later distanced himself from his assertion that the men were in the country legally, saying he didn't want to add more confusion to a case which has been misreported. The company Steiner named as the sub-contractor, was unaware of the incident when contacted for comment by The Huffington Post.
Hanson said the six men his deputies spoke with did not speak English. "They spoke Spanish. Their English was very broken," the sheriff told The Huffington Post.
When asked why undocumented immigrants would call an ambulance for non-emergency purposes, Hanson reiterated that this scenario was based on information gathered by his non-Spanish speaking staff.
"That's what we made out of it. And that's the information we had," he told The Huffington Post. "The federal authorities didn't just go on our word. They went on what they believed," he added.
The men are currently being held in a Michigan county jail awaiting a deportation hearing, and apparently have not discussed the reasons for placing the initial 911 call to those sent to the scene for translation assistance -- the border patrol, said Krogen.
"No, we didn't talk to them about the initial 911 call. Our role was very limited in this case." Krogan told The Huffington Post.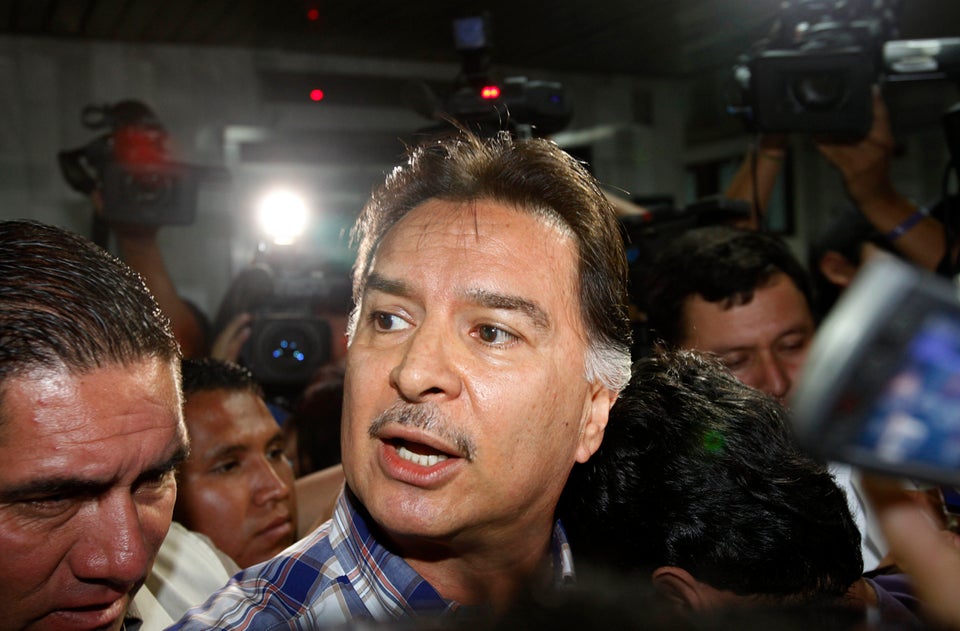 Extradited Latin American Leaders & Kingpins
Popular in the Community