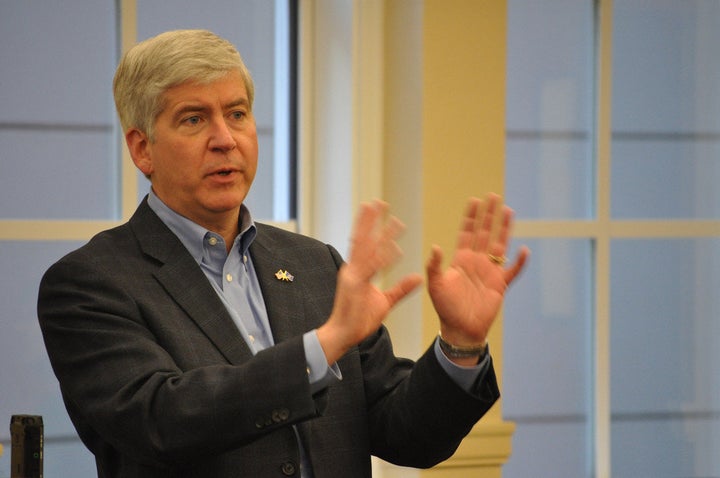 With the threat of a state takeover looming over Detroit, a coalition of groups is ramping up its efforts to suspend Michigan's eight-month-old emergency manager law known as Public Act 4.
Stand Up For Democracy, the coalition focused on repealing Public Act 4, held a press conference Friday to announce increased actions in its petition drive to repeal the emergency manager law. The group has been gathering signatures to freeze the law and to put it up for a referendum on the 2012 ballot. It has set a goal of 250,000 signatures, though only 161,304 valid signatures are needed to freeze the law.
"Today we urge all residents across this state to understand how equally important it is to sign a petition to repeal Public Act 4," Brandon Jessup, the group's chairman, said at the event. "This egregious law isn't about helping municipalities or school districts who are in financial distress; it's about takeover. It is about one person having absolute power to do whatever he or she wants and not be held accountable in the vein of fixing a financial crisis."
The group will be gathering signatures in a door-to-door campaign Saturday, as well as at Noel Night, the cultural event in midtown Detroit.
American Federation of State, County and Municipal Employees Michigan President Herb Sanders told HuffPost the petition drive has collected more than 155,000 signatures. He said AFSCME is pledging to collect 5,000 more signatures before the end of the year.
"We are optimistic that we will reach our goal and restore democracy to the state of Michigan and to the city of Detroit," Sanders said.
Greg Bowens, spokesman for Stand Up For Democracy, told HuffPost the group has validated 90 percent of the signatures collected so far, cross-checking the names of signatories with registered voter rolls. He said the coalition expects to turn in 200,000 signatures by the end of the year.
"One by one people around the state are being stripped of their democratic rights, and we're working as hard and as fast as we can to have this done," he said.
Once submitted, it would take the Secretary of State up to two months to certify the collected signatures. If enough were certified, Public Act 4 would be frozen immediately and a referendum would be placed on the November 2012 ballot.
What's still unclear is how the freeze would affect emergency managers who are already in place. It's also not clear if Snyder could still appoint emergency financial managers under a 1998 law that would still give appointees power of the purse over municipalities and school districts. Emergency managers are currently in place in four Michigan municipalities: Benton Harbor, Pontiac, Ecorse and Flint, as well as the Detroit Public Schools district. They've been appointed previously in Hamtramck, Highland Park, the Village of Three Oaks and the Inkster school district.
Michigan has had an emergency manager law since 1988, but Public Act 4, passed by the majority Republican legislature and signed by Snyder in March, grants further-reaching powers to the governor and appointees. Under the new law, Michigan's governor can appoint an emergency manager for any community or school district the state considers to be in a financial emergency, a condition left loosely defined by the law.
Emergency managers can unilaterally dismiss elected officials, dissolve municipal governments, break collective bargaining agreements and sell public assets.
In September, a U.S. District Court judge dismissed a challenge to the law from Detroit's pension boards, finding the law had not yet affected the plaintiffs.
Related
Popular in the Community