Will Michigan soon change its stance on same-sex unions? New bills, recent polls and a move to put a referendum on the ballot suggest that the gay marriage ban's days are numbered, but a landmark case for gay rights may strike it down even sooner.
Expecting a decision from the U.S. Supreme Court, Michigan Democrats unveiled a package of bills in the state House this week that would offer historic new rights to gay residents.
Other legislation includes bills that would amend Michigan's marriage laws and force the state to recognize gay marriages formalized in other states.
Michigan Senate Democratic Majority Leader Gretchen Whitmer said in a statement that she supported Wednesday's SCOTUS decision.
"Today's ruling is a proud step forward for our nation and affirms the belief that love, not politics, should be the only factor that determines whether any two Americans choose to get married," she said. "I was proud to sponsor legislation to recognize same-sex marriages here in Michigan and now, with today's ruling from the Supreme Court, it's clear that it's time to move forward on that process to ensure that same-sex couples have the same rights, opportunities and protections as everyone else in our state."
Opponents of gay marriage in the state have already protested the DOMA ruling. Last week, Gary Glenn of the American Family Association of Michigan called on governors around America to ignore any overturning of DOMA. Citing Abraham Lincoln and Martin Luther King, Jr., he asked Mich. Gov. Rick Snyder to "defend the vote of the people of Michigan and our state constitution."
And some activists anticipate that Michigan's Republican-controlled legislature may not pass the new legislation. State Attorney General Bill Schuette took the opportunity Wednesday to reiterate that SCOTUS' ruling has no effect on Michigan's gay marriage ban.
"The U.S. Supreme Court ruled that states, not the federal government, retain the constitutional authority to define marriage," he said in a statement. "Michigan's Constitution stands and the will of the people to define marriage as between one man and one woman endures in the Great Lakes State."
Another path exists to overturning Michigan's ban on gay marriage, and it could happen much sooner than 2016. Lesbian couple April DeBoer and Jayne Rowse are challenging the ban's constitutionality, with some hope that the U.S. Supreme Court's rulings on DOMA and Proposition 8 will pave the way for a decision striking it down by the end of summer.
The couple filed a lawsuit in early 2012 claiming a law that prohibits same-sex or unmarried couples from adopting infringes on their civil rights. Rowse had adopted their two sons and DeBoer, their daughter, but worried about their children's future, as neither parent would have legal rights to the other's children in the event of her partner's death.
"Hopefully the Supreme Court will give us some direction, and I think they will," Friedman said, according to the Detroit Free Press. "I'm going to stay a decision in this matter until those cases come down."
He said the couple's lawyers presented a "very compelling case."
The state wrote in a court filing in advance of the case that there is no "fundamental right to same-sex marriage" and that "Michigan supports natural procreation and recognizes that children benefit from being raised by parents of each sex who can then serve as role models of the sexes both individually and together in matrimony."
"Jayne and I love our children as deeply as any other parent loves their kids," Rowse said last year. "We just want our children to have the same protections all other children have, so that our kids know they can never be taken from either of us."
In a statement, Equality Michigan's Managing Director Emily Dievendorf highlighted the challenges that same-sex couples in Michigan still face.
"While the citizens of California will now be able to enjoy these benefits, Michiganders must hold their weddings elsewhere to receive those same federal benefits," she said. "They are also denied access to the rights provided by Michigan's government to other married couples, regardless of where they get married. Equality Michigan is proud to be working with our partners in Michigan and around the nation in leading the effort to get LGBT families in Michigan the equal rights a majority of Michigan voters believe they deserve."
Related
Before You Go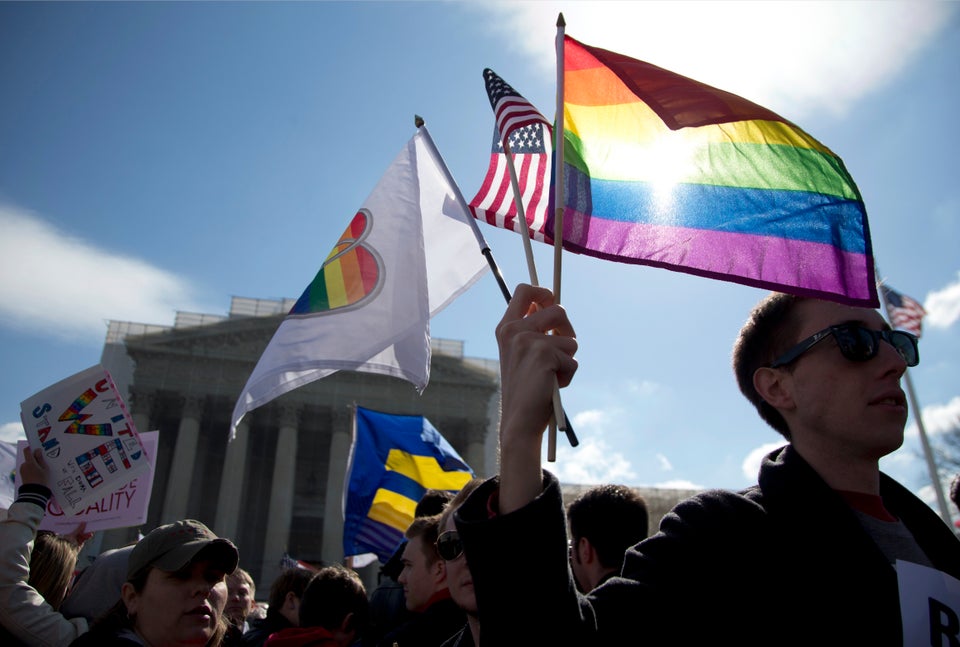 Supreme Court Proposition 8 Case
Popular in the Community