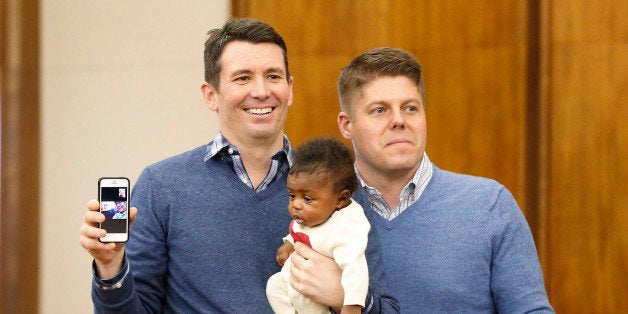 DETROIT -- A federal appeals court ruling in favor of anti-gay marriage laws in four states stunned members of the LGBT community and left hundreds of wedded couples in limbo in Michigan, where the lead case of DeBoer v. Snyder began. One newly married gay parent said he had thought maybe the world had changed for the better, only to find himself still waiting for recognition of his family.
In a 2-1 decision on Thursday, the U.S. Court of Appeals for the 6th Circuit upheld same-sex marriage bans in Michigan, Ohio, Kentucky and Tennessee, a decision that runs counter to multiple other rulings in recent cases. Circuit Judge Jeffrey Sutton wrote that the courts don't have "a sweeping grant of authority" to decide "whether gay marriage is a good idea" and that social issues should be resolved instead through the political process.
The decision was confounding to Jay Kaplan, a staff attorney with the Lesbian, Gay, Bisexual & Transgender Project of the American Civil Liberties Union of Michigan. He called the ruling an "outlier."
"Setting aside the terrible result, it's a bad decision. It's fundamentally misguided, it's wrong and it's unfair," Kaplan said. "One of the main functions of the judicial branch is to prevent oppression of minorities in the hands of a majority, and this idea of leaving constitutional safeguards to the voters -- that would put most people's constitutional guarantees in jeopardy."
Michigan's gay marriage ban was first struck down in March by a federal judge. Less than 24 hours later, the 6th Circuit stayed the ruling, but not before more than 300 same-sex couples were married in several counties where clerks agreed to perform weddings on a Saturday. Jason McIntosh and Jim Shaffer of Pleasant Ridge, Michigan, were one of those couples, tying the knot after 11 years together.
McIntosh said that in their day-to-day life, he doesn't imagine Thursday's ruling will affect them significantly. The couple have thought of themselves as married for a while, and their community and workplaces treat them as such. But it still felt like a huge blow.
"Today is no different than yesterday, except there's this sort of feeling of the bottom dropping out," McIntosh said.
After the appeals court granted the stay in March, Michigan Gov. Rick Snyder (R) said that while the same-sex marriages that had taken place were legal, they would not be recognized by the state, a position he reiterated on Thursday. Therefore, the couples will not receive state marital benefits, (though they remain eligible for federal benefits).
In a separate case, the ACLU of Michigan sued Snyder in April on behalf of eight of those same-sex married couples, arguing that the governor had placed the plaintiffs "in an intolerable state of legal limbo that threatens their well-being, health, financial security, and family integrity, and denies their dignity as free and equal citizens."
One of those plaintiffs, Bianca Racine, serves in the National Guard, but Michigan's veterans affairs agencies will not recognize her wife, Carrie Miller, as her spouse. In the lawsuit, they argue this could prevent them from accessing benefits they are entitled to and may need in a time of financial hardship.
As new parents of a 10-month-old girl, McIntosh and Shaffer are also worried about what the 6th Circuit's decision means for the future of their family.
"It's prolonging the chance for Norah to have two legal parents," McIntosh said. "Her adoption became finalized in August, but only one of us is her legal parent at this time. ... We really just want us both to have the same rights."
That would set the stage for a nationwide decision on whether states may ban same-sex marriage. But if the Supreme Court takes the case -- which is considered likely -- the justices might not rule until June 2016, according to the Associated Press.
"I guess I just assumed in 2014, the way the world has changed just in the last year ... there's something in my core that thought it was going to work out fine," McIntosh said. "It was a bit of a shock."
Before You Go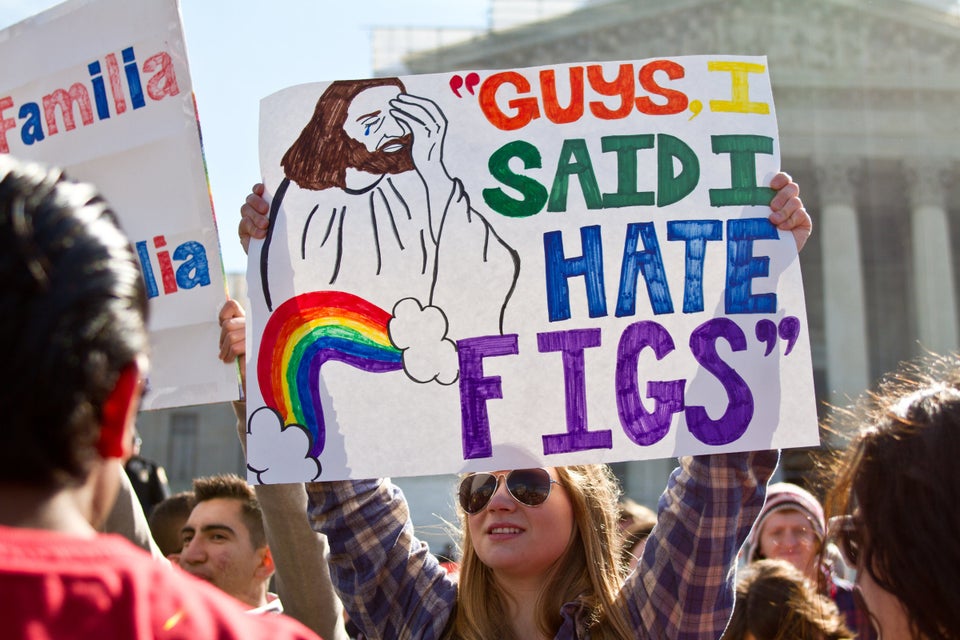 Gay Marriage Signs
Popular in the Community