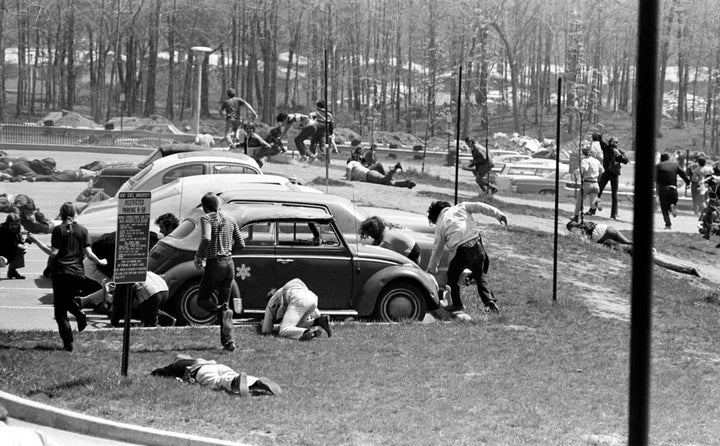 A Republican Party official in northern Michigan has issued what amounts to a death threat against American college protesters, calling for "another Kent State" in the wake of protests at the University of California, Berkeley.
In 1970, members of the Ohio National Guard fired on unarmed Kent State University students protesting the U.S. incursion into Cambodia. Guardsmen killed four students and wounded nine, including one who was paralyzed for life.
Dan Adamini, former chair and current secretary of the Marquette County Republican Party, indicated that a single death might be sufficient to end student protests this time around.
"I'm thinking another Kent State might be the only solution protest stopped after only one death," he posted on Facebook on Thursday. "They do it because they know there are no consequences yet."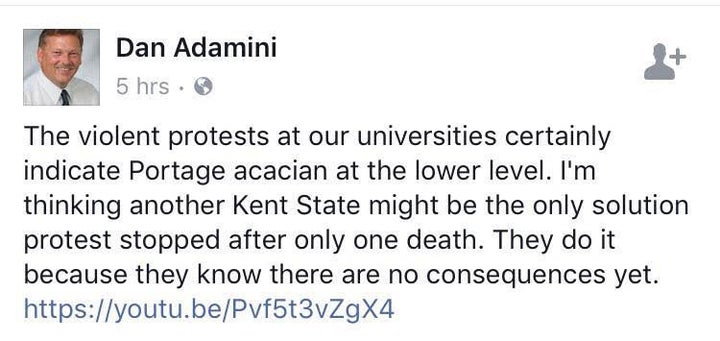 He also tweeted: "Violent protesters who shut down free speech? Time for another Kent State perhaps. One bullet stops a lot of thuggery."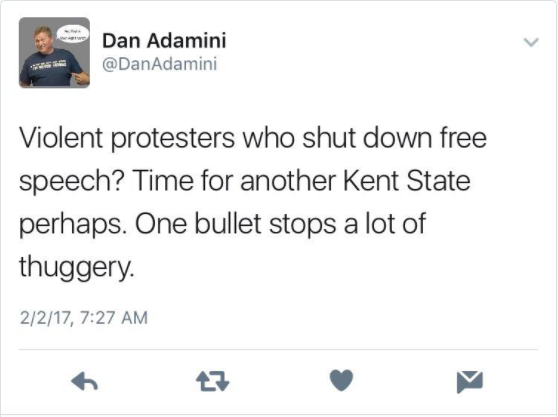 The comment ignited outrage. Adamini's comments are "sickening, inhuman, and indefensible," Brandon Dillon, chair of the Michigan Democratic Party, said in a statement. "There is no ambiguity or alternative interpretation. To call for 'another Kent State' and declare that 'one bullet stops a lot of thuggery' is to clearly and openly advocate for the murder of unarmed college students, simply because they don't share his beliefs or point of view." Dillon called for Adamini to apologize and resign from the GOP.
Doreen Takalo, a member of the Marquette County Republican Party, insisted to The Marquette Mining Journal, "We've always been a peaceful group," adding that the "majority of us do not advocate for violence." Takalo said she suspected Adamini hadn't "meant it exactly the way he said it."
"May 4, 1970, was a watershed moment for the country and especially the Kent State University family. We lost four students that day while nine others were wounded and countless others were changed forever," the school said. "This abhorrent post is in poor taste and trivializes a loss of life that still pains the Kent State community today."
Adamini posted the comments after violent protests erupted Wednesday night on the Berkeley campus over a scheduled speech by ultra-conservative provocateur and white nationalist Milo Yiannopoulos, 32. The Berkeley College Republicans had invited the Breitbart editor, who's been permanently banned from Twitter for harassment, to address an audience of 500. About 1,500 people demonstrated, with some toppling light poles, starting fires and hurling objects at officers before the speech was canceled.
Though defending Yiannopoulos' right to speak, Berkeley's chancellor, Nicholas Dirks, in a statement last week called him a "troll and provocateur who uses odious behavior in part to 'entertain,' but also to deflect any serious engagement with ideas."
Several Republicans, including President Donald Trump, characterized the protests as a blow to freedom of speech. Trump hinted at cutting off Berkeley's federal funding.
Following the uproar over his comments, Adamini scrambled to walk back what he said.
"What I was trying to get across, apparently very poorly, is that the violence at the college campus in Berkeley was reminiscent of the violence on college campuses in the '60s," said Adamini, who hosts a local radio program, "In the Right Mind," on WDMJ/WIAN. "I fear that if we cannot get a handle on the violence, we might see the same type of tragic end," he told The Mining Journal.
"I was not calling for violence against the protesters. I was calling for a stop to the violence by the protesters."
He said he has taken down his Facebook page because of "hateful" comments.
Kate Abbey-Lambertz contributed to this report. This article has been updated with a statement from Kent State.
Support HuffPost
The Stakes Have Never Been Higher
Popular in the Community