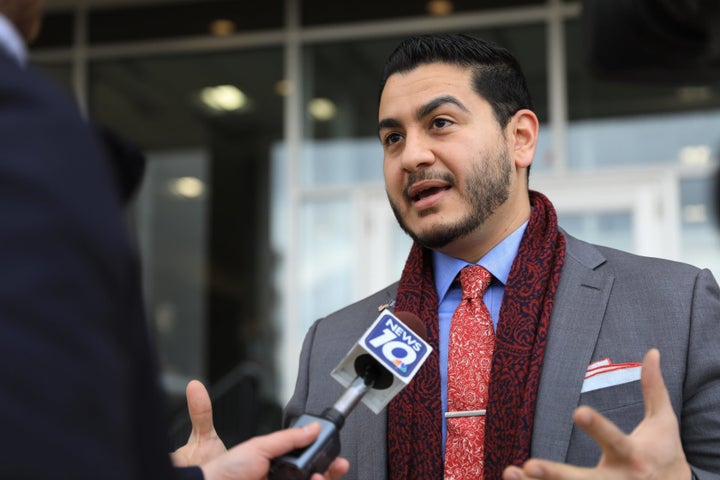 Before becoming U.S. secretary of education ― a position dedicated to enforcing and crafting national education laws ― Betsy DeVos spent decades in Michigan, carefully influencing education policy through millions of dollars in donations to politicians and philanthropy.
Now that DeVos has left her home state to join President Donald Trump's administration in Washington, politicians back home are working to undermine her previous efforts. All three Democrats running for Michigan governor have specific plans to reverse her footprint on the state's schools.
Abdul El Sayed, who announced his education plan on Wednesday, has the most direct, comprehensive and radical rebuke of DeVos. His plan, titled "De-DeVos Public Education" calls for new efforts to stifle DeVos' pet causes, like school choice, and reverse the impact of school segregation.
"Betsy DeVos has destroyed Michigan's education system. She's trying to destroy the federal education system, and we're going to have to show the country and the world how we de-DeVos an education system," El-Sayed, former Detroit health director, told HuffPost over the phone.
The other two Democratic candidates for governor on the ballot ― former state Senate Democratic leader Gretchen Whitmer and businessman Shri Thanedar ―also say they intend to reverse DeVos-influenced policies as part of their education proposals. Michigan's Democratic primary is Aug. 7. Four Republicans are vying to replace outgoing Gov. Rick Snyder (R) in the November election.
DeVos, a billionaire married to the former Amway CEO, helped vastly expand charter schools over the years ― both for-profit and nonprofit ones. Decades after DeVos began pushing the expansion of her favored policies, Michigan students post poor rankings on nationally representative tests. 
For Michigan politicians, the rebuke of DeVos appears to make sense. Polls rank DeVos as the Trump administration's least-popular Cabinet secretary. Her nomination to lead the Education Department sparked outrage from families and teachers around the country. 
Progressive national education groups have benefited financially from opposition to DeVos, seeing spikes in donations after her confirmation.
Michigan Democratic gubernatorial candidates seem to be making the same bet.
The education plans of El-Sayed and Thanedar call for banning for-profit charter schools. Whitmer's plan doesn't go quite as far, but proposes an end to the expansion of these schools.
All three Democratic candidates emphasize the need for greater accountability for nonprofit charter schools ― with Sayed calling for an independent, statewide charter-authorizing council that would increase scrutiny and transparency. Thanedar said he's not opposed to charter schools and school choice, but opposes charter schools with a "profit motivation."
Beyond DeVos, the candidates are proposing universal preschool and pay raises for educators. Thanedar specifically calls out DeVos' treatment of college sexual assault victims. El-Sayed wants to end early childhood suspensions. Whitmer emphasizes her time in the Michigan legislature, where she actively worked against the DeVos agenda.
The three candidates promote their commitment to college affordability, with El-Sayed proposing four years of debt-free college for families below a certain income.
The candidates' plans represent a stark departure from where Michigan education has been headed under Republican leadership.
Charter school advocacy groups insist that policies favored by DeVos remain popular. A 2017 survey from the Mackinac Center for Public Policy, a conservative think tank, found that most Michigan families who participate in educational choice are satisfied with their schools. On a nationwide scale, school choice groups insist that enthusiasm for charter schools are still going strong, despite DeVos' low popularity.
But Thanedar said that some people in Michigan consider DeVos an "enemy of public education" and believe "the unregulated expansion of charter schools is one of the reasons for our failing schools."
Even DeVos acknowledged that Michigan schools need to raise their performance during a March interview with "60 Minutes."
"I can't say overall that they have all gotten better," DeVos told journalist Lesley Stahl of the state's schools. "Michigan schools need to do better. There is no doubt about it."
Said said El-Sayed: "Betsy DeVos is the single biggest obstacle to improving education in this country and certainly improving education in the state of Michigan. The sooner we root out the approach she has embedded into a GOP-dominated legislature, the better off our kids are." 
BEFORE YOU GO