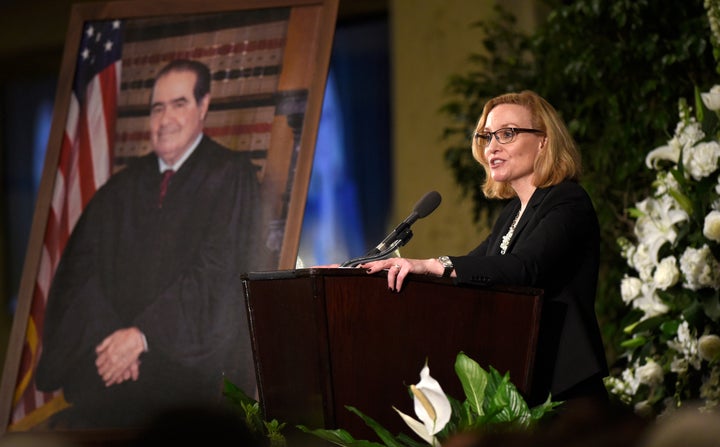 Two justices on the Michigan Supreme Court recused themselves on Thursday night from ruling on Green Party presidential nominee Jill Stein's appeal to restart the Michigan election recount, citing their appearance on lists of candidates President-elect Donald Trump is considering nominating to the United States Supreme Court.
The decision by the two judges, Chief Justice Robert Young and Justice Joan Larsen, came in response to Stein's request that they "disqualify" themselves from considering her case. It will now be up to the Michigan Supreme Court's five remaining justices to decide whether to hear Stein's appeal.
Stein is seeking to challenge a Michigan Court of Appeals opinion on Tuesday evening claiming she had no standing to demand a recount, since as a fourth-place finisher, she was not an "aggrieved party." A federal judge effectively upheld that ruling on Wednesday night, halting the recount effort, which had begun on Monday.
Young and Larsen's formal statements acceding to Stein's demand represent their first public comments about being considered by Trump for the highest court in the country.
Young dedicated most of his statement to disparaging the basis for Stein's request, since at age 65, he argued, the possibility that Trump would nominate him is "extraordinarily remote." 
Nonetheless, acknowledging the "national attention" the case has drawn, Young wrote that he would agree to the request "so my colleagues in this case will not be legitimately challenged by base speculation and groundless innuendo by the partisans in this controversy and beyond."
He engaged in more than a little sardonic humor in his statement and hinted that he considered the recount effort illegitimate, faulting federal Judge Mark Goldsmith for allowing it to proceed in the first place. In a footnote explaining why he was taking extreme care to show "judicial restraint," Young took to task his "law school classmate" Goldsmith for "[taking] it upon himself judicially to alter the recount process our Legislature has unambiguously created."
"My appearance on the president-elect's list and his presence as a party in these cases creates a conflict requiring my disqualification," she wrote.
Trump's repeated campaign promises to appoint conservative justices to the Supreme Court were a key part of his attempt to allay right-wing concerns about his candidacy.
As a presidential candidate in May, Trump released a list of people he would consider nominating to the Supreme Court that included Larsen. In September, he put out an expanded roster of potential nominees that included Young.
Calling all HuffPost superfans!
Sign up for membership to become a founding member and help shape HuffPost's next chapter
BEFORE YOU GO