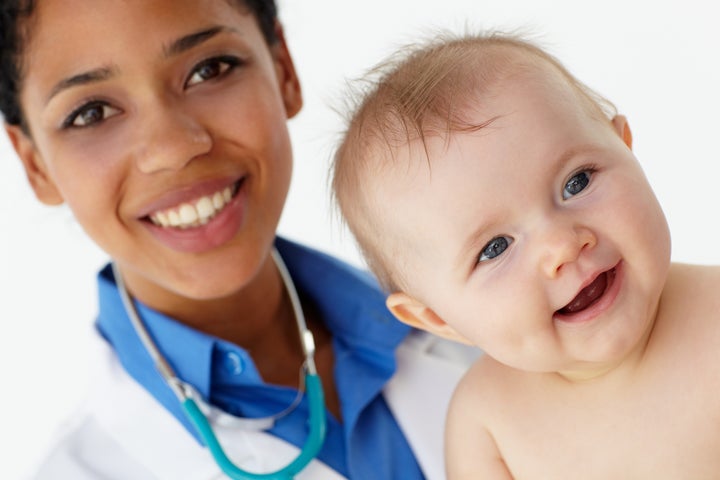 A report released Monday by the Michigan League For Human Services has some good news for Detroit's expectant parents and new babies, but finds there's still a long way to go to ensure great health for all Michigan families.
MLHS's "Right Start in Michigan 2012" report compares a number measures of health for newborn infants and their mothers that can have a dramatic impact on the child's overall health and lifetime well-being.
The report found the average number of infants in Detroit born too small or too early has decreased over the last decade. Out of an average of 11,315 births, the share of low birth-weight babies born in Detroit fell from 14 percent in 2000 to 13.3 percent in 2010, and the number of pre-term babies decreased from 17.1 percent to 14.3 percent in that same time period.
"It's not a huge decline, but it's not rising as it is statewide," said the League's Jane Zehnder-Merrell, an author of the report. The rest of the state saw a 7 percent increase in the number of low birth-weight babies. Pre-term births fell 7 percent.
Zehnder-Merrell said the number of Detroit teens who are already mothers having an additional child also dropped from 26 to 20.5 percent. "The bad news is Detroit teen births are up 14 percent, where is in the state as a whole they're down," she added.
Although most of the "Right Start" trends are promising for Detroit, other indicators are less positive, especially those for maternal health. For example, the city has roughly twice the number of mothers who are unmarried, are teenagers or lack a high school diploma or a GED than in Michigan as a whole.
The report also found a great variation in risk factors among different ethnic groups across the state. Hispanic mothers were the most likely to not have graduated high school, white mothers were more likely to be smokers and African-American mothers had the highest risk of giving birth to low birth-weight babies.
These risks can lead to host of problems for infants and their families. Being born too soon or too small can raise a child's chance of dying before its first birthday, and those that survive are more likely to have neurodevelopmental problems and suffer from chronic disease.
Zehnder-Merrell said these challenges can also affect whole communities, because they lead to more children needing special education programs and access to local health care systems. She also said the jobs that are often available to teenage mothers and those who lack a high school education do not often have flexible schedules, which can make it difficult for some to get childcare or respond to medical issues.
According to the report, many of the trends it measures are linked to and exacerbated by poverty, leading to lifelong disadvantages in education and employment.
To address some of these health risks, the "Right Start" report makes a number of policy recommendations. MLHS is asking Gov. Rick Snyder and the state legislature to provide more funding to implement programs to combat infant mortality. MLHS is also requesting the legislature authorize a federal grant that would establish a state health exchange, a website that would make it easier for expectant mothers to make health care decisions.
Calling all HuffPost superfans!
Sign up for membership to become a founding member and help shape HuffPost's next chapter
BEFORE YOU GO